'Many who have experimented with online education will adopt a blended model once things return to normal,' edX CEO and founder Anant Agrawal tells Anjuli Bhargava.
Illustration: Dominic Xavier/Rediff.com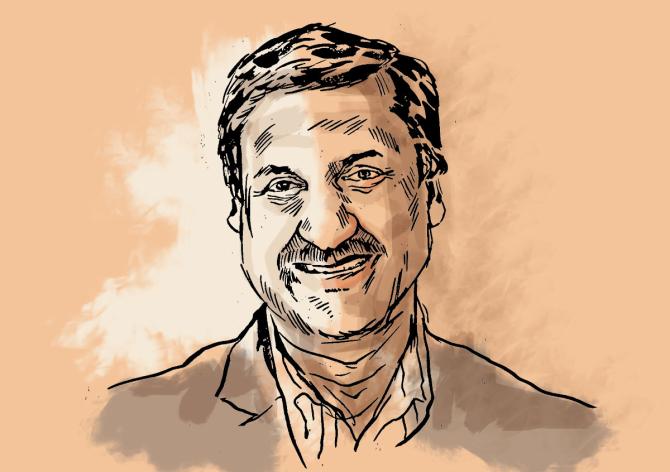 For the 18-year-old student at IIT, it was a moment of epiphany. After going through "a relatively low standard of education" at his school in Mangalore, Anant Agrawal made it to IIT-Madras in 1977 to study electrical engineering, but the quality of work expected of him was way above what he was accustomed to.
In the first physics mid-term exam taken by 300 students, he was one of the two boys who failed, a shock for a student who had been largely above average in class, clearing his IIT entrance exam at first shot.
A second fact also rankled him.
During his school years, he had been fortunate to be under the guidance of one of his maths teachers during after school hours (free of charge) who saw potential in him and gave him far harder questions to solve than what the curriculum dictated, one of the reasons he might have made it to the IIT in the first place.
This was also something he knew most students in India -- and even abroad -- did not necessarily have access to. How many were fortunate enough to find a free mentor and guide as he had been?
Both these developments stayed with him. He appreciated better than most the failure of education systems -- especially in less developed countries -- to offer equal access to quality education.
That's when, he says, the tiny seed of edX was truly sown in his head.
I had first met Agrawal, founder and CEO of edX, MIT and Harvard's massive online course platform, in February 2016 when he'd come to New Delhi to present his infant (edX) to Prime Minister Narendra Modi and we had kept in touch ever since.
We meet now for a coffee over Zoom in the midst of the pandemic, which has willy-nilly set edX and all online learning platforms onto a new trajectory.
Undeterred by perhaps his only failure, Agrawal worked harder than ever at IIT, caught up soon enough and eventually won a full scholarship (his father, however, had to approach Canara Bank for a loan to pay for his air ticket to the US) to Stanford.
He earned his doctorate under the guidance of Stanford's 10th president John L Hennessy, present chairman of Alphabet Inc, Google's parent company.
After acquiring his degree, Agrawal was offered a teaching position at MIT where he went on to become the director of the Computer Science and Artificial Intelligence Laboratory in 2010.
He and his team used machine learning and artificial intelligence to develop Alewife, a multi-core chip that helped improve computer performance.
Although he was teaching himself and could see MIT imparted excellent education, he knew the number of students on the campus were limited, barely the tip of the iceberg.
The thought that stayed with him was that so many more students could get access to the best if only the learning and teaching could be made online and, ideally, free.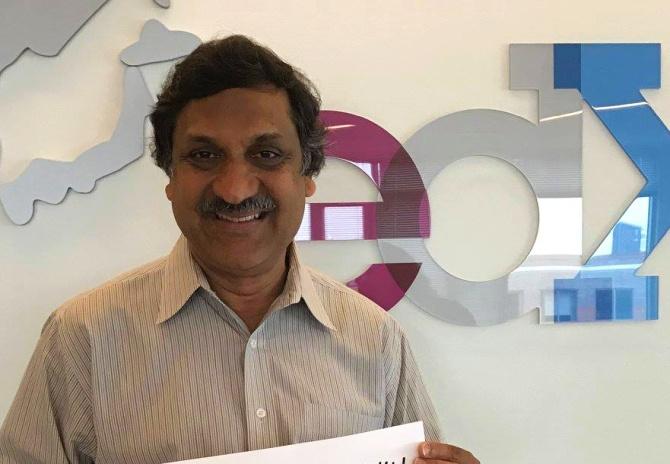 In 2011, the entrepreneur in him began to rear its head once again, something he'd had in him even as a child. At 13, he recalls, he'd started a chicken farm at his home in Mangalore and used to sell eggs.
Soon, he realised it was difficult to sell his daily produce to individuals, and found a dormitory kitchen that bought his eggs wholesale on a daily basis.
"That was when I discovered the concept of B2B," he laughs.
He and his team at CSAIL started working on taking some of the courses fully online and in the basement of the lab, edX was incubated.
By 2012, he'd designed a fully online version of his own course in circuit breakers and started offering it online on what was then called MIT-X.
MIT-X at some point metamorphosed into edX and Agrawal became the CEO. The idea was primarily to democratise quality education and allow access to millions no matter where they were located.
It therefore gives him tremendous happiness to see students from small towns of India -- like himself -- earning advanced credentials on the site from the best universities around the world.
He quotes the example of a high school student in Kochi, Esther Jose, who has taken an advanced course in physics recently and has been delighted by the quality.
"We are levelling the playing field and for me, it comes back to my own experience."
So passionate is he about his mission, he recently donated $2 million, the personal component of Yidan prize money -- founded by Charles Chen Yidan, co-founder of Tencent, on the lines of a Nobel Prize for the education space -- to fund edX's new micro-bachelor's effort.
I ask whether, perversely, COVID-19 is the best thing that has happened to Massive Open Online Courses (MOOCs) and online learning.
"History has shown that an upheaval or other societal shifts can accelerate trends that are already happening" he says, adding that this has happened both with online learning and the future of work.
Pre-pandemic, online learning was a mere 3 per cent and the online work culture was just rearing its head. But now we can expect both to turbo-charge ahead for a while.
But as he sees it with the online learning, it will also be like a "ulta tawa". The lip of the tawa represented the point online learning had reached before Covid.
In other words, it was virtually at nil. Post the Covid outbreak, online learning quickly found itself on the top of the ulta tawa and as and when things begin to return to normal and one comes down the tawa, he expects it to show a 30 per cent growth and not come down to the earlier negligible levels.
"Many who have experimented with online will adopt a blended model once things return to normal," he reckons.
In April, edX saw unique registrations increase 1,400 per cent. Five million new users joined the platform in April alone, against five million in the whole of 2019.
Thirty eight per cent of the new users joined as they had more time on their hands and decided to learn something new while 25 per cent were looking at upskilling.
Eleven per cent said they had been laid off and 16 per cent were students replacing schooling.
As things return to normal, some will go away, but some will stay.
Within a few weeks of the lockdown, many universities found they couldn't cope with delivering their entire syllabus online.
That's when they launched the edX Online Campus that allowed universities to sign on their students for edX courses for free (till end June) and to monitor their progress through the platform.
In India too, 162 new universities joined.
"We are hoping that the quality of our courses will convince universities that every university does not need to try and offer every course, just like every professor who teaches a course does not write the textbook for it," he argues.
I interrupt to ask who the main players in the MOOCs space are globally. In India, the more visible player is Coursera with an aggressive sales campaign.
Many college students of a certain profile in India try their hand at some Coursera course over their three years of graduation, I point out.
As a non-profit, edX stays away from in your face advertising and is more concerned with doing good, he explains.
That's why it launched open edX, an open-source platform that allows anyone -- countries, companies, colleges -- to use its software and IP to launch their own learning platforms.
In India, for instance, IIT-Bombay launched IIT-M-X and IIM-Bangalore launched IIM-B-X, both using the edX open-source software.
In terms of users on both edX.org and all its open source offerings, edX is by far the largest player in the field.
There is no large third player in the space worldwide as the two giants -- Coursera and edX -- leave everyone else behind by a large margin.
He is almost done with his coffee and I know time is running out so I ask him about his other interests.
If one was under the impression that dyed in the wool techies like him had hardly any other interest, one needs to think again.
Although his work at edX leaves him with little free time for his own research, he finds time to paint (water colour), for gardening (as a child in Mangalore he had a nursery and sold rose bush grafts and now has his own vegetable garden) and to cook (Mangalorean cuisine is unparalleled in his experience of world cuisines), besides having a plethora of other interests, far beyond the scope of this article.
He laughs and says that quite often colleagues and friends have cautioned him that he was spreading himself too thin, but he feels that being a jack of all trades works for him.
He doesn't add that he's also the master of a few.
Feature Presentation: Rajesh Alva/Rediff.com