E-learning to see six-fold surge by 2021.
Convergence of online and offline is the new mantra which is changing the education map of the country.
T E Narasimhan, Gireesh Babu and Surajeet Das Gupta report.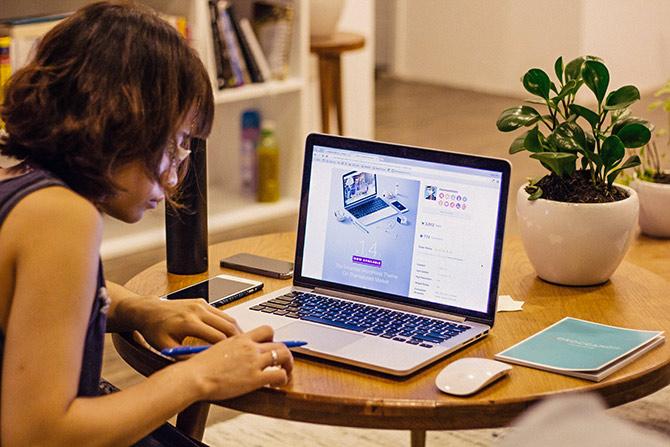 Photograph: Unsplash/Pixabay.com
India's high tech learning market is the largest after the US.
However, it is still minuscule compared to the overall education industry in the country, which is estimated to reach $144 billion by 2020 from $ 97.8 billion now.
At Vellore Institute of Technology (VIT), hi-tech learning is a way of life.
Here, teachers use smartboards in the classrooms to write notes which can be seamlessly assessed by students through the cloud on their tablets in real time.
They can save the notes, watch video and presentations on the topic and even have a discussion with the professor online, supplementing the discussions in the class.
Sekar Viswanathan, vice-president of VIT, says. "We are enriching the classroom experience and teaching method by supplementing it with digital models."
But he also admits that unlike in the US, where the teacher and the student interaction in many cases has become completely online, India is far behind in the game.
Convergence of online and offline is the new mantra which is changing the education map of the country. And, it is surely catching up not only in colleges or tuition centres for engineering and medical exams, but is spreading wings to school education with solutions for the kindergaden kids to even senior classes.
KPMG estimates, size of India's e-learning market was $247 million, comprising 1.6 million users in 2016 and expects it to grow six times to 9.6 million users by 2021.
India's e-learning market is the second-largest after the US. However, it is still miniscule compared to the fact that the overall education industry in India is estimated to reach $ 144 billion by 2020 from $ 97.8 billion.
And, backing the efforts is the central government which has announced an outlay of $5 billion for equipping every classroom in government schools with SmartBoards, and even state governments are following suit.
Cashing in on the potential, one of the leading e-education company's Extramarks for instance, is straddling the entire sector from schools to tuition centres for competitive exams with technology solutions. The Delhi-based company has started brick and mortar smart coaching centres across the country for engineering.
Medical as well as schools are where teachers use digital platforms to coach students which get pushed on their tablets. They also give their tests online and parents are connected through an app which provides data on the performance progress of the child. All this comes with a price tag of Rs 1 lakh per annum.
Says Atul Kulshrestha chairman of Extramarks, "We already have 23 centres and our goal is to hit 50 by the end of the year. We are handling over 1,500 students in each of the centres".
Extramarks is also providing solutions in smaller cities where internet speeds are slow and erratic. So, they have come out with an innovative web based tablet which is meant for school students -- the courses and notes are given in an SD card (as downloading them takes too much time), but exams and discussions with the mentor can take place through a web-based app.
Bangalore-based Byju's which has been able to muster large private equity investments, moved from the brick and mortar model initially to go online. It is offering school education through the Internet as it found the former model restrictive.
Divya Gokulnath, co-founder and teacher at BYJU'S says that in a conventional classroom, access to high quality education is limited.
The advantage of integrating technology in education is that it not only enables you to take classes from the best teachers to every nook and corner of the country with the exact same high quality, but also personalises the way students learn.
Byju's model has of course worked -- it claims it has around 16 million students learning from its app and over 500 people are working on products. And, almost 75 per cent of its users come from outside the top 10 cities.
Even the bigger boys are jumping the bandwagon.
So Embibe, an online education platform, got funding of $180 million from Reliance Industries which has picked up a 72.69 per cent stake in the company. The company offers an artificial intelligence-based education platform which helps students make personalised mock tests to prepare themselves for BSE, AIIMS, JEE Advanced and many entrance tests.
Says Aditi Avasti, founder and CEO, "We have an incredible technology platform that can deliver personalised learning outcomes in a way which is truly scalable across education markets." In five years, the company has provided services to over 15 million students.
Surely convergence of online and offline education has also spawned the vendor ecosystem, too. US-based Blackboard Technologies, which provides software solutions for online education to schools, entered the Indian market last year with 10 customers. It is now targeting to reach 1,50,000 students in Tamil Nadu through tie up with over 50 educational institutions by the end of 2018.
And LittleMore Innovation Labs, which offers digital pads for paperless examination in universities, says that the examination market in the country itself is a huge opportunity. The company has patented pads on which the students can write with the ease of writing on a paper and the answer-sheets are uploaded to cloud for evaluation and future references. Also, data analytics could help these institutions.
The company is now targeting the semester examinations and larger examinations in colleges. Surely the convergence of online and offline education has already taken off the ground.