Will COVID-19 permanently change higher education, asks Ajit Balakrishnan.
Illustration: Dominic Xavier/Rediff.com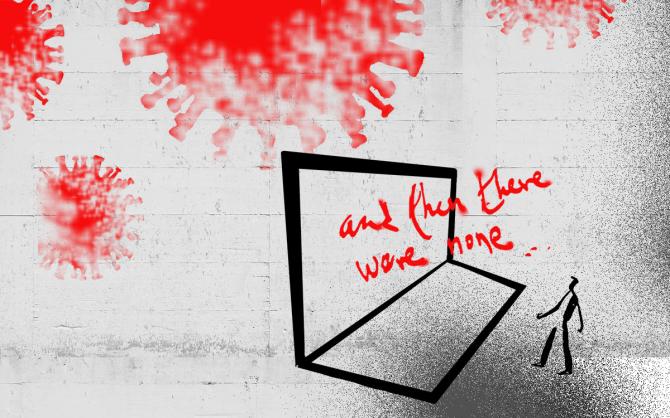 I find myself suppressing a giggle or two when I read news headlines announcing the shift of venerable campus-based universities like Harvard and MIT, not to mention our own elite campus-based institutions like the IIMs and IITs, completely to online mode.
Why the giggle? Nearly 10 years ago, I had chaired an Indian ministry of education (ministry of human resource development) committee on online education, which had made a passionate case for urgent adoption of online/Web-based educational methods, such that high-quality lectures of top professors in the IITs and IIMs are also available to every student in the mass of other engineering colleges and management schools.
Senior officials and the minister at that time warmly thanked me for my passionate effort, but my report itself was merely added to the vast library stack in the ministry's headquarters in New Delhi.
IIM-Calcutta, where I was the chairman of the board during that period, did launch an online course for working professionals, but the flagship course, the two-year postgraduate diploma in management, itself was fully residential and required the student to stay full-time on campus.
Why did I quickly suppress the giggle that I was about to do? Unsaid at that time, and I must confess barely at the top of my mind then, was the hidden reality that the economics of our elite educational institutions was predicated on the fully residential programme.
Students and their parents were willing to pay a hefty amount because of the fully residential nature of the programme.
'Education' is perceived not just as the mastery of complex technical skills, but also as the opportunity to learn about other cultures and lifestyles, and form lifelong friendships. This, in a sense, is true.
When I joined IIM-Calcutta in 1971, after school and college in a small town of Kerala, it was the first time I met a Bengali and a Sikh and an Assamese and others. You discover the similarities between other cultures and yours, you discover music (in my case, Rabindra Sangeet) that is as captivating as music in your own language, you learn to compete academically with classmates as intelligent as you and so on.
Wouldn't I have missed out all such life-enhancing experiences if I had attended the programme online sitting at my parents's home in my hometown, Kannur, a small town in Kerala?
Is the sudden switch to online, that the world's top educational institutions are making, a short-term shift? And will they be back to the classic campus-based residential programmes?
As many as 85 per cent of 200 leaders of prestigious universities in 53 countries, including the US, China, and India, surveyed last month by the London-based Times Higher Education (external link), said the use of fully online degree courses at their university would increase over the next five years.
There is another dimension along which a pure online mode of education may affect the current college education system worldwide.
Universities in the US and the UK depend on their financial survival by attracting foreign students mainly from China and India, and charging them a fee often several times what they charge their domestic students.
Such premium fee-paying students account for a sizeable share of the universities: The New School in New York (31 per cent), the Florida Institute of Technology (28 per cent), the University of Rochester in New York (27 per cent), Carnegie Mellon University (22 per cent), and Boston University (21 per cent), to name a few.
Will such foreign students still be attracted to these universities if their courses are fully online and can be attended from the students's own countries?
The potential loss of such premium fee-paying students is what led to the furore when the Trump administration announced that foreign students residing in the US would have their visas cancelled and must immediately leave the US if the universities they were attending turned fully to online mode.
The furore, particularly from the US Ivy League universities, was so ear-shattering that the Trump administration was forced to quickly withdraw the order.
Of course, online education platforms, called MOOCs, or Massive Open Online Course, have been around for a while and have been favourites with venture capitalists. Coursera, Khan Academy, and Udemy are examples in the US, and China has more than six publicly listed EdTech sites.
Online test-prep sites in India, coaching students for competitive exams, have also thrived: Byju's, Toppr, and Vedantu are some examples and it is estimated that more than $3 billion of venture funding has already gone into this sector.
Will the impending permanent switch to online affect colleges across all disciplines or only some disciplines? Respondents to the same Times Higher Education survey quoted above felt that courses in computer science, business and administrative studies, social studies, and law would find it easier to shift online than the ones in medicine, dentistry, and biological and veterinary sciences.
While we are all worrying about how the COVID-19-related lockdown and switch to online in higher education will affect the future of higher education, one can't avoid the sneaky question: Whether we are making a big fuss about something which will vanish soon and life will go back to the one we have all got used to?
A spate of scholarly articles and books this year have appeared, saying that the Black Death, the infamous pandemic of bubonic plague, hit in 1347, which killed a third of Europe's human population, resulted in a steep rise in wages, which drove the labour-saving inventions of the Industrial Revolution!
---
Ajit Balakrishnan (ajitb@rediffmail.com), founder and CEO, Rediff.com , is an Internet entrepreneur and chaired a committee set up by the ministry of human resource development on education and entrepreneurship last year to provide inputs for the National Education Policy.