Mumbai-based artiste Dev Mehta wants to use modern art to inspire people to think and see things differently. This is his story.
Photographs and Video: Hitesh Harisinghani/Rediff.com
Text: Divya Nair/Rediff.com
In many ways, Dev Mehta's life could have been similar to that of Ishaan Awasthi from the film Taare Zameen Par.
Like Ishaan, Dev too was an introvert as a child.
But he was also inquisitive, creative and disliked being confined to the four walls of his home or a classroom.
Dev was as young as three when he first started scribbling on paper. He drew shapes, figures, spiders, and abstract objects.
But unlike Ishaan's parents, who simply wanted him to study well and score good marks, Dev's parents Rupal and Dhaval got him crayons so he could add colour to his drawings.
"He loved Harry Potter, Spiderman and all those animation movies. He would try and sketch characters at home, but in his own unique way," mother Rupal Mehta, a fashion designing graduate from Mumbai told Divya Nair/Rediff.com.
When he joined school, some of Dev's teachers encouraged him to pursue his love for art. But like most students who go to school, Dev also had to study 'other subjects like history, science and math' which according to him was either 'not interesting' or 'passionate enough.'
"Once I realised I wanted to be an artiste, studies, especially some subjects became a little boring. I just wanted to paint and express through art as a medium," says the 18 year old who is inspired by the works of Spanish painter, sculptor Pablo Picasso, Dutch abstract expressionist Willem de Kooning and Vincent Van Gogh, just to name a few.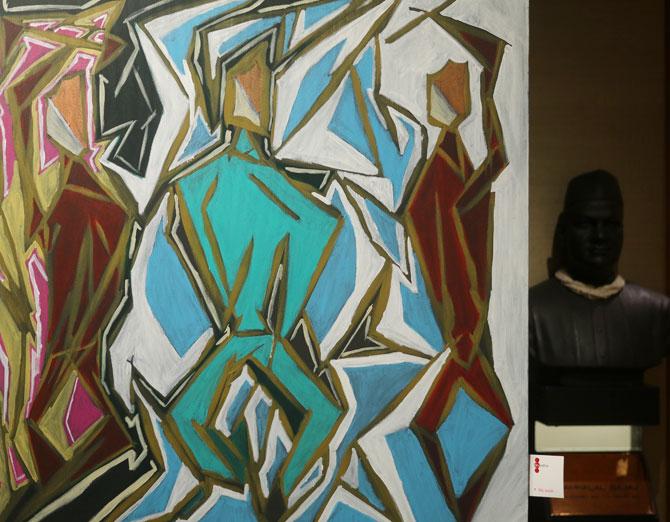 In 2017, Dev scored over 70% in his class 10 SSC board examination and took up arts at SIES College of Arts, Science, and Commerce, Sion.
The same year, in class 11, his history teacher cut 5 marks off his assignment. When Dev protested and demanded to know why, the teacher said 'You won't do anything in life.'
Although the teacher said it out of anger, it inspired Dev to prove his mettle.
The same year, after completing class 11, he dropped out so he could focus on "taking his art to the next level."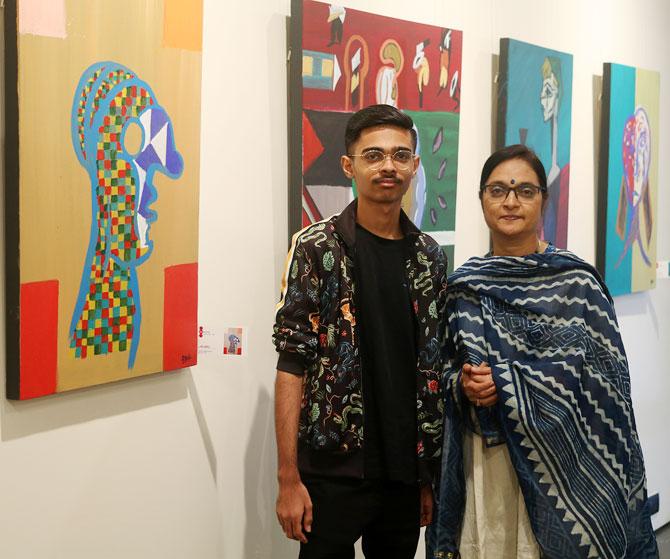 Dev has been working with Nina Foundation, an NGO founded by his father and aunt Dr Ketna Mehta for more than a decade now, sharing his paintings for their annual desk calendars. The Foundation works to spread optimism among people with spinal cord injuries.
In 2018, Dev's first photography exhibition was held at Jehangir Art Gallery in Mumbai. He has also participated in the Kala Ghoda Arts festival.
"I was the youngest artiste to showcase my work at Jehangir Art Gallery," Dev revealed.
So far Dev has done over 100 paintings, working with unusual props like knives, burnt paper and what not.
"I am one of the few young artistes in the world who paints on jute," claims the prodigy who believes in sustainability and loves to spot surrealism in daily events, people and objects.
"An artiste can never honestly tell you what feelings or emotions s/he was going through when s/he was creating the piece of art. It could be influenced by a lot of factors and emotions the artiste has gone through, which may have subconsciously made its way into the art form or painting, in my case. I feel most artistes, leave a part of their work incomplete for the audience to interpret and complete the story in the way s/he wants to," he added.
Some of Dev's works are on display at the exhibition titled 'Modernspective' at Kamalnayan Bajaj Art Gallery in Mumbai till September 21.
In the video below, watch Dev Mehta talk about some of his favourite paintings.