Nikhil Chopra is the first Indian performance artist to strike it big on an international scale, part of a group of breakaways who have turned the foundations of the art world on its head, says Kishore Singh.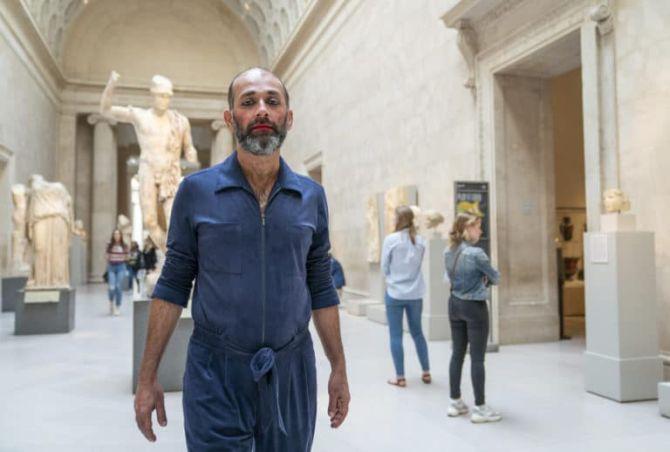 Who puts on greasepaint, changes costumes, cross-dresses, playacts and then does it all over again? An actor, right?
Welcome to the world of performance art -- where the artist achieves all this right in front of you, over several hours, or days, just as one might at home, or in the privacy of a studio.
Not emoting in front of a camera, or on stage before a seated audience, sometimes in a public space -- as actors are required to do -- but enacting, nevertheless, without once making eye contact: a self-absorbed ritual that is the hallmark of performance art.
I chanced upon Nikhil Chopra's performance in Dhaka (Bangladesh) back in 2014 where he went about his act, blackening himself with shoe polish and paint that he simultaneously daubed a wall with.
There was literally little to his performance -- no high points or cathartic moments -- staged between two halls on a public concourse, but it was convincing in a voyeuristic 'what next?' kind of way that compelled you to come and observe him intermittently over a stretch of eight or nine hours.
Visitors milled around, watched a bit, wandered off, returned, while Nikhil Chopra applied himself to his task, as if oblivious to the shifting strands of his viewers.
If, sometimes, he went missing, it might be for a toilet break, but not once did he break his silence; not once did he engage with or seek out his audience.
It went on over the course of the day, his enactment, and when it ended -- anti-climatically to my mind -- it was, well, over.
No rah-rahs, scanty applause, a mixed takeaway about art, its relevance and impermanence.
This week, Chopra is spending nine days and nights -- his longest performance ever -- at New York's Metropolitan Museum of Art, doing something similar while becoming the first artist in the museum's history to be allowed to stay overnight within it.
He will re-enact avatars he has personalised and made his own, donning makeup, wigs and costumes, while simultaneously undertaking the creation of a monumental landscape painting stretching across several of The Met's most popular galleries.
Eating, drinking, sleeping and resting will occur as part of the performance, much of it when he's expended the day performing and painting his way through parts of the museum.
So, who is Nikhil Chopra when he is at work? His style has been described variously, but inclusively, as bit parts of performance, theatre, installation, art, photography, even sculpture, too myriad to fit into any one oeuvre or genre.
He has worn drag, undressed down to a loin cloth, or swathed himself in robes, in places as varied as Athens and Kassel, Yinchuan, Manchester, Nottingham, Havana, Singapore, San Gimignano, Venice, Sharjah, Dubai, Oslo, Tokyo, Cuba, New York and Chicago in countries including Greece, Germany, China, England, Italy, Japan, Norway, Havana, the UAE and the US.
During his frequent peregrinations, he has adapted characters that have become familiar (and repetitive) for those increasingly accustomed to his work -- his dandy grandfather, a gentleman-artist, Yog Raj 'Chitrakar'; the hedonistic, anglicised prince, Sir Raja, a throwback to the British Raj in India; a futuristic cyborg meandering through a city impervious to its curious gaze; a caricature hirsute native; a queen/Queen (the lower case or capital open to your interpretation).
Kitted out while assuming their personalities, he transforms from one to the other as he goes about his task of painting -- whether in an art space, or a more public arena, such as when he walked across Mumbai to the baffled amusement of the city's famously avuncular citizens, cadging their attention without being overwhelmed by them.
Still, such public performances must take their toll, physically as well as mentally.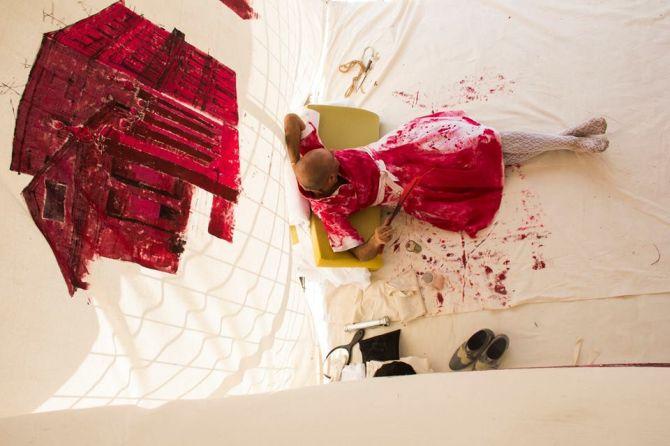 So, who is Nikhil Chopra when he is at home? A father to two, Chopra and his family are based in Goa, where their old heritage house is a retreat as much into time as into solace and silence (or as much as you can get with two kids).
Chopra's family is from Kashmir, though he was born in Kolkata and went to college in Mumbai before enrolling for the fine arts course in Baroda's M S University.
Middle-aged and balding, Chopra is an unlikely, diminutive figure in real life that one would hardly associate with the rigour required of his performances but then, Chopra's is not an aspect of acting as much as of performing.
What he brings to his work is bucket-loads of concentration; his training as an artist helps with the rest, including the act of painting, which he leaves behind as a residual feature of his performance, to fade over time -- a Banksy whose works are undertaken in the full glare of public or audience scrutiny before being lost to time.
Chopra is not the only performance artist India has.
But he is the first to strike it big on an international scale, a part of a group of breakaways who have turned the foundations of the art world on its head.
Indian art connoisseurs are bemused by how to 'collect' performance art, something they can't cart away with them except as photographs, or as video editions of the performance.
The lack of the possibility of 'ownership' makes Chopra's art elusive and difficult to grasp.
Choosing between audience reactions -- the civilised but accepting reticence of the West, or the uncouth street behaviour and slurs sometimes hurled in India -- can take their toll.
To draw, or paint -- in itself quite exacting -- while remaining (or even transforming) in character is additionally challenging.
Given his last decade of public appearances, one can assume Chopra will bring his previous incarnations along with something new to his performance at The Met.
From September 12, when he begins his performance at the historic entrance way of the museum, he will remain constantly in the public eye, every act open to interpretation and critical evaluation.
The burden of the performance will be further accentuated by staying at the museum for around 200 continuous hours, even attending to his personal ablutions within its precincts.
While this marks his residency at the museum as one of its more daring experiments under its MetLiveArts programme, it will combine this triumph with the cynicism with which performance art is sometimes viewed.
Chopra's Lands, Waters, Skies painting and performance will include the Egyptian, modern and contemporary and ground floor Robert Whitman wing galleries of The Met. It ends on September 20.
Partly autobiographical, the site-specific performance is just as likely to be political -- addressing issues related to the environment and the planet, as well as aspects of nationhood and gender, things Chopra has found himself drawn to in his past performances.
His use of history is never as a narrative so much as a tool to revisit the past while viewing it from the perspective of the present.
His inclusion of original music and collected folk songs will add a surprising twist in The Met's hoary history.
Will it enthrall, or merely add to the babel of voices and sounds in the museum? All that will matter, really, is how well his performance translates in a space associated more with tradition than its breaking.
Chopra, complete with boot polish, wigs and foundation cream, is well enough placed for that.