Meet Bollywood fan Ranjit Dahiya. If you are in Mumbai, you can't miss his massive tributes to the industry that he loves, discover Sonil Dedhia/Rediff.com and Hitesh Harisinghani/Rediff.com
Like much of India, Ranjit Dahiya is in love with Bollywood.
Born in a small village in Sonepat district, Haryana, Ranjit used to earn a living by white-washing walls.
His passion for painting saw him sign up for a degree in fine arts at the National Institute of Design in Chandigarh in 2002.
"I did my first Bollywood painting in 1993 when I was still in school," says Ranjit. "I painted Kishore Kumar."
Today, Ranjit freelances as a graphic designer in Mumbai.
He still finds time to indulge in his passion for Bollywood, dipping into his funds to pay for the murals he has created in Bandra, a north-west Mumbai suburb that is home to Bollywood stars like Aamir Khan, Salman Khan and Shah Rukh Khan.
He uses shoe polish brushes to create these murals "as it becomes easy to fill the surface with it."
As a creator, he has some quirks. "I don't like to touch up my work as I want people to know the age of the painting."
And like every artiste, he has anecdotes about dreams that are yet to be fulfilled.
"I had planned to paint Helen's poster on a wall in Bandra. I had taken all the permissions and had completed the formalities, but somehow missed one lady's permission. She objected when I started painting on the wall of her residence and asked me to pay Rs 50,000 if I wanted to continue!"
Right there, he stopped painting that mural.
"I haven't made Helen's painting," he says regretfully.
Some of Ranjit's paintings and the stories behind each of them in his own words: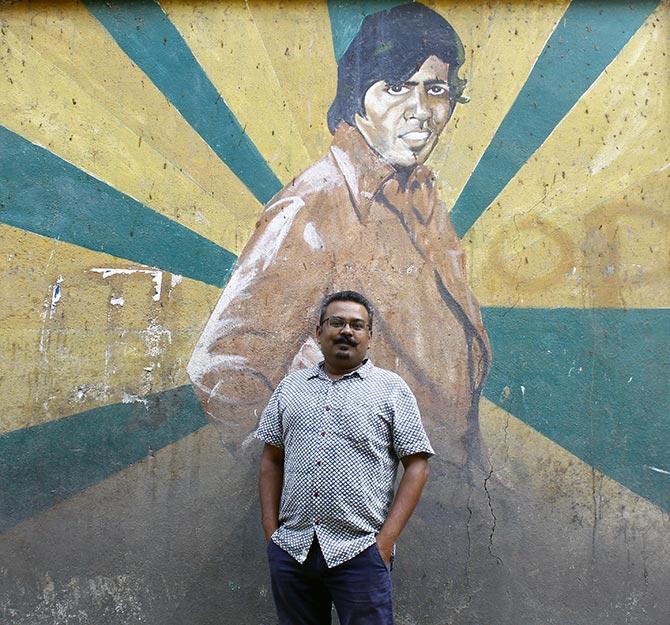 This was the mural that changed the direction of my life.
In 2009, I had painted Amitabh's iconic pose from Deewar.
After seeing this painting, a renowned artist invited me to Paris to hold an exhibition of my work.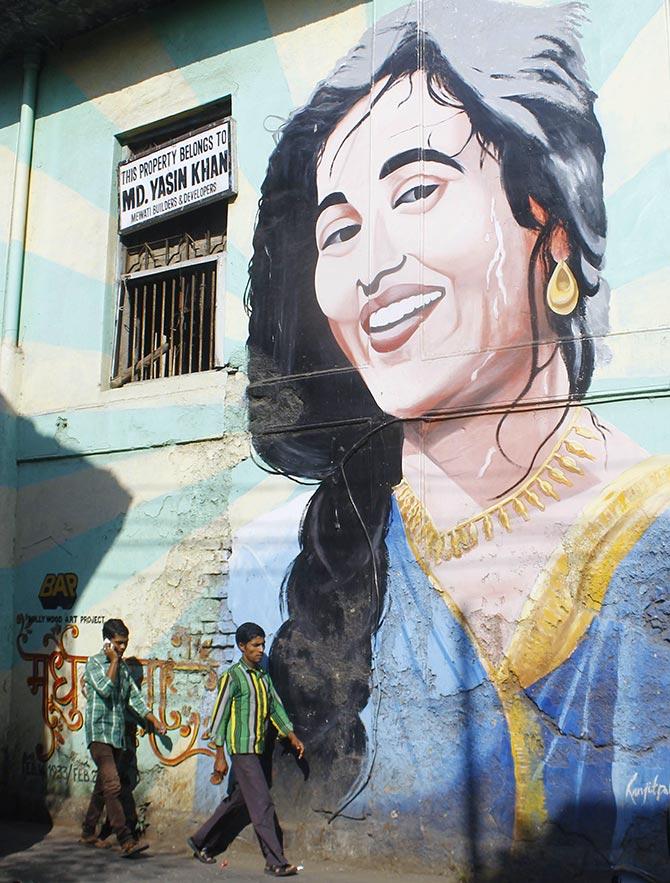 In Paris, I could not paint Anarkali for some reason, so I ended up painting Mughal-e-Azam.
I remained obsessed with Anarkali but it was only back home in Mumbai, in 2009, that I finally got to paint the stunning Madhubala as Anarkali.
It took me 10 days to finish this mural.
Anarkali is special to me in more ways than one... It was with this mural that the Bollywood Art Project, BAP, was born.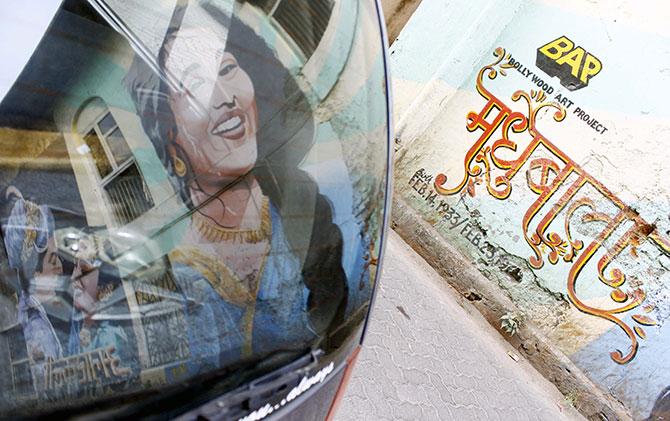 Mumbai is Bollywood and Bollywood is Mumbai... you can't separate the two.
Yet, visually, you don't see this synergy. Except for the homes of the Bollywood stars, we don't have any other visual identification of this unique bond.
I thought of giving the city what it is best known for.
In 2013, the film industry completed 100 years of existence, so this is my tribute to the industry as well.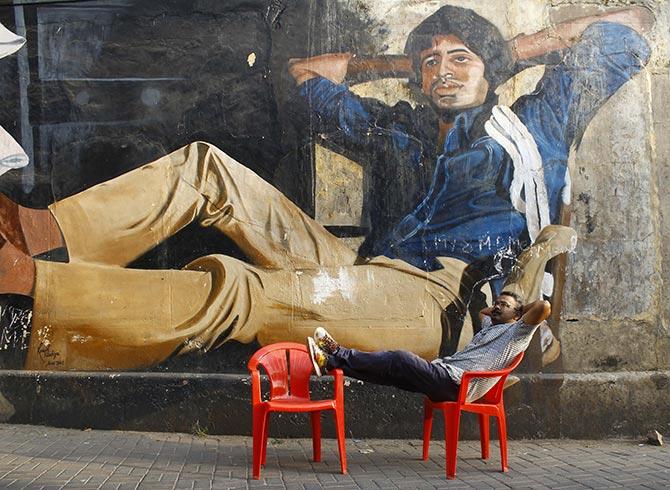 I am a big fan of Amitabh Bachchan.
If I could, I would paint his movie posters all over the city. But if I did that, it would be unfair to other artistes.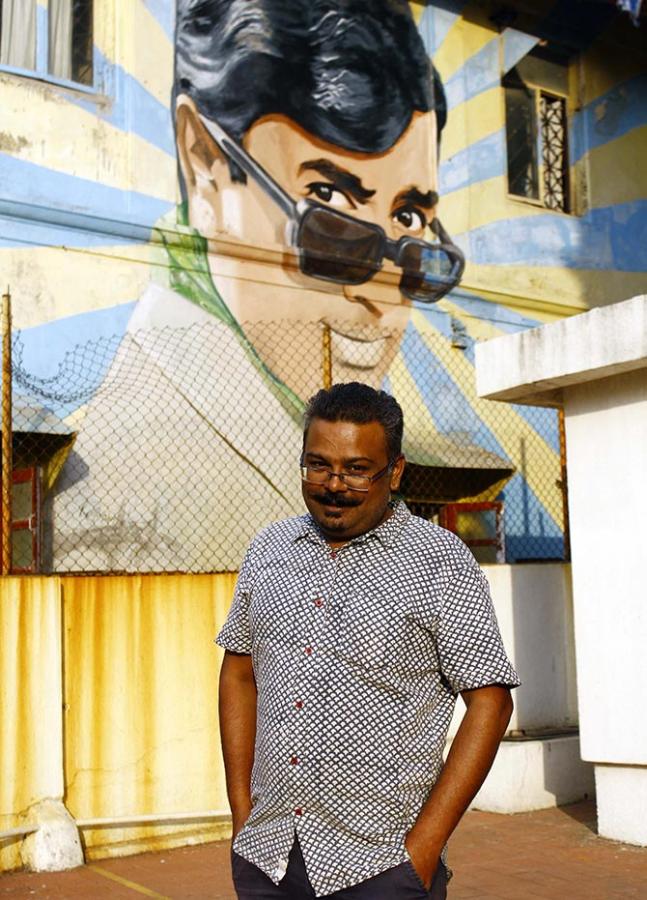 This was my tribute to Rajesh Khanna.
I made it after he passed away.
It took me six days to create this mural.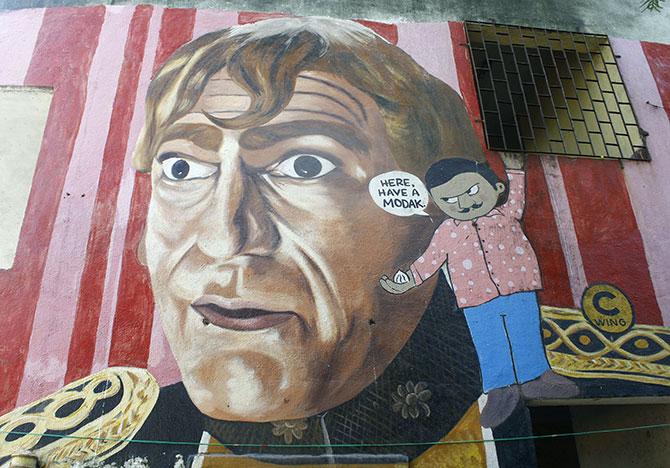 Bollywood is not just about heroes. It's also about the villains.
If our good guys did not have bad guys to beat up, would our films be as interesting?
So I thought it would be nice to create a mural of an unforgettable villain.
This painting of Amrish Puri as Mogambo was sponsored by Visual Disobedience (an artists's collective that helps visual artists in India with public and commercial projects).
Local residents, too, provided their support.
It took me four nights to complete this painting.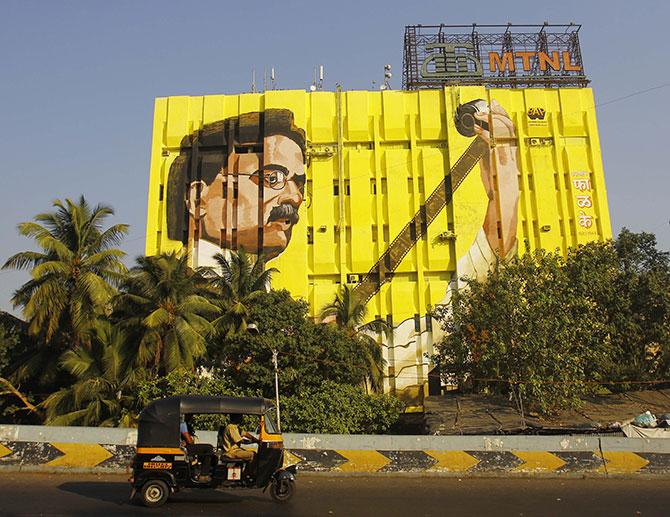 My latest addition to Mumbai... the legendary Dadasaheb Phalke.
It was my dream to paint the father of Indian cinema.
Approximately 20,000 sq feet in size, it is the biggest mural in India.
It was well planned, so I could complete it in seven days. Drawing it took me just two days!
Photographs: Hitesh Harisinghani/Rediff.com