We'd asked you, dear readers to share your love stories with us.
Here Ramya Nair tells us how she found love in Arun.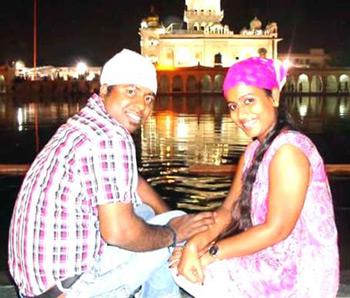 Two souls, but a single thought and turned into two hearts that beat as one' -- John Keats
Our love story began the day we had our first meeting arranged by our parents.
I found him -- Arun Nair -- to be a very happy-go-lucky kind of person.
He was humble, sweet, emotional and a family guy.
I am more of a practical and adventure lover by heart.
During our first meeting, on December 26, 2012, we were not sure whether we'd marry each other, but there was this feeling -- a special connection and an eagerness to know more about each other.
Although both families fixed the marriage, we still hadn't known each other well enough!
After lots of telephonic conversations and messages, we decided that we were meant to be together.
Both of us are typical Keralites born and brought up in northern India. He was raised in Delhi and I in Uttar Pradesh.
We had both spent our childhood in northern India and had been deprived of enjoying much of our traditional customs. So we decided to imbibe our traditional Kerala rituals and get married in the typical Kerala style wedding.
Our marriage was to be held on April 2, 2013 at our native place in Kerala.
Both the families were very happy.
I convinced my husband to get married in the same temple where my parents got married to each other.
He was humble enough to agree. I was spellbound by his gesture to acknowledge my wish.
We got engaged on March 29 and had a traditional wedding in my native city Kottayam in the presence of all our near and dear ones.
He wore the 'mundu-shirt' and I wore a heavy silk sari.
The whole wedding ceremony was very lively as he kept on cracking jokes in between to make me feel at ease.
Ours wasn't a love marriage, but it had turned into love by the time we got married. With each passing day, I feel like falling in love with him all over again.
I love him and believe I am lucky to have him as my life partner.
On September 2, 2014, God blessed us with a lovely daughter, Navya.
I bow down in front of God for making me feel lucky enough to have these two beautiful souls in my life.
ALSO SEE
Jab We Met: 'In her, I found a friend forever'
Jab We Met: 'She was filled with anger'
Jab we met: 'She was simple and beautiful'
Jab We Met: 'Jodiya upar se bankar aati hai'
#Jab We Met: 'I fell in love for the first time'
#Jab We Met: 'I liked his supreme self-confidence'
Click here to read more Jab We Met stories
Dear readers, do you have an interesting love story that you want to share?
Tell us where you first met your partner and how the two of you fell in love.
Write in to us at getahead@rediff.co.in (subject line: 'Jab We Met'). You can also include a photograph of you and your partner and we'll publish the best entries right here on Rediff.com.