We'd asked you, dear readers to share your love stories with us.
Rediff reader Moutan Lahiri tells us how she was proposed by her would-be husband! You can share yours too!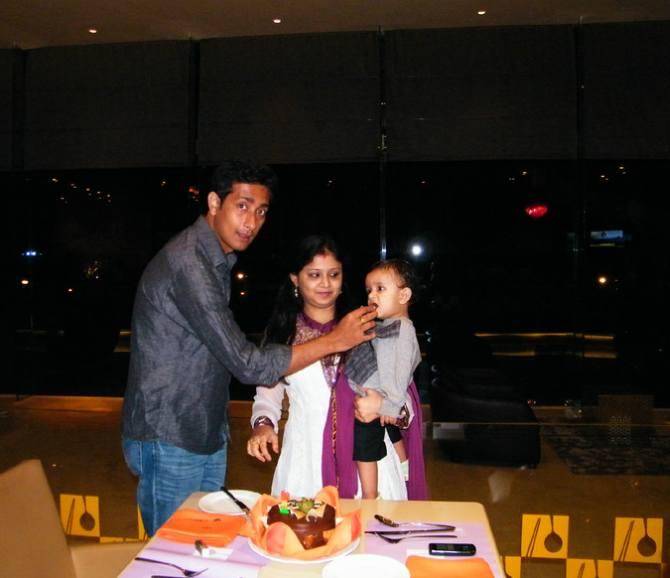 Cupid stuck 15 years back when we were just 18 years old.

We used to go for the same coaching class when I noticed this tall and lanky kid always sitting on the back bench. He used to crack jokes just like that and make everyone laugh with his wicked sense of humour.
He was naughtiest student among the group. His eyes used to twinkle always with mischief.
I, on the other hand, was a very serious bespectacled studious kinda girl. Though I liked him, in those days girls never used to propose. It was a guy thing. And I never knew whether he even liked me also.
After a few days I was asked by his friends to come to the college common room alone to meet him. And there he popped the ultimate question which left me speechless. I went somewhat like this 'Listen chasmis (a bespectacled girl) I like you and I would like to marry you in future.'
I had not even thought about marriage at that point of time and this crazy fellow wanted to marry me.
I replied in usual girly style: 'lets be friends first.' He refused and said that he can't act all friends with someone who he wants to spend the life with. I liked his supreme self confidence.
I never know where would life take us in the coming years with our careers going in separate direction but amidst all that he was sure I am the one for him. And I accepted his proposal.

We got married in 2009 after 8 years of dating and presently have a five-year-old son.
ALSO SEE
#JabWeMet: I was struck by her smile
#JabWeMet: It was love at first sight!
Click here to read more Jab We Met stories
Dear readers, do you have an interesting love story that you want to share?
Tell us where you first met your partner and how the two of you fell in love.
Write in to us at getahead@rediff.co.in (subject line: 'Jab We Met'). You can also include a photograph of you and your partner and we'll publish the best entries right here on Rediff.com