We'd asked you, dear readers to share your love stories with us.
Rediff reader Santanu Ghosh tells us how he met his wife for the first time and fell in love! You can share yours too!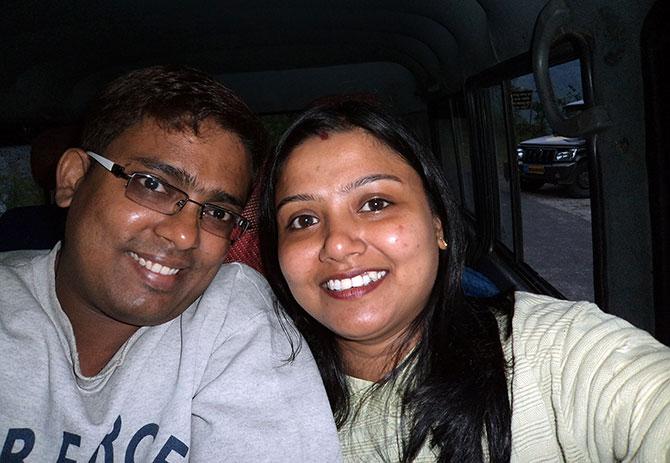 It was 9th of July 2009!
A reluctant man of 35 years was going to Sonarpur to see his "would-be-wife" accompanied by his mother and sister.
While catching a train from Sealdah, he was irritated and angry.
Having brought up in Kolkata, he did not want to want to marry someone from the outskirts.
The irritation persisted even they took an auto from Sonarpur Railway Station to Rajpur.
He promised himself that he would spend a maximum of 15 minutes at the girl's house. Obviously he did not mention any of these feelings to the others.
When he reached the house, met with the inmates, had tea, samosas and made plans to leave the place as early as he could.
The girl who was now invited by his mother and sister came and sat beside the visibly irritated man.
She was a simple girl. She wore absolutely no make up and was dressed in an ordinary saree.
When he turned to her, she lifted her eyes and saw him for the first time.
He smiled at her and she returned the smile.
The man tried to look for his irritation and anger, but in vain.
He knew...he'd lost the battle.
He noticed she had an extra tooth just below her upper lip.
The sun was just about to set but before it went down for the day, it had gifted the last crimson tide.
It fell upon her and the man realised that his legs were too heavy to carry him out.
On that day the man, who is yours truly, lost everything -- my pride....my ego...my armour!
I fell in love for the fist time.
It has been six years since...
We (touch wood) are happily married ever since.
To be brutally honest, let me add, even the sexiest woman seems boring to me beside her!
I love my sweet wife the most, but I still remember the crimson tide on her face when it fell upon her.
ALSO SEE
#JabWeMet: I was struck by her smile
#JabWeMet: It was love at first sight!
Click here to read more Jab We Met stories
Dear readers, do you have an interesting love story that you want to share?
Tell us where you first met your partner and how the two of you fell in love.
Write in to us at getahead@rediff.co.in (subject line: 'Jab We Met'). You can also include a photograph of you and your partner and we'll publish the best entries right here on Rediff.com