We'd asked you, dear readers to share your love stories with us.
Here Rajat Jain tells us how he met his partner Kriti.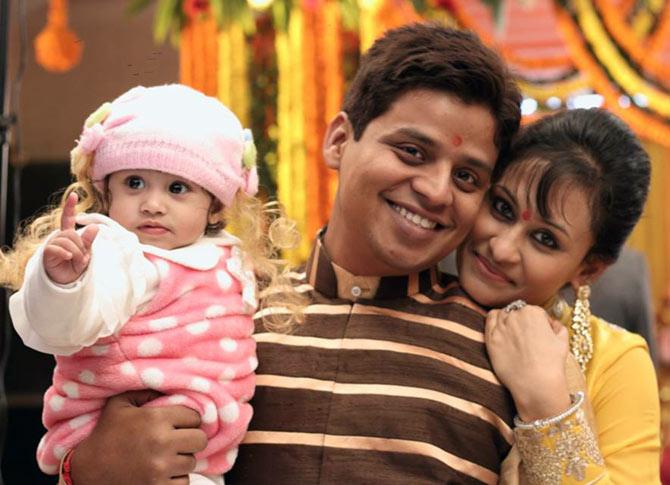 I belong to a Jain family in Jalandhar, where arranged marriages are still the norm.
However I know for a fact that my parents would not have had a problem if I had married a girl of my choice.
I had many female friends, but I just never fell in love...until I met Kriti -- she's the most beautiful girl I ever met.
My dad always wanted me to marry a girl from Amritsar.
I wasn't very keen but when he insisted, I went ahead and met the girl and later declined the proposal.
At the time, I had not even seen her face properly. Later, I felt guilty and selfish for rejecting a girl.
I felt bad about the incident and decided that I would say Yes to the next girl I meet.
I met my wife Kriti on August 14, 2006.
She hails from Meerut and this time too, I do not know why, but I just did not want to marry a girl from Meerut.
When I knew that Kriti's parents were coming to see me, I left for Delhi and did not come back for a few days just to ensure the proposal was called off.
But as they say, you can't fight destiny.
I was pushed too hard to agree for the marriage and I gave in.
Like I said before, I too had decided that I won't say No and reject a girl.
I was shown Kriti's photograph. I saw it for less than a second and said 'go ahead' without even noticing how she looked.
I had always wanted a well educated girl; so I asked my aunt about her educational background. I was told she was a graduate.
I met Kriti at my uncle's house with her family. We were allowed to talk.
As for her side of story -- she never wanted to get married in Punjab, just like I detested the Meerut girl.
She knew that I had not come back from Delhi so that I could avoid the proposal. She thought 'when he does not want to get married a Meerut girl, why push for it?'
To add to this, someone had shared some information about me, most of which were incorrect, which she later found out.
Before meeting me, she used to talk to her friends and cousins telling them how she felt about me.
Her father promised her that if she did not like me after meeting, they would not force her for marriage.
In fact, she was filled with anger when we met.
When we met, I asked her name. Surprisingly, she knew everything about me.
Like a gentleman I complimented her that she was looking really pretty, and she actually was.
She became more comfortable and spoke her heart out about everything she felt about me.
She always wanted a tall partner, so she even compared her height with me. I am 5'6" and she is 5'3".
I learned that she was not even a graduate, and was pursuing her 2nd year BA through distance learning. I was amazed at the way she spoke.
I was happy that she was not the shy/reserved kinds.
Much later, I found out that she was actually the reserved kinds, and she was just venting out her anger by talking. We talked for 30 to 40 minutes.
Finally some one called out to us and took us to a place where every one was present. They asked me, what my decision was.
I said yes in front of about 15 relatives and suddenly everyone was congratulating each other. Soon I realised, that I had given my consent without even asking for Kriti's decision.
I was so happy and had fallen in love with her.
Her father too did not ask for her decision.
When Kriti confronted her Dad, he said that the glow on her face clearly showed her decision, so he had not bothered asking her.
It's been 10 years since we have been married, and I have 9-year-old boy Ojas and 2-year-old sweetheart Inaayat. I am really happy that I met Kriti.
There have been lots of ups and downs in our relationship too, but after every down, we rise again because of the love.
We'll complete 10 years of our marriage on January 30.
Jab we met: 'She was simple and beautiful'
Jab We Met: 'Jodiya upar se bankar aati hai'
#Jab We Met: 'I fell in love for the first time'
#Jab We Met: 'I liked his supreme self-confidence'
Click here to read more Jab We Met stories
Dear readers, do you have an interesting love story that you want to share?
Tell us where you first met your partner and how the two of you fell in love.
Write in to us at getahead@rediff.co.in (subject line: 'Jab We Met'). You can also include a photograph of you and your partner and we'll publish the best entries right here on Rediff.com.