'The truth in your words and the relentless drive to make a difference.'
'So go on all you beautiful souls, the world is your oyster.'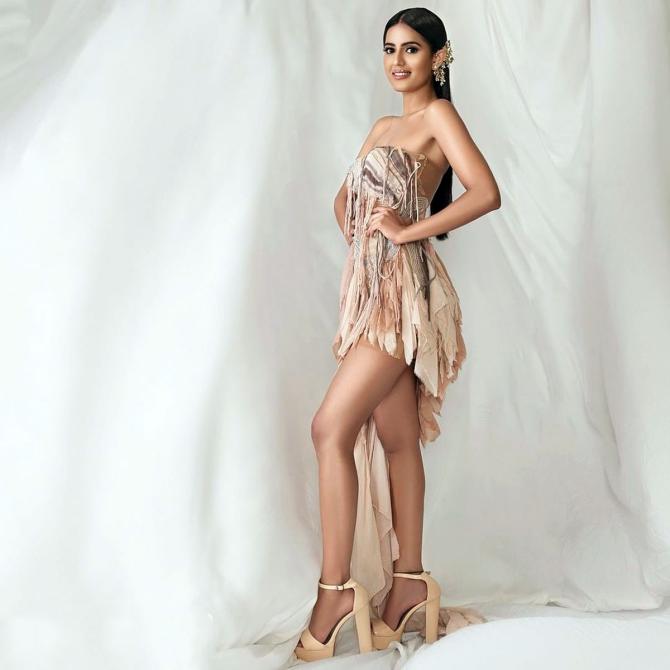 There was a time when Jaipur's Sonal Kukreja, who was crowned first runner-up at the LIVA Miss Diva 2021 beauty pageant, was very "insecure about the way she looked".
"I never saw myself fit in the predefined notions of beauty," she reveals.
"From the colour of my skin to the scars over my body, I felt I was imperfect in every way.
"While growing up, I'd watch pageants on television and say 'Wow! I aspire to be a woman who drives change.'
"I wanted to set an example for other women to be inspired," adds the 23 year old who wants to use the pageant as a platform to promote financial independence among women.
"But I was always nervous and conscious about the way I look. I had several inhibitions."
Last year Sonal got bit by a dog on her face. That added to the pile of insecurities she had when she was growing up.
However, when she got an opportunity to participate in Miss Diva 2021, she gladly accepted the challenge because it was a way forward towards self-acceptance and a chance to redefine beauty.
"The more I resisted being imperfect, the more challenges came my way. I met with accidents, got multiple stitches and scars across my body.
"Finally, I decided I couldn't resist anymore. All I had to do was accept. And with acceptance came this sense of freedom that is unparalleled.
"The irony is when you finally accept your flaws, they start to disappear automatically."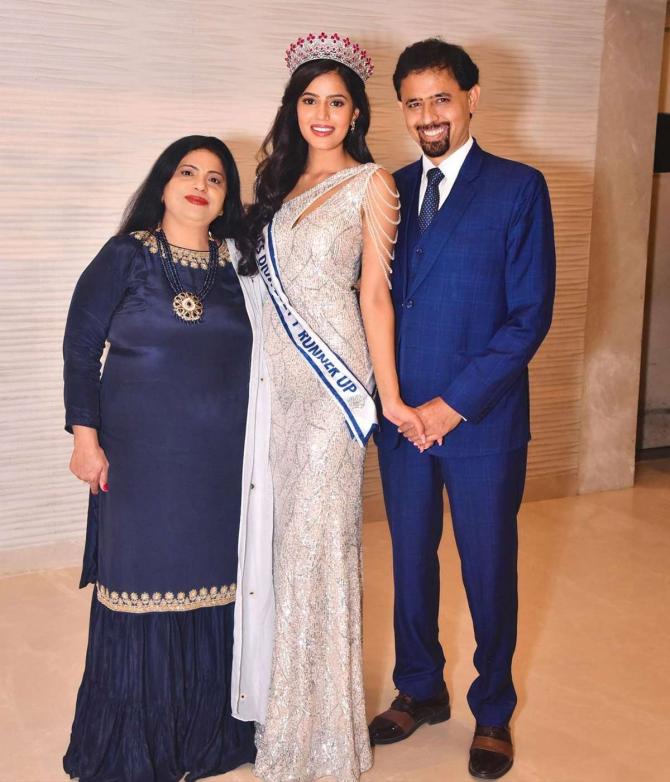 "The glamour industry is bound to a lot of stereotypes," she tells Rediff.com's Anita Aikara.
"I wanted to break that and prove that there's no one choice women are limited to.
"I could be a woman in business and still be at a beauty pageant; I could represent beauty in different forms.
"I am not the most perfect girl, but I am way more than what you see on the outside."
Right now Sonal is on a mission to spread happiness. "A happy world is a beautiful place to be. I want people to be happy or do whatever makes them happy."
The co-founder of a crypto financial institution UniCas, Sonal is the vice president of marketing and partnerships at the start-up.
From securing a bachelor's degree from Pennsylvania State University, USA and working as a marketing and sales professional for a year-and-a-half in Washington, DC, Sonal's career took a turn last year when she ventured into finance.
"Given the pandemic, people were losing their jobs. They didn't have enough to make ends meet.
"I was working with a bunch of expats from Bangladesh and India on providing meals daily wage workers and people who had lost their job during the pandemic.
"That's when the idea came around to provide these people the opportunity to do something bigger so that they can support themselves."
She says, "I'm proud that I was able to create a financial technology venture.
"Still, I also believe that if I want, I can show the side of me, which enjoys being in front of the camera, and represent all that I am -- my thinking, perspective and beauty with a purpose on a global platform."
"Beauty is the courage in your heart, the truth in your words and the relentless drive to make a difference. So go on all you beautiful souls, the world is your oyster," she advises aspiring beauty queens.
Sonal Kukreja talks of her journey into the fashion industry and the women who inspire her. Video: Rajesh Karkera/Rediff.com