'It is not about how one looks, but how they feel. It is about how beautiful we are on the inside.'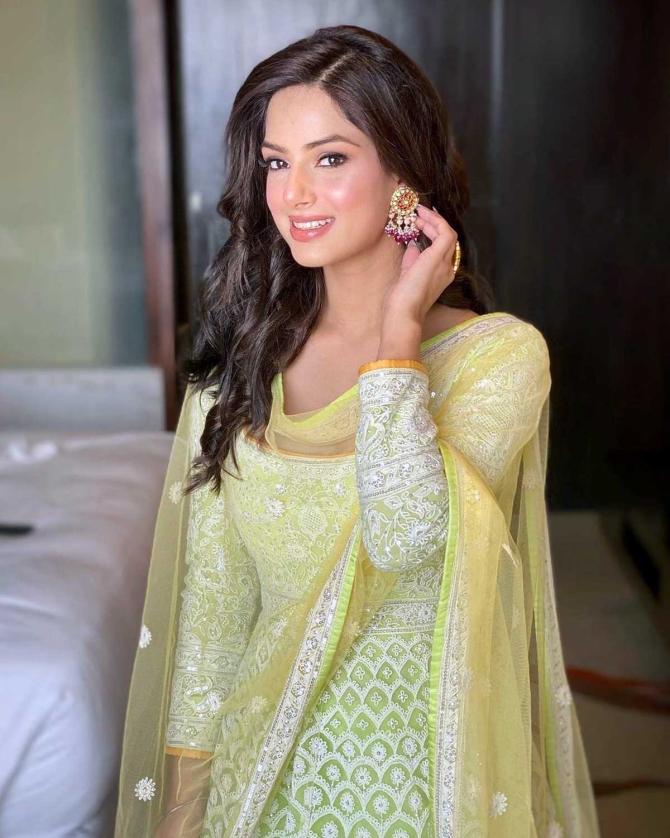 Chandigarh's Harnaaz Sandhu -- Miss Diva Universe 2021 -- won the Miss Universe title on Sunday, December 12, 2021.
The 21 year old is currently pursuing a master's degree in public administration.
Her beauty pageant journey started at age 17 when she participated in the Times Fresh Face pageant in 2017.
In 2019 she represented Punjab at the Femina Miss India beauty pageant and made it to the Top 12.
Prepping to bring home the Miss Universe crown, Harnaaz told Rediff.com in October, "My aim is to be the best version of India and represent myself beautifully on the international platform.
"My name Harnaaz means 'God's Pride'. I want to make India proud by bringing home the crown," she told Anita Aikara/Rediff.com. Video: Rajesh Karkera/Rediff.com.
How has your family supported you through the beauty pageant?
My family is my biggest support system. They played an important role in transforming me from the girl-next-door to a beauty queen.
They have given me the confidence to express myself in front of the camera and live life with a purpose.
My father Pritam Singh Sandhu calls me the 'lioness of the family'. He says, "Tu Punjab di sherni hain (you are the lioness of Punjab)."
My mom Dr Ravinder Kaur Sandhu, a gynecologist, is my hero and has always inspired me.
Being a doctor, she has empowered me to believe in myself and work towards bringing some kind of change in society.
She made me believe that if I wanted to change the system, I had to be in the system.
Is there an Indian beauty queen you look up to?
Priyanka Chopra has been my biggest inspiration.
She has created her own brand and represented India not only in beauty pageants, but also through her acting and singing talent.
She has made India proud and I am hoping to follow her footsteps and bring glory back the way she did.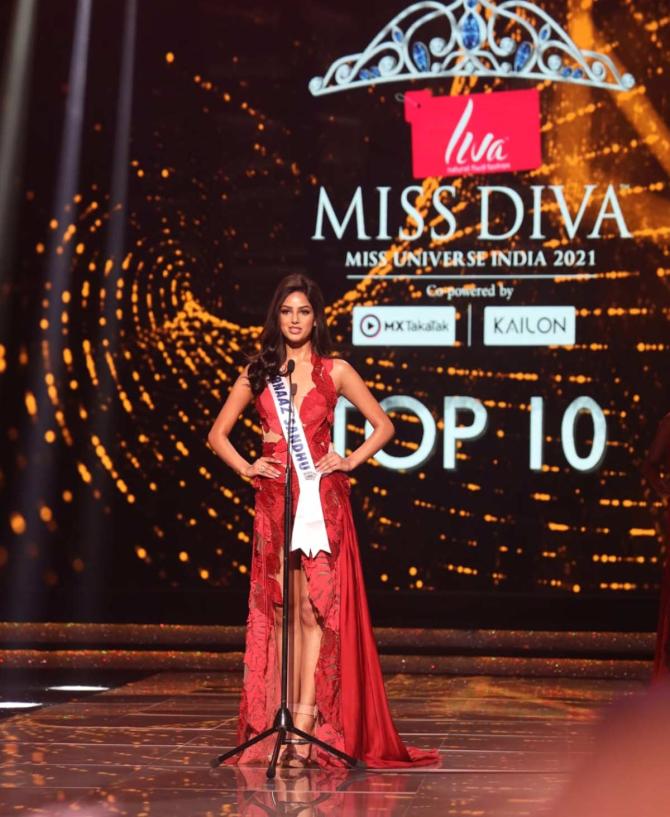 Challenges you faced during the Miss Diva journey?
I was in hospital a month back and was not coping well with my health.
However, I gave it my all to be physically fit to participate in the pageant.
For me the biggest challenge was rising up to the occasion and be prepared to give the pageant my best.
If you're passionate and believe in yourself, you'll find the will power to achieve your goals.
Did you face any criticism during your growing up years?
While growing up I faced criticism not on the basis of gender but on my appearance. I was bullied and body-shamed.
How did you deal with it?
It is important for people to realise that in the 21st century we expect people to be their true selves.
Beauty is within us, be real. It is not about how one looks, but how they feel. It is about how beautiful we are on the inside.
A message for Indian youth.
I'd like to convey a small message that you are unique and that is what makes you beautiful.
Do not compare yourself with others as that is not your goal. Know your purpose and keep working hard.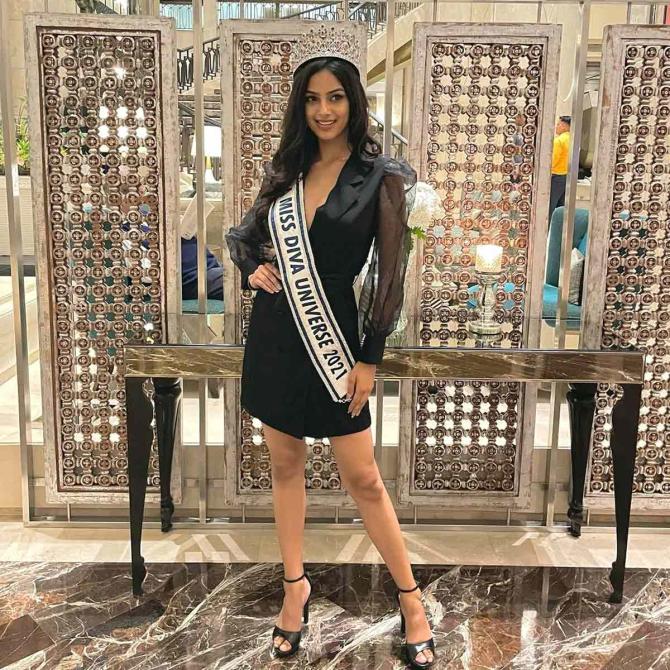 The importance of mental health.
One needs to be physically and mentally fit. It works in tandem.
Pre-COVID I kept emphasising on hand hygiene and the pandemic has reinforced its importance.
As for mental health, the bullying and body-shaming episodes of my life made me a stronger version of myself and more confident about who I am.
I tell people that it is okay to not be okay. We are humans and it is alright to have different emotions.
One may not be able to keep smiling all the time. It is okay to cry or experience darkness because only then can one embrace the light.
Advice for aspiring beauty queens.
Believe in yourself. Stay the way you are.
We are in the black hole of technology where social media plays an important part in suppressing or uplifting our moods.
Understand social media and use it to empower people.
Trust me, the beauty pageant journey is not easy. It takes a lot of effort from you as well as your team.
The crown makes you feel beautiful, but it comes with a lot of responsibility.
Be sorted about your purpose in life and have faith in yourself.
Respect each other along the journey. Help to bring about some change in society.
WATCH: Harnaaz on what it takes to become a beauty queen and what we should be teaching young girls today.