'Stop wearing clothes which might be trendy, but doesn't go well with your body type.'
The Lakme Fashion Week is one of India's largest fashion events that brings together some of the best talents in the country.
Every year, through the GenNext show, LFW introduces us to a bunch of designers who could be the next big thing.
Masaba Gupta, Nachiket Barve and Rahul Mishra started their careers as GenNext designers on LFW. Today, their designs are showcased internationally.
This year, the spotlight is on four women designers -- Madhumita Nath, Amrapali Singh, Sunaina Khera, Ujjwala Bhadu who will kickstart the fashion week on January 31 in Mumbai.
Ahead of the show, Divya Nair/Rediff.com caught up with the designers to know what the opportunity means to them and how we can together make fashion friendly and affordable for all. The first of a four-part series:
Madhumita Nath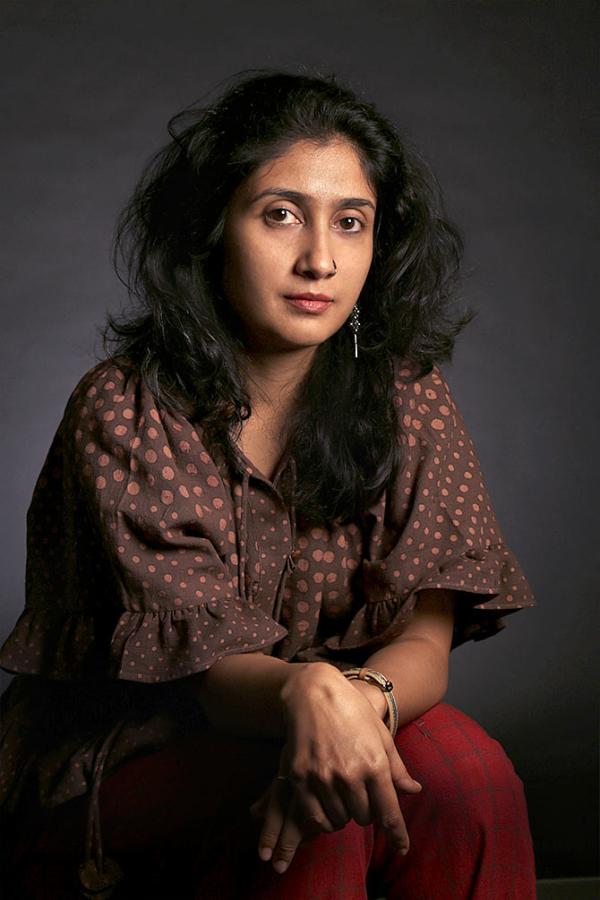 Madhumita was born into a family of scientists, but her passion for craft, drawing and painting drew her to design.
The 40 year old graduated from the JJ School of Art, Mumbai, and pursued textile design at the National Institute of Design, Ahmedabad.
Through her label Ek Katha, she works with artists from Kutch and believes that adopting natural fabrics like cotton can help make fashion sustainable.
Why did you choose a career in design?
It just so organically fell in place.
The path got created for me without me choosing design in a well chalked out manner.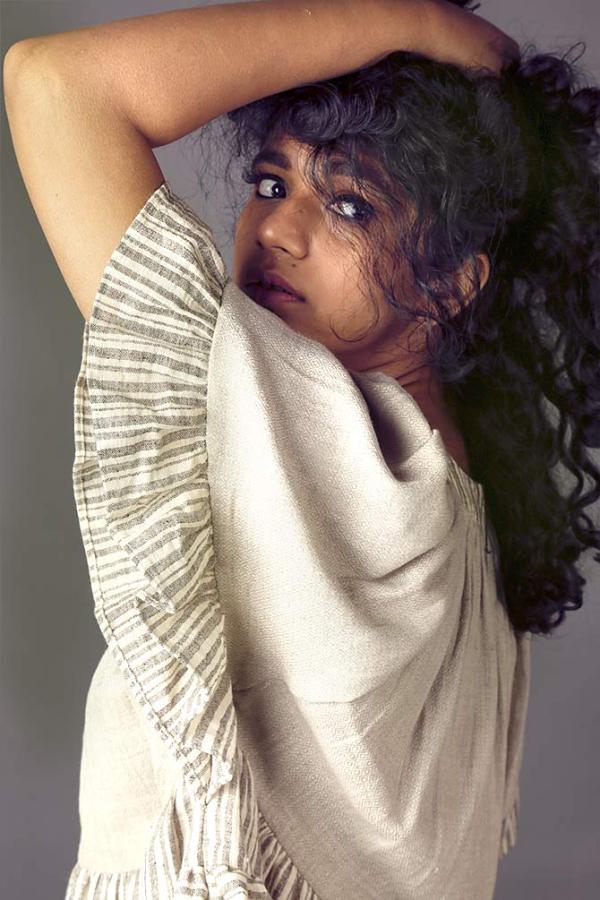 How did you create the collection for LFW?
Materials and processes inspire me to create.
I have based my collection working with the organic kala cotton of Kutch, which is indigenous, genetically untampered and almost carbon neutral.
The cloth which is handwoven with this short staple cotton is grainy, tactile and has a beautiful rawness about it, which I truly love.
Another craft which is employed is Batik which is essentially wood block printing, a resist style of printing with wax and then dyeing the fabric with natural colour derived from plants, the wax is thereafter removed.
The mood of the collection dictates the colours which is within the limit of what can be achieved with natural dyes and the process of Batik.
The patterns and the visual imagery that is created is an amalgamation of patterns in nature and the organic outcome of my materials and processes.
Are you excited about the Gen Next show?
It is a great opportunity and a fantastic platform. There is a lot of excitement and our small team in Mumbai is working towards the showcase.
Our craftsmen are also very happy for us. Without them I would not have reached this point.
Is it challenging to be a designer?
Since funds were limited, we have always taken baby steps and invested every bit back into the business.
Maintaining quality in craft has been quite a task.
Finding the correct skilled workers had also been a challenge.

What are some of the best learnings you've had so far?
Craft based work teaches you the importance of persistence and hard work.
You value human intervention at every level, as the creators of your cloth are humans with their own capacity and skill and there is also a scope for human errors.
You learn patience as the products takes its humanly possible time to be created.
The travels have been truly enriching wherein you see the craft in its own geographical and social context. You meet and connect with people in the process.
Failures have also taught me to look into what is wrong and how it can be dealt with.
According to you, what are the three elements required to be a successful designer?
Self belief, hard work and ethics in place.
What's your take on sustainable fashion? How can we try and make it more affordable to everyone?
The way we are creating used to be the only way before synthetic fibres and power looms appeared on the scene.
Our way of using traditional textile methods which are organically aligned to nature, with minimum carbon footprint, use of natural materials, indigenous to the country is what I perceive as sustainability.
My take is to go back to age old methods.
With mills churning out thousands of metres in a day in comparison to 15 metres made on the loom, making the cloth as affordable as fast fashion is tough. But what used to be the only cloth is now the cloth which only few can afford.
We can definitely make it more affordable by making sure more natural fibres are organically grown.
Farmers should be made aware of the advantages of growing the short staple indigeneous cotton which used to be the only cotton grown before genetically modified seeds came in, high seed prices, need for extensive irrigation and the result is farmers in debt in drought like areas of Marathwada and Vidarbha.
We have to grow 'our' cotton and weave 'our' cloth. We are already seeing a resurgence and that means the more people choose this over fast cloth it is bound to become more affordable.
How can commoners be part of this change?
It is high time everybody becomes part of this change and it needs to be a lifestyle change.
Think before buying one time use products. Imagine the landfill where it is going to land. Choose quality over quantity.
Reuse, recycle and upcycle. This is a part of our culture.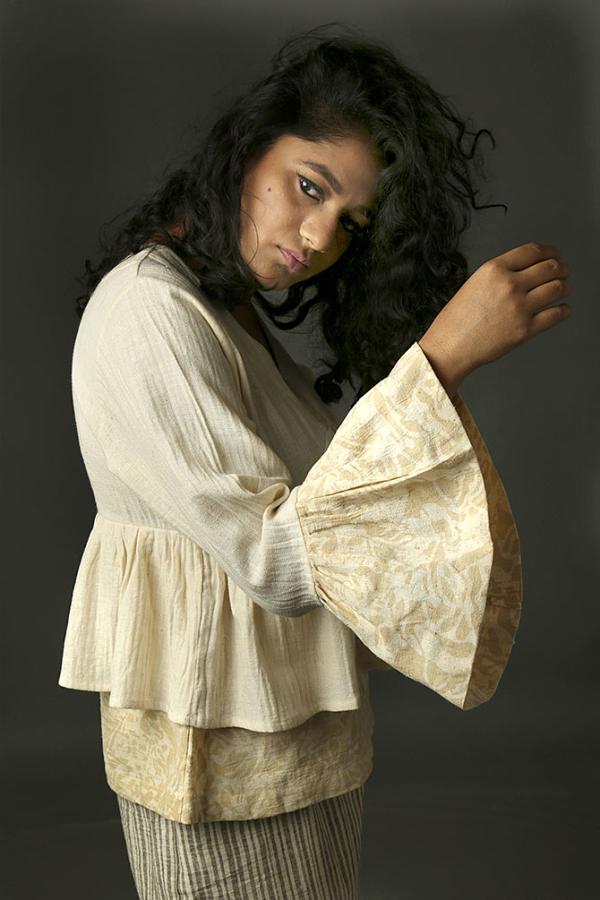 Who/what inspires you?
Nature inspires me. The barrenness of Kutch and the people inspire me.
The Himalayas and its scale inspire me. It truly fills my being with light.
Travel fills me with wonder and keeps me connected to an unknown core.
All of this somewhere put together comes across through what I make and how I work.
A celebrity you dream to dress up.
Kangana Ranaut or Kareena Kapoor Khan.
They have strong personalities, minds of their own and that reflects in the way with which they lend their personalities to the clothes that they wear.
Do you think Indians have a good sense of fashion?
The common man on the street doesn't seem to be fashionably dressed. But dressing fashionably still is not there on top of the list when meeting daily life challenges is more important.
We still have to tackle the roti, kapda, makaan basics in place to think about fashion.
I haven't really travelled extensively, but the Europeans are all very fashionable with each country having its own fashion idiosyncrasy.
They not only like sharp cuts, clean lines, plaids and muted colours, but are now very open to more colours and fun. This is a new Europe brimming with immigrants and soaking in cross cultural influences.
What are some of the mistakes Indians make while dressing up?
Indians lean towards garish embroidery and on your face kind of surface ornamentation.
This in my opinion is such an irony as our traditional hand embroideries have such refined aesthetics.
Also, they wish to be fashionably dressed which means a crude copy is also fine with most customers as long as it is 'fashionable' in their opinion and cheaply available.
Your fashion advice for readers would be:
Stop wearing clothes which might be trendy, but doesn't go well with your body type.
Wear comfortable clothes.
Confidence is fashionable, not anything else.
Add a scarf or a jacket to your regular outfit or an accent neckpiece. It simply lifts your look from regular to fashionable.
Most importantly, shop when you need to. Know what you are buying, the material and the process behind it.
What's your big dream?
My 'big' dream is made up of numerous small dreams.
I would like to have a team big enough at the grass root level where say an entire village is working for us.
I would also like to make our presence felt on foreign shores.
I would want to see my start up expand and truly be able to give enough work to the artisans, as at the present moment it is negligible.