Chef Ila Sarwate shows you how to make the delicious dessert.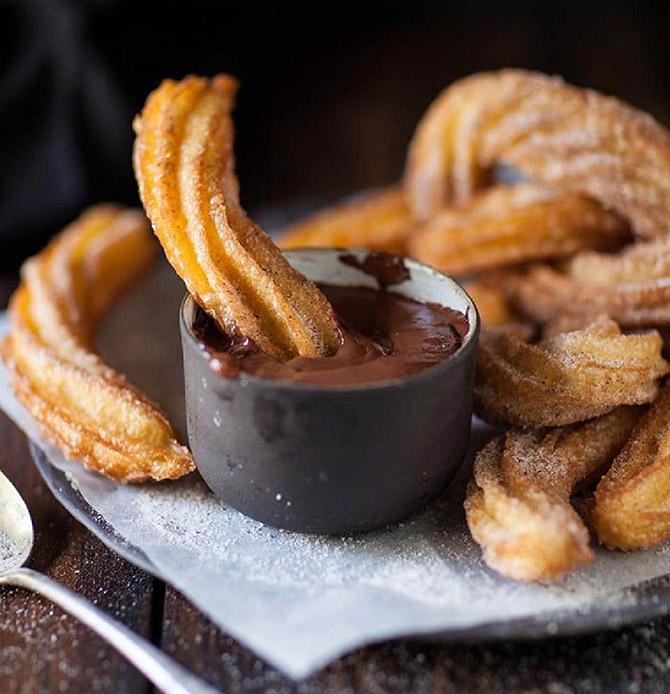 Churros is a traditional pastry made from fried dough topped with cinnamon sugar and served with dark chocolate.
Please watch the video to see how you can make it at home:
Recipe by Ila Sarwate, alumni, Academy of Pastry and Culinary Arts Mumbai
Ingredients
For churro paste
320 gm water
25 gm butter
5 gm salt
20 gm castor sugar
260 gm flour
100 gm eggs
For cinnamon sugar
300 gm castor sugar
5 gm cinnamon
For chocolate sauce
100 gm dark chocolate
100 gm cream
Method
In a saucepan, boil water, milk, salt, sugar and butter.
Slowly add flour and mix well till you see a thin skin forming at the bottom of the pan.
Transfer this mixture to a mixing bowl.
Gradually add in eggs one at a time and keep mixing till you get the right consistency.
Fill the mixture in a pipe/cone.
Pipe the sticks on a tray and freeze for some time.
Heat oil in a deep pan.
Fry the churros sticks in hot oil and roll them in cinnamon sugar.
Dip in chocolate sauce and enjoy.
---
Would you like to share an interesting recipe or cooking video?
Please do send your recipe/video to us at getahead@rediff.co.in (Subject: My Recipe) along with your name, location and, of course, the recipe.