Here's a quick recipe for your mid-week cravings!
Dark Chocolate Pumpkin Walnut Oat Pudding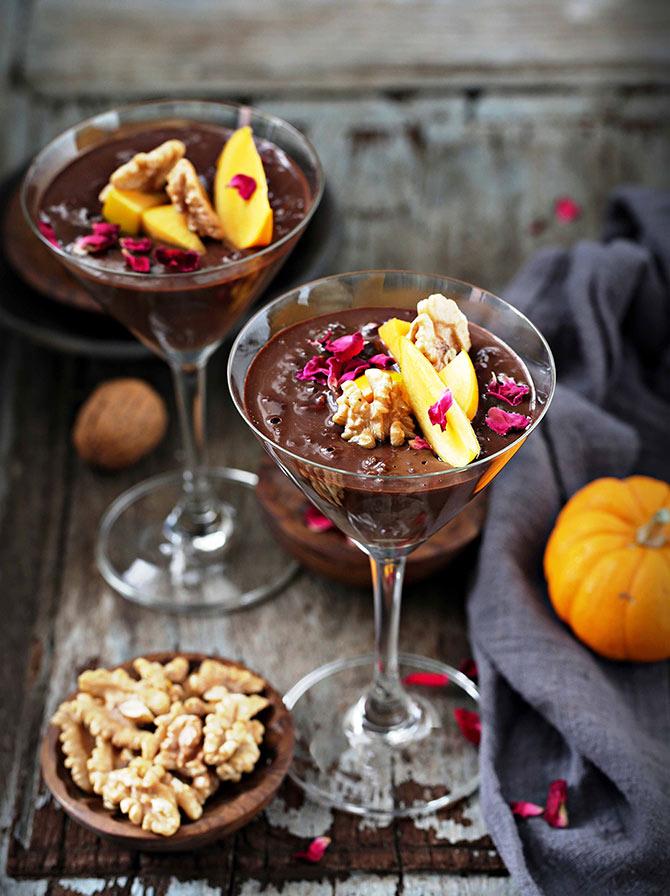 Recipe by Deeba Rajpal
Photograph: Courtesy California Walnuts
Ingredients
250 ml low fat cream
75 gm pumpkin puree
1 tsp cinnamon powder
30 gm cocoa powder
40 gm quick cooking oats
15 gm dark chocolate chopped
75 gm brown sugar
50 gm honey
75 gm roasted walnuts chopped
Topping
Roasted walnut halves
Persimmons sliced
Organic rose petals
Method
Place all ingredients, except walnuts, in a heavy bottom pan and simmer over low heat, stirring constantly until it begins to thicken.
Once it becomes as thick as custard, take off heat, allow it to cool.
Stir in the chopped walnuts.
Allow to cool, then ladle into serving glasses, bowls and chill for 2-3 hours, or overnight.
Top with roasted walnuts halves, fresh fruits like figs, persimmons, candied pumpkin or seasonal fruits of your choice.
Sprinkle over a few organic rose petals or pomegranate pearls for a pop of colour.