Celebrate Republic Day with this tricolour panna cotta!
A mouth-watering recipe from Mukesh Sharma, executive chef, Sheraton Grand Chennai Resort & Spa, Chennai.
Vanilla, Orange and Pistachio Panna Cotta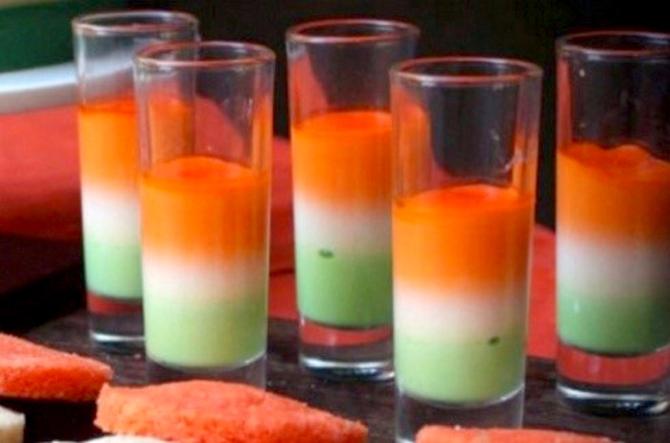 Servings: 1
Ingredients
2½ sheets of gelatin

150 ml milk
400 ml cooking cream
60 gm sugar
1 vanilla pod, split lengthways, or you can use 2 tsp vanilla essence
30 gm pistachio, powdered
30 gm orange filling, which is easily available in stores
Method
Add the sheets of gelatin to a bowl of cold water and set aside to soak for 5 minutes.
Use the back of a knife to scrape the seeds out of the vanilla pod.
Pour the milk and cream into a saucepan with the sugar and vanilla seeds/essence.
Stir and bring to a simmer.
Turn off heat.
Take the gelatin out of the cold water and squeeze out the excess water.
Add it to the milk mixture.
Stir until completely dissolved.
Divide the milk mixture into 3 parts.
Add the orange filling into first part, and the pistachio powder into the second part.
Let one part remain white.
Pour the pistachio mixture in a pretty, tall glass and place it in the fridge to set for 30 minutes.
After 30 minutes, take out the glass and add the plain white milk mixture over the now-set pistachio mixture and again return to the fridge. Let it set for another 30 minutes.
Finally, take out the glass from the fridge and pour the orange mixture over the now-set layers of pistachio and plain white milk, and place in fridge for yet another 30 minutes.
Once the panna cotta is set, serve with fresh fruits, cut and layered on top of the panna cotta.