End your Republic Day celebration with these treats.
Tricolour jalebi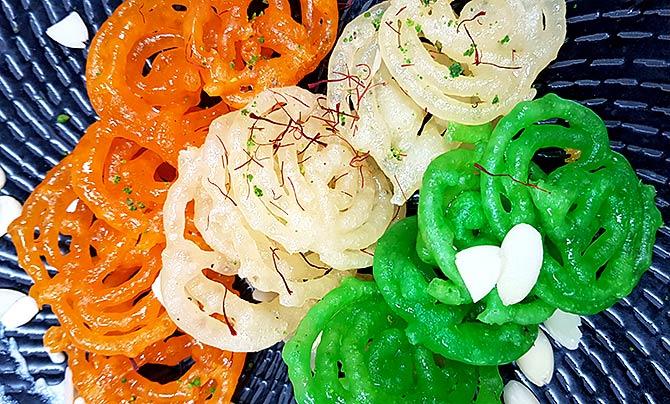 Recipe by Shibendu Ray Chaudhury, Executive Sous Chef, Renaissance Mumbai.
Ingredients:
2 cups all purpose flour (maida)
1½ tbsp fine grained semolina or rice flour
1 cup pista powdered for green color
1 gm saffron for orange colour
¼ tsp baking powder
2 tbsp curd or plain yogurt
1¼ cup warm water
½ tsp saffron threads, slowly dry-roasted and powdered
3 cup sugar
2 2/3 cup water
½ tsp green cardamom seeds powder
1½ tbsp kewra water or rose water
Ghee or vegetable oil for frying
Method:
Mix the flour, semolina or rice flour, baking powder, curd and ¾ cup of water in a bowl (preferably a ceramic bowl). Mix well with a whisk.
Divide the batter into three parts. In one part, add pistachio. In the second part, add saffron and let the third part be plain for the tricolour effect.
Mix well and then add the remaining water and whisk until smooth. Set aside for about two hours to ferment. Whisk thoroughly before use.
Prepare string syrup by dissolving sugar in the water. Just before the syrup is ready, add saffron and cardamom powder.
Heat oil in a kadhai. Use cloth piping bag to make roundels of jalebi. Deep fry them until they are golden and crisp all over but not brown.
Remove from the kadhai and drain on kitchen paper and immerse in the syrup. Leave for at least 4-5 minutes so that they soak the syrup. Take them out of syrup and serve hot.
---
Tricolour sandwich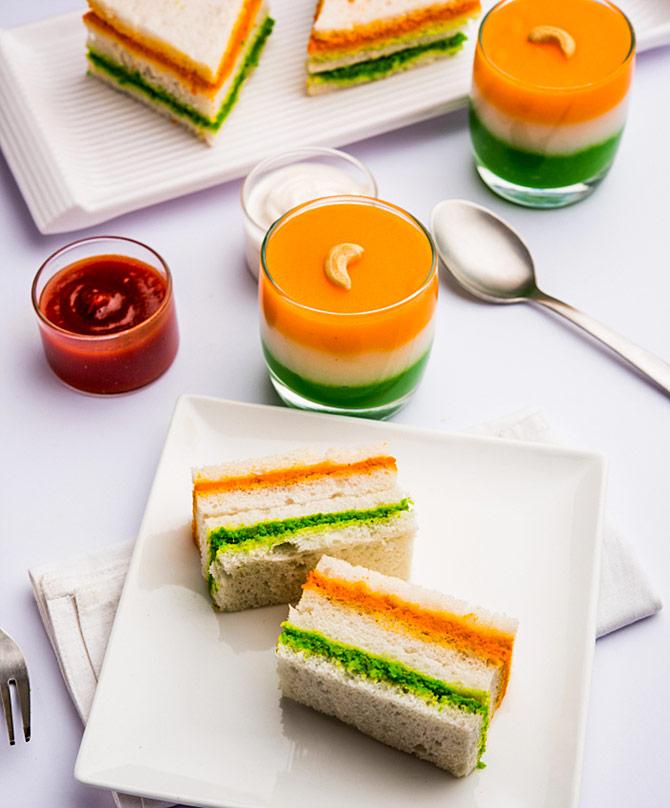 Recipe by Vibhav Verma, Executive Chef, Grand Mercure Bangalore.
Ingredients:
8 slices of white bread
8-10 spinach leaves
3 green chillies
Grated coconut
3-4 dry red chillies
50 gm cottage cheese, shredded
3 tbsp mayonnaise
Butter
Salt
Method:
Blanch the spinach for 2 mins. When it cools off, puree it with green chillies and ½ tsp salt.
Make a fine paste of coconut with dry red chillies and ½ tsp salt with 2 spoons of water. This would make saffron layer of the sandwich.
Cut the edges of bread slices. Apply melted butter on one side of all the slices. Apply the green paste generously on a slice and make that slice as a bottom layer. Place one slice over it and apply mayonnaise on other side of that slice. Sprinkle the paneer over to make a smooth layer. Place third slice over it and apply the saffron paste uniformly over it. Place fourth slice over it as a top layer. Your tricolour sandwich is ready to be served.