Rediff Reader and food blogger Manasi Sadarangani prepared these special recipes to celebrate Thadri, a Sindhi festival.
Mawa Modak
Modaks are sweet stuffed dumplings offered to Lord Ganesha as prasad/bhog.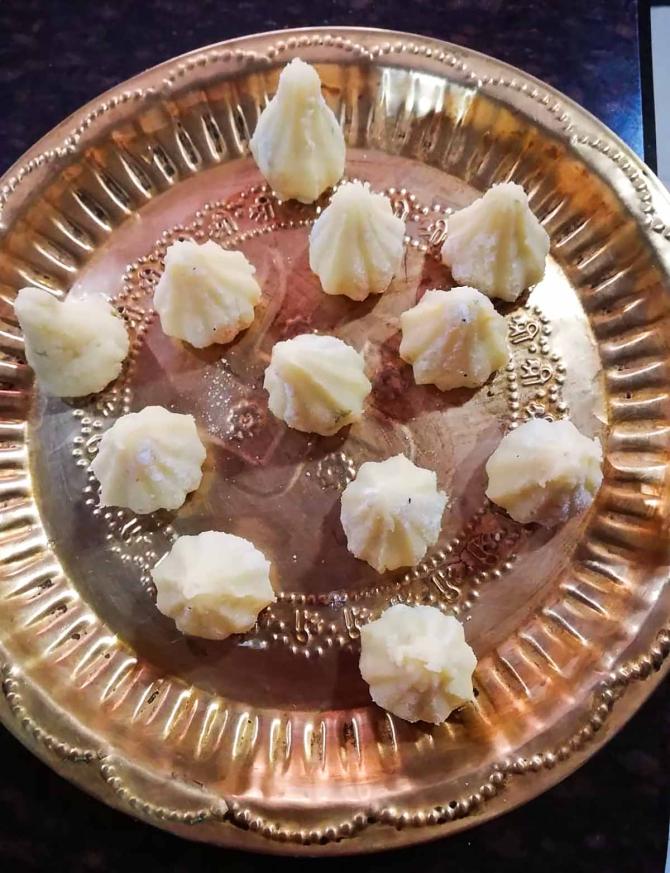 Ingredients
1 tsp ghee
1 cup milk powder
1/4 cup powdered sugar and cardamom
1/2 cup milk
Saffron (kesar)
Modak mould
Method
Heat a non-stick pan, add ghee, milk and milk powder. Mix well to avoid lumps.
Within 8 to 10 minutes it will start thickening and form a dough that leaves the sides of the pan.
Turn off the flame and add 1/4 cup powdered sugar and cardamom powder. Transfer the mixture to a bowl.
Take a modak mould. Press a tiny portion of dough in the mould to shape it.
Repeat the process till all dough is over.
Refrigerate for at least an hour to set before serving.
---
Sindhi Dal Phulka
Sindhi Dal Phulka or moong dal paratha is a healthy stuffed snack rich in protein with mild spices.
This recipe is mostly made on the occasion of Thadri.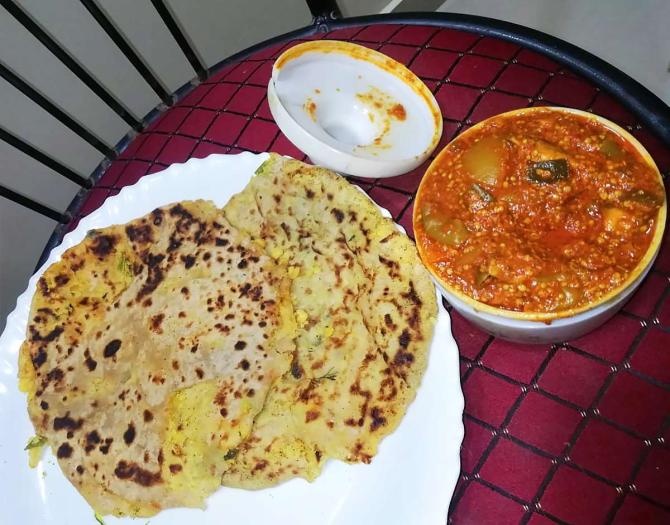 Ingredients
1/2 cup yellow moong dal, washed and soaked for 30 minutes
1 tsp red chilli powder
1 tsp cumin powder
1/2 tsp turmeric powder
2 cup whole wheat flour
1 tsp cooking oil
Salt as per taste
Water as per requirement
Method
In a pan, take moong dal. Add salt, turmeric powder and one cup water.
Boil on medium flame for 10-12 minutes. It should be soft not mushy.
Turn of the flame and drain the water.
Transfer to a bowl and add red chilli powder, cumin powder and salt.
Make a firm smooth dough by kneading well for about 3 to 4 minutes. This will make the parathas soft.
Drizzle a teaspoon of oil over the dough and knead for few more minutes.
Divide into small balls. Dust in flour, flatten and roll it a little.
Stuff moong dal in centre and cover the flattened paratha.
Roll it again gently without applying too much pressure.
Heat a tava and cook paratha on medium to high flame till it gets golden brown spots on both sides.
Serve hot with roasted Sindhi papad, pickle, boondi raita or buttermilk.
---
Sindhi Mitho Lolo
Mitho Lolo is a sweet made from wholewheat flour and sugar syrup.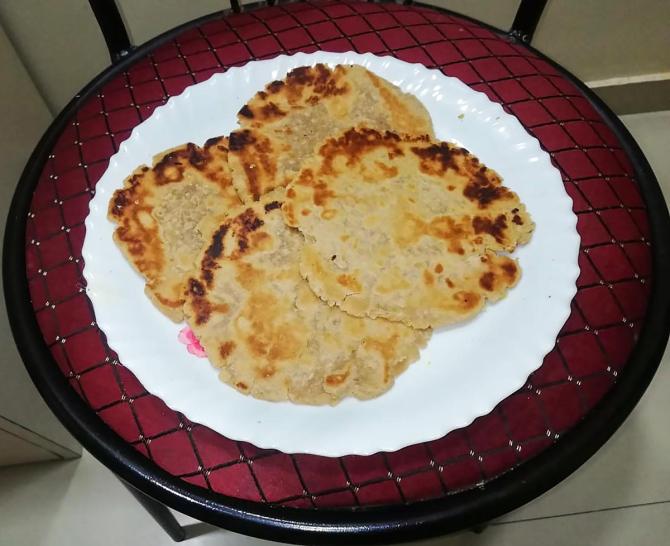 Ingredients
250 gm wheat flour
120 gm sugar
40 ml cooking oil
Water as per requirement
Method
In a saucepan boil a cup of water, add sugar and turn off the gas after 5 to 10 minutes so the sugar dissolves completely.
The syrup consistency should not be too thin or thick.
Take wheat flour, oil and pour sugar syrup little by little to knead the flour.
The dough should be stiff and if needed, you can add some water.
Take a ball size portion of this dough and roll it a little.
Heat a tava and cook on both sides on low flame still brown patches appear.
Lolos taste best with curd, pickle or even buttermilk.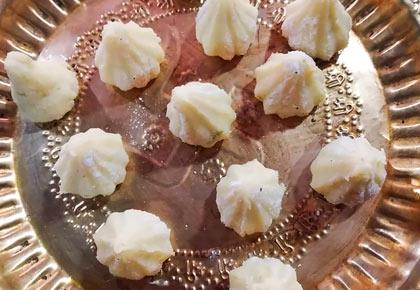 ---
Would you like to share an interesting recipe or cooking video?
Please do send your recipe/video to us at getahead@rediff.co.in (Subject: My Recipe) along with your name, location and, of course, the recipe.