Executive Chef Gautam Mehrishi from the Renaissance Mumbai hotel sent us the recipe.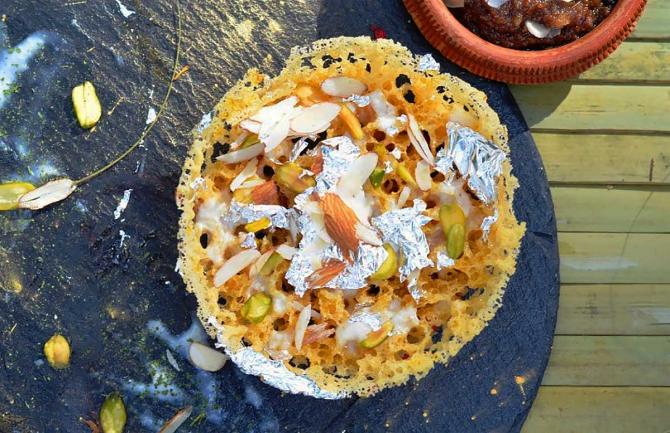 Ghevar, a traditional mithai from Rajasthan, is shaped like a honeycomb and is a true symbol of the united bonds of love the culture of India depicts.
This traditional dessert from North India gets a tribute from South India with a touch of coconut which symbolises purity, fertility and blessings.
Preparation time: 10 minutes
Cooking time: 60 minutes
Serves: 4 to 5 persons
Ingredients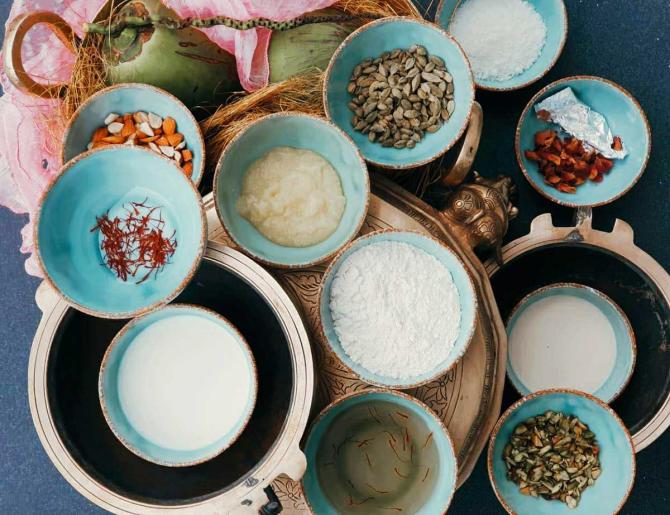 For the batter
100 ml ghee
4 to 5 ice cubes (please dig into your deep freezer)
200 gm all purpose flour
3/4 cup whole milk, cold
Ice cold water as required
Ghee for deep frying
To make sugar syrup
200 gm sugar
400 ml water
7 to 8 saffron strands
To make coconut kesari rabri
1 tbsp ghee
500 ml milk
5 tbsp sugar
1 tsp cardamom powder
1 cup desiccated coconut
7-8 saffron strands soaked in 2 tbsp hot milk
For garnish
Chopped pistachio, almond, silver leaf and dried rose petals
Method
To make sugar syrup
In a pan, heat sugar, water and allow it to boil till you get a stringed syrup consistency.
Keep this aside.
To make kesari rabri
In a pan, heat some ghee.
Add coconut and stir to fry. Slowly add milk.
When it boils, add sugar and keep stirring till it thickens to get the right consistency.
Add saffron. Mix well and keep aside.
To make ghevar
Add ghee in a large mixing bowl.
Add ice cubes and whip with a whisk or rub vigorously until the ghee becomes white, light and fluffy.
Add flour, 1/4 cup water, 1/2 cup chilled milk and whisk to make a lump free smooth batter.
Add 1/2 cup water and 1/4 cup milk to this batter, and whisk together to achieve a batter with thick and pouring consistency.
Fill a deep pan half with ghee and heat it on high flame. When the ghee is smoky hot, take a ladle full of batter.
Pour little by little slowly in a thread like a stream into the centre of the pan.
When the batter settles, make a hole in the centre by removing the batter from the centre with the back of a ladle or a spatula.
Pour 5-6 more ladleful batter in the hole formed in centre repeating the same steps.
Once the pouring is done, start pressing the ghevar slightly inside the ghee using the back of a spatula. Once ghevar turns golden in colour, loosen it with a skewer inserted in the hole.
Lift it carefully, place it on wire mesh to drain the excess oil.
Place bowl on a large plate and put the ghevar on top of the bowl.
Pour sufficient amount of sugar syrup evenly all over and let it stay there for 2 minutes to drain excess syrup.
Spread rabri and garnish with chopped nuts, silver leaf, and rose petals.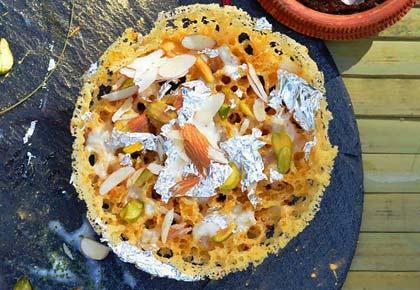 ---
Would you like to share an interesting recipe or cooking video?
Please do send your recipe/video to us at getahead@rediff.co.in (Subject: My Recipe) along with your name, location and, of course, the recipe.