From the kitchen of Chef Ajay Thakur, corporate chef at Hitchki and Bayroute, Mumbai, two wholesome, comforting recipes that are guaranteed to improve your day.
A bowl of warm Lebanon Lentil garnished with dukkah spice will keep you cosy on a rainy day.
The steamed and fried Kothe Momos features mixed vegetables along with a little soy sauce, ginger, garlic, pepper and vinegar.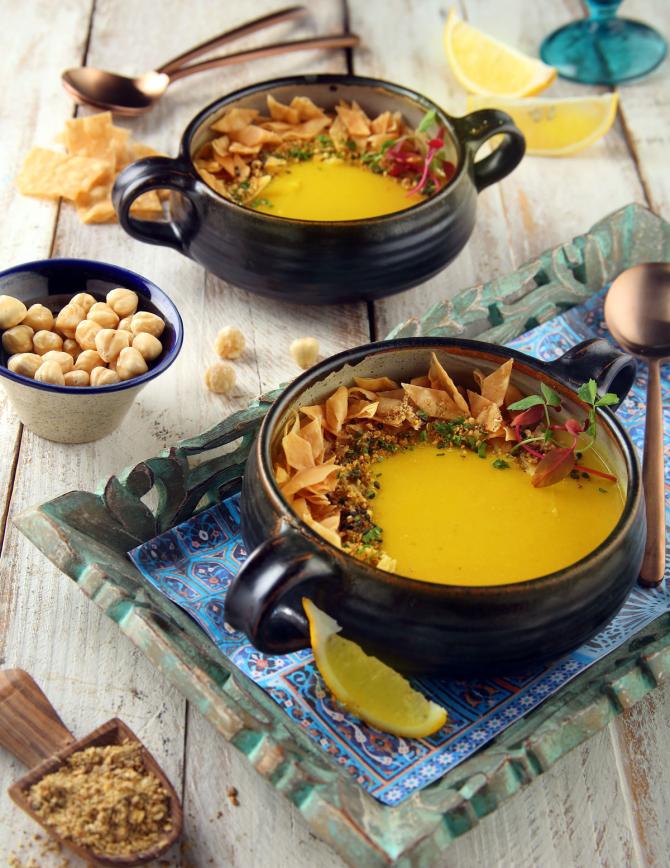 Lebanon Lentil
Serves: 2
Ingredients
60 gm red masoor dal
10 gm chopped onion
5 gm chopped celery
5 gm chopped garlic
10 gm chopped carrot
20 gm ghee
3 gm bay leaf
200 ml water
Salt to taste
12 gm dukkah spice (please check the note below)
4 gm jeera or cumin powder
50 ml vegetable stock
Lemon and crackers/lavash for serving
Method
In a bowl, soak the dal for 20 minutes in warm water.
Place a heavy-bottomed frying pan over medium heat.
Add half the ghee along with the bay leaf.
Add all the chopped vegetables, garlic and onion and saute till translucent.
Add in the drained dal and stir for a couple of minutes.
Add the water and bring the mixture to a boil. Keep stirring continuously.
Cover and simmer for 20 minutes or until the dal is cooked and has completely dissolved in the water.
Take off heat, remove the bay leaf and let the mixture cool.
Transfer the contents into a blender and blend until you get a thick, non-lumpy mixture.
Into a heavy-bottomed saucepan placed over medium heat, add the vegetable stock, salt and cumin powder.
Add the blended mixture and pour in the remaining ghee.
Bring to a boil and remove from heat. Garnish with the dukkah spice and serve hot with a wedge of lemon and crackers.
NOTE: Dukkah is available online or in gourmet grocery stores. If dukkah spice is not available, substitute with another Middle Eastern spice like za'atar or sumac or even garam masala.
---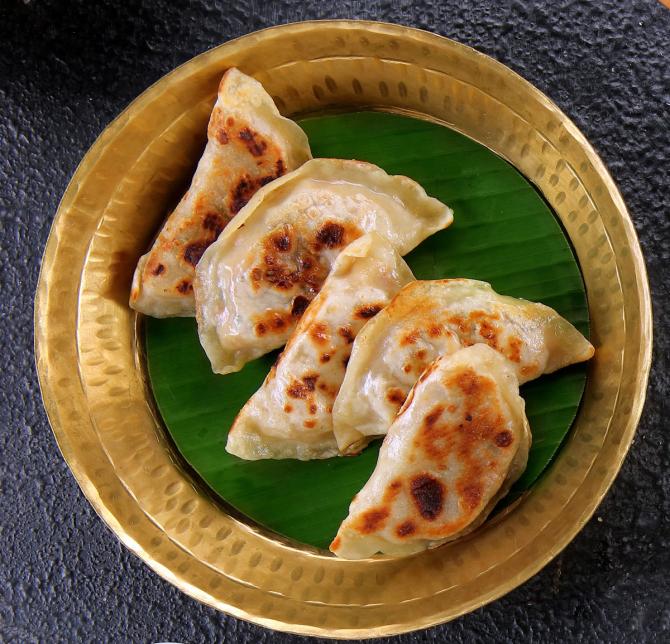 Kothe Momo
Serves: 4
Ingredients
For dough
1 cup maida or all-purpose flour
½ tsp salt
Enough water to knead the dough
For the filling
1 tsp soy sauce
¼ tsp vinegar
½ white pepper powder
Salt to taste
½ cup mixed vegetables like cabbage, carrot and capsicum, finely chopped
4 tsp finely chopped shallots
1 tsp grated ginger
4 pods of garlic, finely chopped
2 tsp finely chopped green dhania or coriander or cilantro

Green or red chilly sauce for serving
Method
In a bowl add the maida along with salt and water.
Knead to form a stiffish dough.
Add the oil and knead again.
Cover with a moist cloth and set aside for 2 hours.
To prepare the filling, combine all the ingredients in a bowl.
Mix well and keep aside.
Make 1-inch diameter small balls out of the dough and roll out each ball as thin as possible into a circle.
Using a cookie cutter cut out neat circles
Add one tsp of filling into each circle and fold it on one side to get a half-moon shape.
Dip your fingers in a bowl of water and seal the edges well so that the filling doesn't come out.
Place a pot of water over medium-high heat.
Once the water begins to boil, place a steamer on top of the pot.
Line the steamer with a baking paper so that the momo doesn't stick.
Place the dumpings in the steamer and steam for 10 minutes or until done.
Test if a momo is cooked by inserting the tip of a knife into it.
If it comes out clean, the momos are done.
Take out onto a plate.
Before serving them, fry them for a few minutes in a heavy-bottomed pan, till they are slightly browned.
Serve with chilly sauce