A popular vegetarian dish, with Mughal origins, but said to have come to India from Tashkent, Hyderabadi Baghara Baigan, also known as Baghaar-e-Baigan, can turn a humble meal of rice, roti and dal into a memorable one.
Traditionally the brinjal is deep-fried and then added to the masala gravy. Food blogger Sangita Agrawal used an air fryer it to keep it healthy, while retaining its taste and texture.
The dish features brinjals mixed with a blend of spices, coconut, tamarind and peanuts. It is best eaten with roomali roti and/or steamed rice.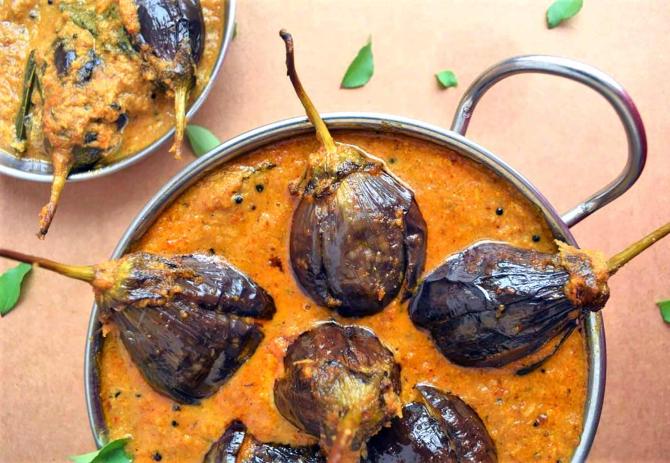 Hyderabadi Baghara Baigan
Serves: 4
Ingredients
400 gm baby brinjals
2 tbsp tamarind pulp
10-12 curry leaves
1 tsp rai or mustard seeds
1 dry red chilly
¼ tsp haldi or turmeric powder
½ tsp jaggery, optional
2 tsp oil for the tempering
Salt to taste

½ cup water for the gravy
For the paste
2 tbsp peanuts
2 tbsp til or sesame seeds
1 tsp khus-khus or poppy seeds
2 tbsp grated fresh coconut
½ cup finely chopped onions
2 tbsp chopped garlic
1 tbsp chopped ginger
1 tsp jeera or cumin seeds
4 to 5 whole dry red chillies
1 tbsp coriander seeds
¼ tsp methi or fenugreek seeds
1 tsp oil
For the garnish
1 tbsp chopped green dhania or coriander or cilantro
Method
In a heavy-bottomed kadhai or pan, over low heat, dry-roast the peanuts, sesame seeds, poppy seeds and grated coconut, one by one.
Keep aside.
Roast the cumin seeds, coriander seeds, red chillies and methi seeds, one by one, until slightly brown and aromatic.
Keep aside.
In the same pan heat the 1 tsp oil.
Add the garlic, onion, ginger and saute for 2-3 minutes or until translucent.
Cool.
In a blender combine all the dry roasted ingredients along with onions, garlic and ginger.
Blend to a smooth mixture by adding a little water.
Keep aside.
Make slits in the brinjals keeping the stem intact (please see pic above).
Deep fry the brinjals in a heavy-bottomed kadhai or pan with oil or ideally air-fry them.
Keep aside
Heat the 2 tsp tempering oil in a heavy-bottomed kadhai or pan placed over medium heat.
Add the mustard seeds and let it splutter.
Add the 1 red chilly and the curry leaves.
Add the ground paste and the turmeric powder.
Mix well and cook the masala until the oil starts to separate.
Add the tamarind pulp, salt and jaggery (optional).
Saute for a few minutes.
Add ½ cup water and bring to a boil.
The gravy should be thick.
Add the brinjals and cook covered for 6-8 minutes.
Garnish with chopped coriander and serve hot with steamed rice and roti.
Sangita Agrawal lives in Mumbai and is the creator of the food blog Bliss of Cooking.