Ever been to a traditional South Indian feast?
Sheraton Grand Chennai Resort & Spa's Executive Chef Mukesh Sharma has a feast recipe for you -- Vetrilai Meen.
The dish derives its name from vetrilai, the Tamil word for betel leaf.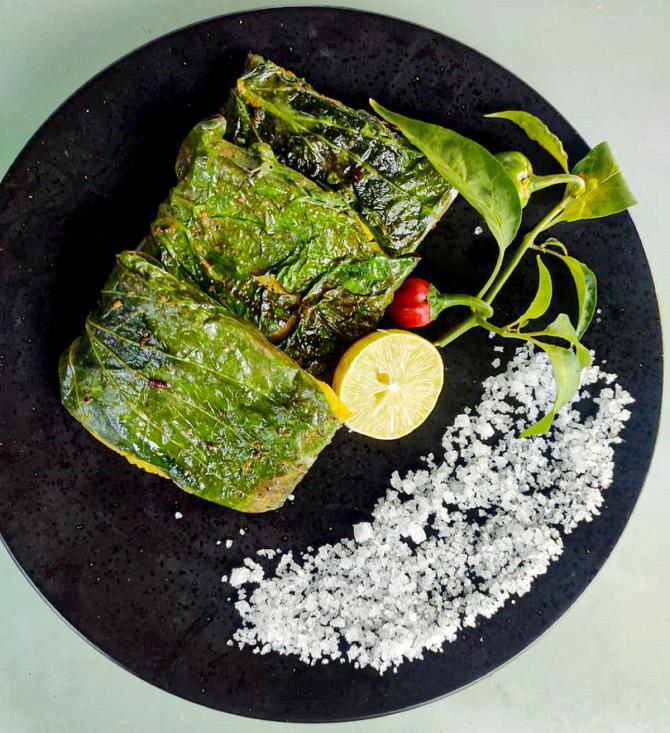 Vetrilai Meen
Ingredients
180 gm rawas fish or Indian salmon, cut into fillets
4 paan or betel leaves, cut into small pieces
4-5 paan or betel leaves, ground to a paste
4-5 paan or betel leaves, for wrapping the fish
10 gm garlic, chopped
15 gm ginger, chopped
2 tbsp ginger-garlic paste
5 green chillies, chopped
3-4 sambar onions or shallots, whole
15 gm dhania or coriander powder
1 + 1 tsp haldi or turmeric powder
50 ml coconut oil
1 lemon, juiced
2 sprigs curry leaves
Salt to taste
Method
Heat the coconut oil in a thick-bottomed kadhai or wok.
Once the oil heats up, add the curry leaves, chopped ginger, garlic, green chillies and saute well.
Add the shallots and 4 chopped betel leaves.
Add the coriander and turmeric.
Saute well but turn off the heat before the ingredients lose colour.
Once it cools, grind the mixture into a fine paste and keep aside.
Wash the fish fillets and drain off any excess water.
Apply the ginger-garlic paste, lemon juice and the additional turmeric powder.
Apply the betel leaf paste and keep the fish aside for 30 minutes.
Once the fish absorbs the masala, wrap the fish in betel leaves and grill till well done.Serve warm.