Reshma Aslam fishes these two recipes out of (what we imagine) must be her very thick recipe book! :-)
1. Fish Cutlets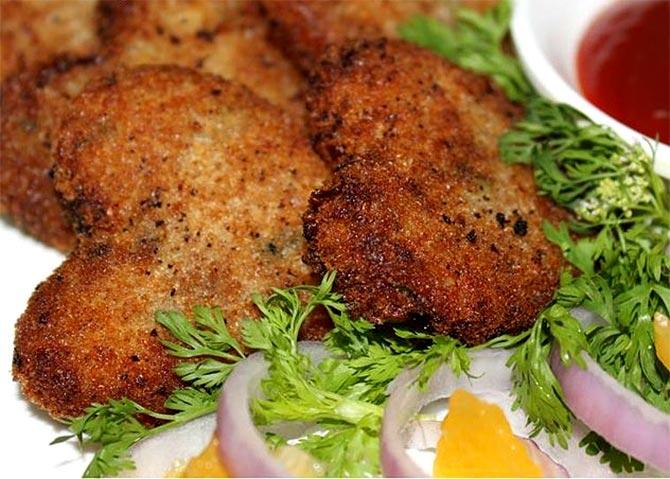 Ingredients:
1/2 kg fish (any good flesh fish like surmai, rawas, pomfret)
1 large onion cut into half
1 large onion finely chopped
1/4 cup coriander leaves chopped
4 to 5 green chillies finely chopped
Juice of 1 lemon
1 tsp pepper powder
2 bread slices
2 eggs
1/2 cup bread crumbs
Oil for frying
Salt to taste
Method:
Cut, clean and wash the fish very well.
Boil a large onion cut into half in 1/2 cup water; add the fish and let it cook for about 15 minutes.
Cool and separate the fish from the bones.
Add chopped onions, chillies, coriander, lemon juice, pepper powder, eggs to the boiled fish and mix well.
Take the bread slices and soak them in half cup of water, squeeze them lightly and add to the fish mixture.
Mix well and roll into small balls.
Roll them in a plate that has the bread crumbs and fry these cutlets till they turn golden brown.
Serve with tomato ketchup or green chutney.
2. Spicy Fish Curry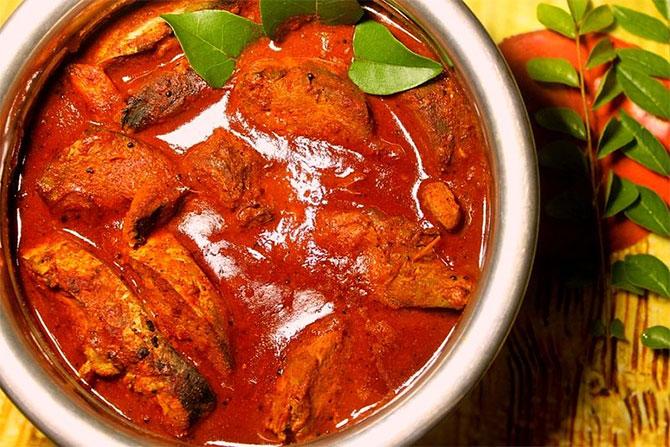 Ingredients
1/2 kg grams fish (halwa, pomfret, rawas, surmai or large prawns), cut into pieces
1/2 coconut grated
1/2 tsp cumin seeds
4 to 5 garlic flakes
10 gm tamarind (boiled in half cup of water and then blended in mixie till pulp is formed)
4 to 5 green chillis, slit from between and cut into halves
1 onion chopped
1 piece ginger finely chopped
6 red kashmiri chillis
1 tsp turmeric powder
Few pieces of kokum
Juice of one lemon
Few curry leaves
1/2 tsp mustard seeds
Salt to taste
2 tbsp oil
Method:
Marinate the fish pieces in salt and lemon juice.
Grind grated coconut, Kashmiri chillies, cumin seeds and garlic flakes into a smooth paste.
In a bowl mix chopped onions, chopped ginger, green chillies and tamarind and mash them.
Heat oil, add mustard seeds and curry leaves.
When they start to pop lower the flame and add the coconut masala mix.
Add some water and let it simmer for 10 to 15 minutes.
Add the onion masala and cook for another 15 minutes or so.
Add the fish and cook for 15 minutes.
Do not cover the lid of the curry at any stage of cooking.
Serve with boiled rice.
ALSO SEE
Want to share your favourite recipe? Simply e-mail your recipes to getahead@rediff.co.in (subject line: My Fav Recipe) with your name, hometown and any interesting details about the origin of the recipe, along with a photograph of the recipe, if possible. We'll publish the best preparations right here on Rediff.com and India Abroad.
Photographs: Shaminap/Creative Commons; Seena.ge/Creative Commons