Try this interesting Republic Day recipe shared by Sushant Parab, sous chef, Sahara Star, Mumbai.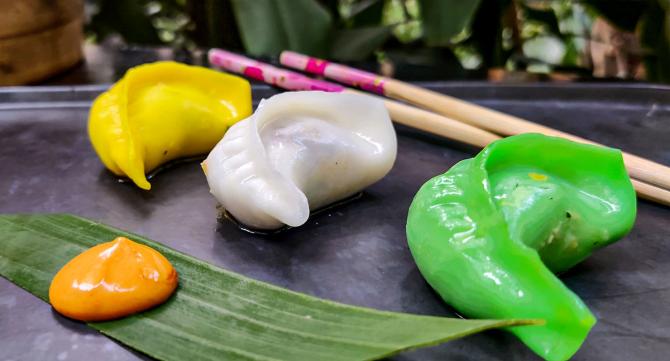 Tricolour Prawn Dim Sum
Ingredients
For the dough
200 gm refined flour
200 gm potato starch, available in stores or online
10 ml olive oil
3-4 tbsp spinach puree, made from 1 cup of spinach leaves, blanched and pureed
3-4 tbsp tomato puree, made from 1 tomato, blanched and pureed
For the stuffing
100 gm prawns, cleaned, deveined and minced
50 gm water chestnuts, roasted and finely chopped
1 egg
5 gm spring onion, chopped
Salt to taste
Pepper to taste
Oil to grease steamer
Method
In a bowl mix the flour, potato starch and olive oil to make a stiff dough.
Divide into 3 equal parts. Add the spinach puree in one part and the tomato puree in the second part. Leave the third plain.
Take the minced prawns and chestnuts in a bowl and mix well with the egg.
Add the spring onion.
Season with salt and pepper.
Roll out the various coloured doughs and using a cutter, cut small round circles of around 3-inch diameter.
Put a heaping spoon of the filling in the centre, fold over and seal the edges.
Use a little water to dampen the edges before sealing it.
Lightly grease a dim sum steamer.
Alternately use lightly oiled baking paper so the dim sum does not stick to the steamer tray.
Place the dim sums on the tray/baking paper and make sure they don't stick to each other.
Fill a pan/pot with water and bring to a boil.
Place the steamer over the pan.
Cover and steam for 10 minutes.
Once the dim sums are done, take off heat and let them cool.
Serve the dim sums with szechuan sauce or any dip of your choice.