Chef Chef Mohsin Qureshi, Chef de Cuisine of Renaissance Hotel, Lucknow shared this recipe.
Celebrate Republic Day with this colourful and healthy salad.
Here's the recipe.
Tropical Prawn, carrots and beans salad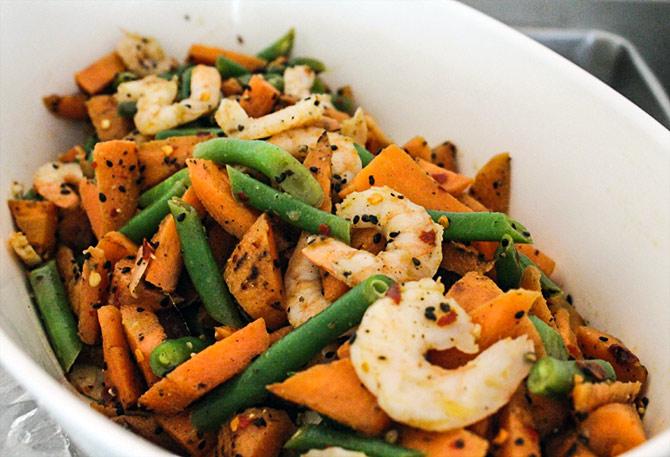 IMAGE: Kind courtesy Renaissance Hotel, Lucknow
Ingredients
For the vinaigrette
1 tbsp rice wine vinegar
1 tsp honey Dijon mustard
1/8 tsp salt
1/8 tsp black pepper
3 tbsps extra-virgin olive oil
2 tbsps snipped fresh chives
For the salad
1 pound green beans, trimmed
1 pound carrots, trimmed
2 tbsps extra-virgin olive oil
2 cloves garlic, finely chopped
1½ pounds large shrimp, shelled and deveined
¼ tsp salt
¼ tsp black pepper
Snipped chives for garnish (optional)
Method
In a small bowl, whisk vinegar, mustard, salt and pepper.
Gradually drizzle in the olive oil, whisking continuously until dressing is emulsified.
Add chives; set aside.

For green beans and shrimp
Bring a large pot of lightly salted water to a boil.
Add beans, carrots and simmer for 5 minutes or until crisp-tender.
Drain and place in a large bowl. Toss with dressing; set aside.
Heat the 2 tbsp oil in a large skillet over medium-high heat.
Add garlic and shrimp.
Season with salt and pepper and cook for about 2 minutes per side or until cooked through.
To serve, toss with the beans.
Place on a serving platter.
Scatter shrimp over the top.
Garnish with snipped chives, if desired.