Fish lovers, try out this simple, mouth-watering pan-fried Tilapia Fish Fry from Bethica Das.
It can be relished as a starter, accompanied with fried curry leaves, green chillies and lime.
Or have it along with a salad and a soup for a light dinner. Or as a side dish with ghee rice.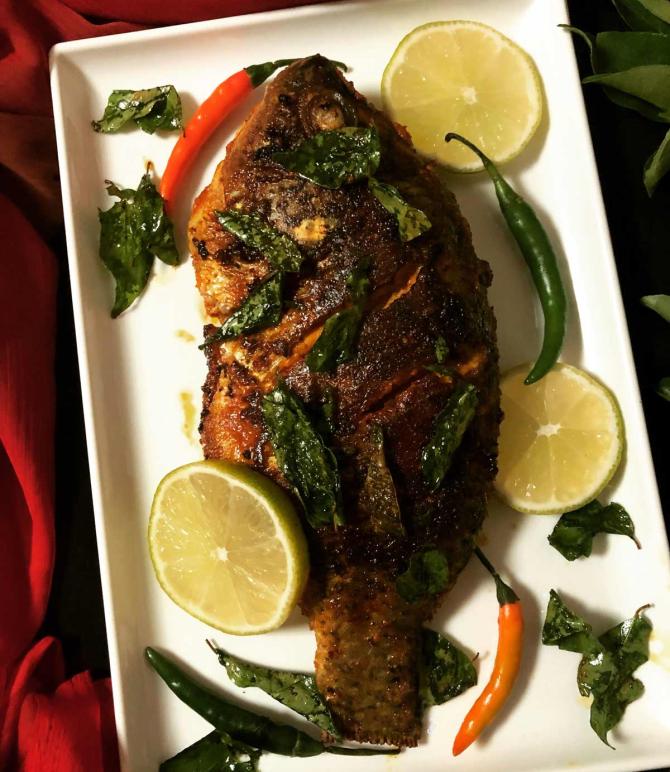 Tilapia Fish Fry
Serves: 1
Ingredients
1 tilapia fillet, a freshwater fish available both frozen and fresh
¼ tsp haldi or turmeric powder
1 tbsp lime juice
1 tbsp red chilly powder
1 tsp besan or chickpea flour
1 tsp ginger-garlic paste
3 tbsp extra virgin olive oil
2 sprigs curry leaves
Salt to taste
To serve
Green chillies
Sliced lime
Method
In a bowl combine the ginger-garlic paste, lime juice, 1 tbsp of the oil, chickpea flour, turmeric powder, salt and the chilly powder.
Mix well to make a paste.
Add a little water if required.
Marinate the fish with this paste and keep aside for 2-3 hours.
Heat the remaining oil in a heavy-bottomed frying pan.
Take care to not overheat the olive oil and add the fish before the oil begins to smoke.
Shallow fry the marinated fish on both sides till golden.
Keep aside.
In the same oil saute the curry leaves till crisp.
Serve garnished with the fried curry leaves, green chillies and sliced lime.
Bethica Das is a Sharjah-based food blogger.