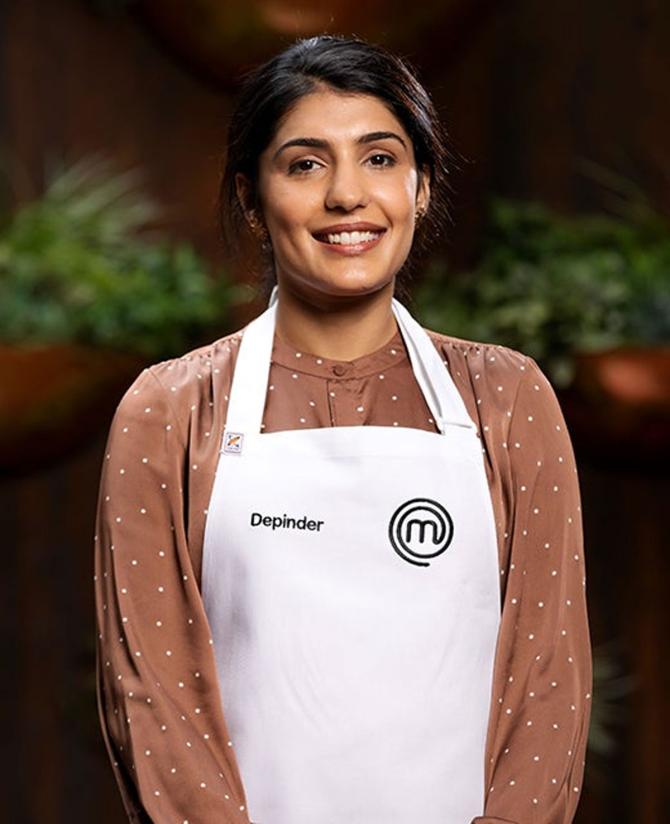 MasterChef Australia Season 13 contestant the lovely Depinder Chhibber is cooking up an Indian storm on the show.
Shining the spotlight on Indian cuisine, the 29 year old has often impressed the judges with her Indian-style delights -- Prawns Moilee, Coriander Rice, Kathi Roll, Tandoori Chicken, Smoked Lassi, Chicken Biryani, just to name a few of the dishes she artfully whipped up in the MasterChef kitchen.
From giving Chicken 65 a twist using instant noodles to making cakes with green curry, the Sydney-based pharmacist has proved that she has a relentless passion for creating an inventive repertoire.
She grew up watching her grandmother, mom and a bunch of aunties cook, and that fascinated and inspired her to get into the kitchen at a really young age.
Depinder also shares her father's passion for cooking, and her husband is her biggest supporter.
A self-taught baker, she is inspired by Indian and South East Asian flavours.
We bring you her special Fish Amritsari that's giant on flavour and fried until golden and super crispy.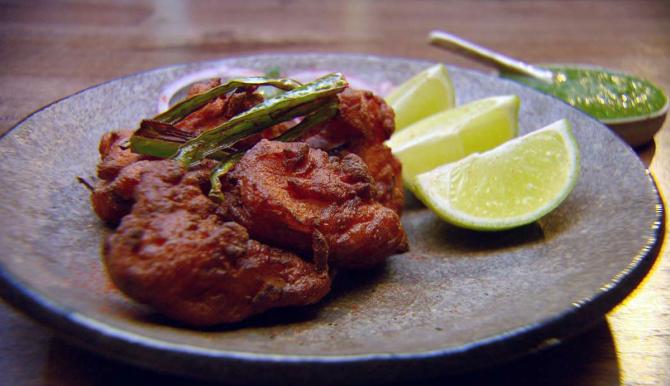 Fish Amritsari
Serves: 3-4
Ingredients
For the fish
1 tbsp lime juice
1 tsp kasoori methi or fenugreek leaves
1 tsp ajwain or carom seeds
5 cm piece ginger, grated
2 pods garlic
1 fillet cod fish, cut into 2 cm pieces (or substitute with rawas)
½ cup besan or chickpea flour
4 tbsp rice flour
2 tbsp plain yogurt
2 pinches bi-carb soda
1 tbsp Kashmiri chilly powder
1 tsp haldi or turmeric powder
2/3 cup soda water
A pinch of chaat masala
2 green chillies, sliced in half lengthways
Salt to taste
Oil, for frying
For the coriander chutney
1 bunch of green dhania or coriander or cilantro
5 cm ginger, roughly chopped
2 large green chillies, roughly chopped
3 tbsp vegetable oil
Juice of half a lime
1 tsp brown sugar
Salt to taste
For the garnish
Red onion slices
Kashmiri chilly powder
Green dhania or coriander or cilantro
Chaat masala
Lime wedges
Method
Heat oil in deep fryer to 180°C.
For the fish
Place the lime juice, salt, kasoori methi, ajwain seeds, ginger and garlic into a dish and mix well to combine.
Add the fish, mix gently and set aside for 10 minutes.
Place the chickpea flour, bi-carb soda, rice flour, yoghurt, chilly powder, turmeric and soda water into a bowl and whisk until smooth and thick.
Dip the marinated fish into the batter.
Lift out and allow the excess batter to drain off.
Fry in the hot oil in the deep fryer for 1-2 minutes.
You can also use a heavy-bottomed frying pan heating the oil over medium heat to fry the fish.
Once done, drain and place onto a wire rack for 5-10 minutes.
If you are using a frying pan, drain off the excess oil and place the fried fish on a plate lined with tissue or a paper towel.
Before serving, fry the fish for 30 seconds again.
Drain and place on the rack/plate.
Sprinkle with chaat masala and salt while still hot.
Carefully add the green chillies to the same oil and fry for 1-2 minutes.
Drain and place onto wire rack/plate.
For the coriander chutney
Thoroughly wash and dry the coriander and roughly chop leaves and stems.
Place into a food processor/mixer/blender along with the remaining ingredients and process until smooth.
Pour into a small serving bowl and season to taste.
To serve
Pile fish onto a serving board or plate and top with fried chilly.
Add onion rings, coriander leaves and sprinkle with chaat masala and chilly powder.
Serve with coriander chutney and lime wedges on the side.
MasterChef Australia airs on Disney + Hotstar every Monday to Friday at 9 pm.