Sunita Harisinghani gussies up your beloved prawn curry adding the succulent, very dark green Malabar spinach. This unique Mangalorean twist transforms the recipe.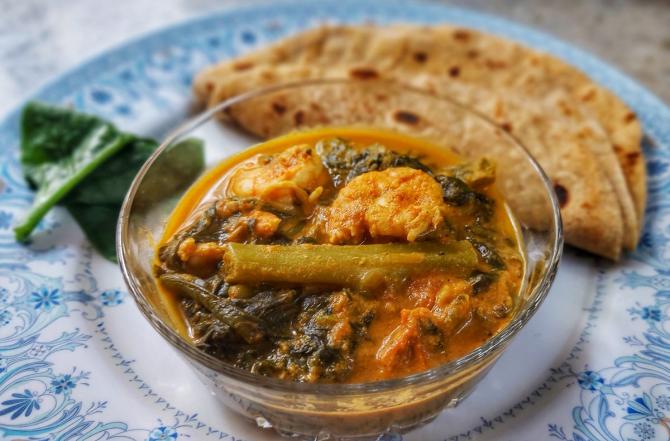 The tasty Malabar spinach -- which is also known poi saag or in Kannada as basale or in Bengali as pui saag or in Marathi as mayalu and is usually available in vegetable bazaars all year round -- when combined with prawns is a match made in heaven.
The hearty Malabar Spinach and Prawn Curry tastes great with steamed rice or roti.
Watch the video to see how to make Malabar Spinach and Prawn Curry
---
Malabar Spinach and Prawns Curry
Serves: 3-4
Ingredients
400 gm Malabar spinach or poi saag
2-3 medium-sized tomatoes, diced
8-10 prawns, deveined
3-4 dried red chillies
1 tsp dhania or coriander seeds
½ tsp rai or mustard seeds
½ tsp jeera or cumin seeds
¼ tsp methi or fenugreek seeds
¼ tsp ajwain or carom seeds
½ coconut, grated
½ onion, diced
¼ tsp hing or asafoetida
8-10 garlic pods
1 marble-sized ball imli or tamarind, optional
5-6 curry leaves
1 tsp haldi or turmeric powder
Salt as per taste
1-2 cups water
Oil, for frying
Method
Using a channi or colander rinse the Malabar spinach under running water a couple of times.
Drain the excess water and keep aside.
Don't discard the thick stem and thick veins.
Pressure cook the Malabar spinach, diced tomatoes, ½ cup water and a pinch of salt over medium heat for three whistles.
Take off heat and keep aside
Soak the tamarind for half an hourd and strain and keep the water.
In a heavy-bottomed pan or kadhai dry roast the red chillies, coriander seeds, fenugreek seeds, cumin seeds and carom seeds for 2-3 minutes.
Cool and transfer to a blender.
Add the grated coconut, tamarind water, diced onion, 5-6 of the garlic pods, ½ cup water and blend to a smooth paste.
Heat 2 tbsp oil in a heavy-bottomed pan or kadhai.
Add the mustard seeds, remaining garlic, curry leaves and asafoetida.
Add the ground paste and stir for 2 minutes.
Add the turmeric powder and salt along with the prawns and let it cook for 2 minutes.
Add the Malabar spinach mixture.
Add enough water to have thick curry consistency and bring to a boil.
Take off heat and serve warm with roti or steamed rice.