Refreshing and savoury with a hint of asafoetida, this Cucumber Buttermilk by culinary expert and food stylist Vindhya Karwa has a smoky punch.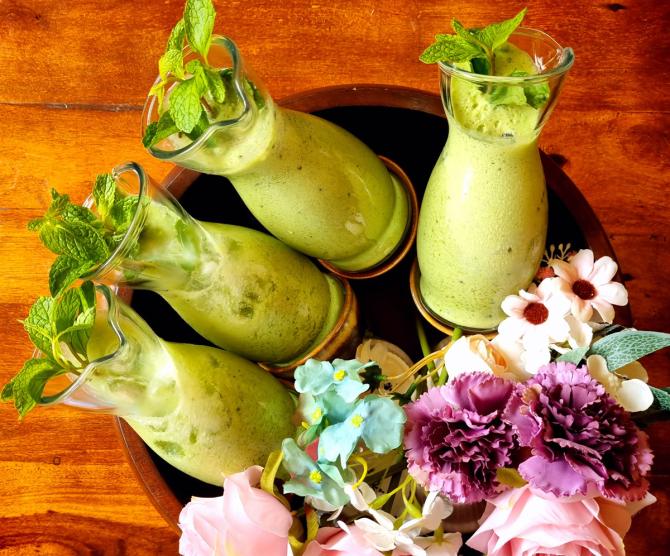 Smoked Cucumber Buttermilk
Serves: 4
Ingredients
1 cup plain yogurt
3 cucumbers
Handful of dhania or coriander or cilantro leaves
2 pods garlic
2 green chillies
Salt as per taste
2 tsp chaat masala
Handful of mint leaves, for the garnish
2 glasses chilled boiled/filtered/mineral water
4 jars or tall glasses for serving
For the tempering
½ tsp rai or mustard seeds
½ tsp jeera or cumin seeds
½ tsp hing or asafoetida
Charcoal for the smoky flavour
1 tsp ghee or oil, for tempering
Foil to cover the bowl
Method
Chop the cucumber, green chillies, garlic and coriander leaves roughly.
In a blender, grind them to a coarse paste.
Add yoghurt, salt, chaat masala and blend well.
Transfer the cucumber buttermilk into a jar.
Add chilled water and stir.
Refrigerate for an hour.
Just before serving, prepare the tempering.
For the tempering
Place a few pieces of burnt charcoal in a small bowl and place it inside a large bowl.
Pour the chilled buttermilk into the large bowl, ensuring that it doesn't spill into the small bowl.
Add the mustard seeds, cumin seeds and asafoetida in the small bowl.
Pour hot ghee or oil into the small bowl.
As soon as the smoke releases, cover the large bowl with foil for 5 minutes.
Once done, transfer the buttermilk into jars or tall glasses and garnish with mint leaves. Serve chilled.
Vindhya Karwa posts vegan and vegetarian recipes under the Instagram handle @vinsplate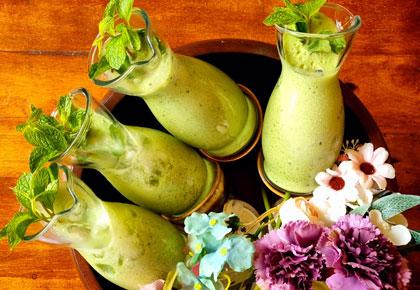 ty