This spicy Prawn Pickle by Rajlaxmi Navalkar from Mumbai will add some zing to even a basic meal of dal and rice.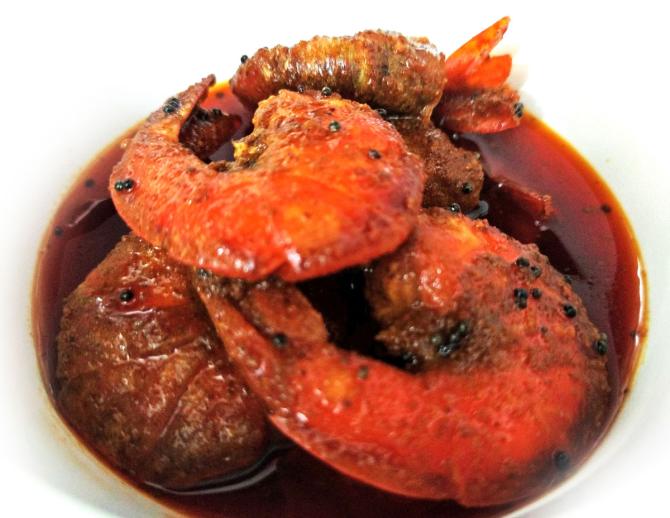 A delicious prawn pickle will never go out of style, and this one ticks several boxes -- quick, tasty and incredibly flavourful.
All you need are a couple of ingredients easily found in any kitchen like mustard seeds, turmeric and chilly powder, asafoetida, lemon and oil.
Store the pickle in the refrigerator and it will easily last you a few weeks.
Watch the video to see how to make Prawn Pickle.
---
Prawn Pickle
Servings: 1 bottle
Ingredients
500 gm deveined prawns with skin and tails, without the heads
4 tsp rai or mustard seeds
4 tsp Bedekar pickle powder
2 tsp red chilly powder or as per taste
½ tsp haldi or turmeric powder
1 tsp hing or asafoetida
2 cups oil
3 to 4 lemons, juiced
Salt to taste
Method
Wash and pat dry the prawns.
Keep aside.
Squeeze the juice of the lemons, strain and keep aside
Heat the oil in a heavy-bottomed kadhai or wok over medium heat.
Add the mustard seeds, hing and let it crackle.
Reduce heat and add the prawns.
Stir.
Cover and let it cook for 2 minutes on low heat.
Add the turmeric, chilly powder and the Bedekar masala.
Stir carefully so that the prawns don't break.
Cover and cook for 1 minute on low heat.
Taste and add more chilly if needed.
Add the salt and adjust as per taste.
Add the lemon juice and mix.
Cover and cook for 2 more minutes.
Take off heat and let it cool.
Transfer into a container or bottle.
It can stay good 15 days if refrigerated.