Sharjah-based food blogger Bethica Das uses sambar powder and curry leaves to make Prawn Spaghetti.
The marriage of Indian spices and prawn with spaghetti creatively bumps it up to being an Italian, non-veg take on the classic vermicelli upma.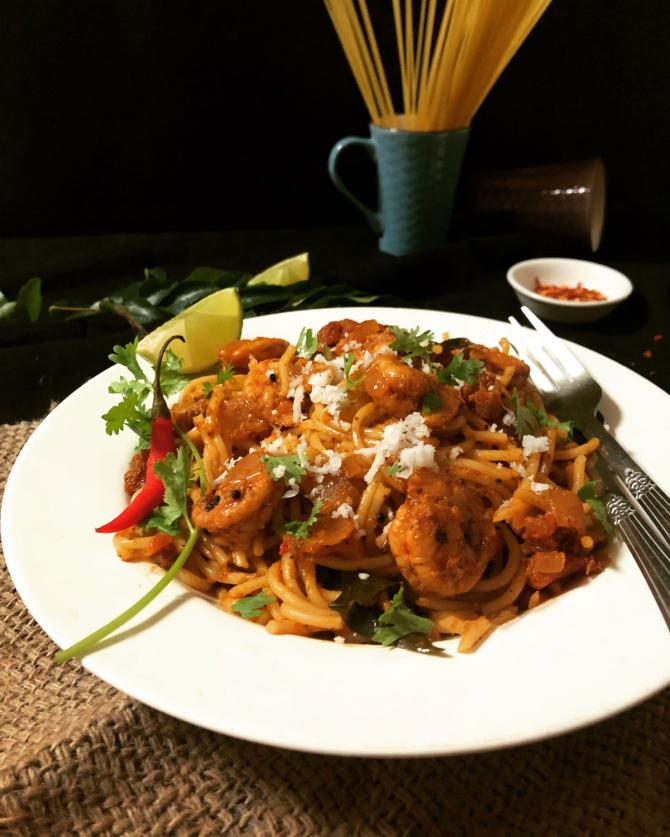 Prawn Spaghetti with South Indian flavours
Serves: 2
Ingredients
150-200 gm spaghetti
10-12 medium-sized prawns, cleaned, deveined
2 tbsp oil
1 tbsp butter
½ tsp rai or mustard seeds
½ tsp jeera or cumin seeds
A pinch of hing or asafoetida
1 sprig curry leaves
1 onion, chopped
1 tsp ginger-garlic paste
1 tomato, blanched, deseeded and chopped
1 tbsp tomato puree
1 tsp red chilly powder
1 tsp sambar powder
¼ tsp haldi or turmeric powder
1 tsp coriander powder

Dash of water
Salt to taste
To garnish
Green dhania or coriander or cilantro leaves, chopped
Red chilly flakes
Fresh grated coconut
Method
Boil spaghetti al dente -- not too soft -- or as per the instructions given on the packet.
To make pasta al dente, substract one minute or 1.5 minutes from the cooking time.
After reserving some of the water, drain the spaghetti in a channi or colander.
Run it under cool water.
Keep aside.
Make a spice paste with the sambar powder, coriander powder, chilly powder, turmeric along with the ginger-garlic paste some water.
Heat the oil and butter in a heavy-bottomed kadhai or pan over medium heat to temper the mustard seeds, cumin seeds and asafoetida.
Add the onion and curry leaves. Saute till translucent.
Add the prawns and stir fry for a minute.
Add in the spice paste and cook till the raw smell goes.
Add the chopped tomatoes and tomato puree.
Cook covered for 2 minutes. Add salt.
Add in the drained spaghetti and some of the reserved pasta water.
Give it a toss so that it combines well with the masala.
Turn off heat.
Garnish with the chopped coriander leaves, fresh grated coconut and, optionally, some red chilly flakes for some extra spiciness.