Paan Kalakand by Bethica Das is perfect for the year-end week.
Enjoy it chilled or at room temperature.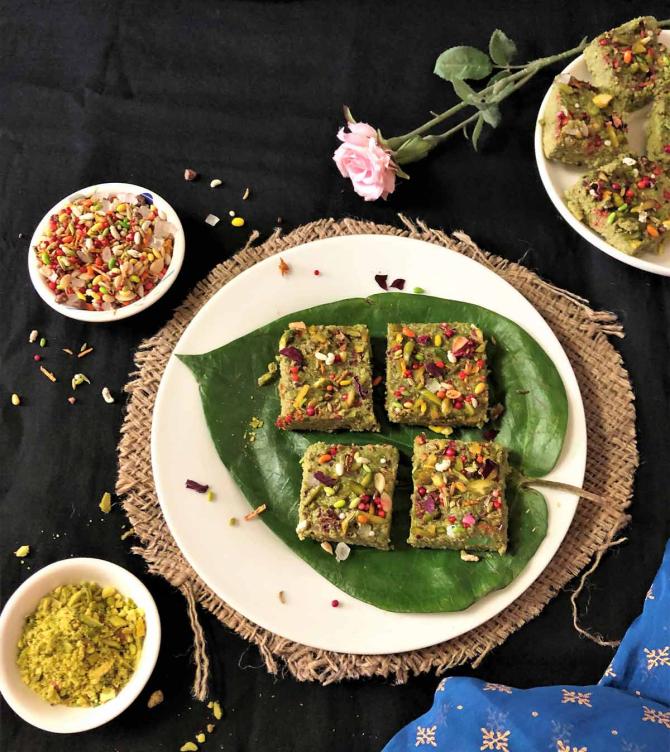 Paan Kalakand
Serves: 2-4
Ingredients
200 gm paneer, crumbled
2-3 tbsp paan puree ( a few paan leaves ground to a paste)
½ cup evaporated milk
¼ cup sugar or to taste
¼ tsp cardamom powder
1 tbsp ghee + for greasing the plate
Pinch green food colour
1 tbsp chopped pistachios
For the garnish
1 tsp finely chopped pistachios
½ tsp dry rose petals
1 tsp mukhwas (please see the note below)
Method
In a heavy-bottomed saucepan, add all the ingredients (except the garnish ingredients), mix well and simmer on low heat.
Keep stirring continuously till the ghee starts to leave the sides of the pan.
Take off heat and transfer the contents onto a greased plate.
Garnish with the mukhwas, chopped pistachios and dry rose petals.
Allow it to cool and then refrigerate till set.
Cut into square or diamond shapes and serve at room temperature or chilled.
Note: Mukhwas is an after-dinner mouth taste-changer concocted from a mixture of seeds and whole spices like sonf or fennel, shredded desiccated coconut, sugar-coated anise, coriander seeds, sesame seeds etc.
Bethica Das is a Sharjah-based food blogger.