A tasty winter surprise, Mukhadi Halwa is made with just five ingredients.
Drenched in ghee, this semolina and maida halwa from Taruna Deepak makes a divine meal ender.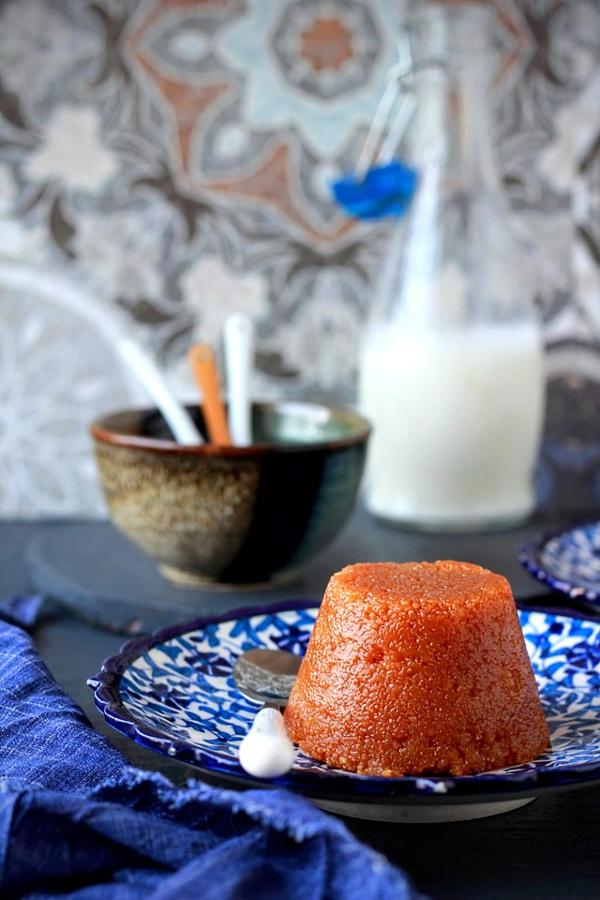 Mukhadi Halwa
Serves: 4-6
Ingredients
1 cup suji or rava or semolina, minus 3 tbsp semolina
3 tbsp maida or all-purpose flour
1 1/3 cup milk
1 cup sugar
¾ cup ghee
Method
In a bowl, mix the suji and the maida.
Add the milk and whisk the mixture well.
Set aside.
Heat the ghee in a heavy-bottomed wok or kadhai.
Once the ghee heats up -- should not smoke -- reduce the heat to low.
Add the sugar and mix well with a spatula.
The sugar will start caramelising after 5 minutes, so keep stirring so it doesn't stick to the bottom and don't allow it to darken too much as this will lead to a bitter taste in the halwa.
Slowly add the flour-semolina batter to the caramelised sugar and, holding the wok or kadhai firmly, swiftly start mixing it using a ladle (or use a large heavy spoon or kalchhul).
The batter will start to turn lumpy.
Increase the heat to medium and using the back of the spoon keep stirring the batter and mashing the lumps, till the batter mixes smoothly with the caramelised sugar.
This process will take approximately 3-4 minutes.
The halwa will release ghee as it begins to come together.
Drain excess ghee out of the kadhai/wok.
Roast the halwa again for 3-4 more minutes.
Take off heat and slide the halwa mass towards the edge of the kadhai/wok to drain further excess ghee.
Serve warm.
Note: Keep the ladle handy before adding the maida-suji batter to the sugar-ghee mix.
Do not reduce the amount of ghee in this recipe, as the ghee helps melt the sugar and allows for easier assimilation of the maida-suji batter. Once the halwa is cooked, it will automatically release excess ghee which you are pouring off.
This halwa stays fresh, if refrigerated for a week to 10 days depending on weather.
You may add a few tbsp of milk while reheating it.
Taruna Deepak lives in Mumbai and is the creator of the food blog Easyfoodsmith.