Culinarian and food blogger Vindhya Karwa shows us three fun ways to cook this nutritious green.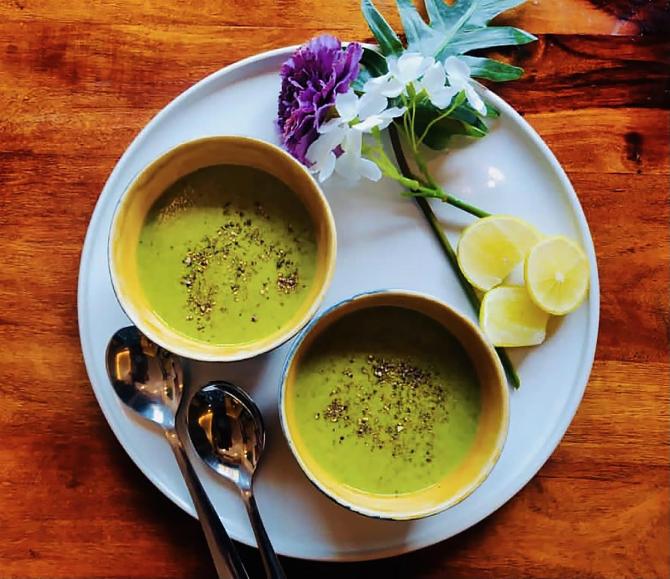 Spinach Soup
"When the two most boring 'super-foods' meet to create a super delicious healthy meal. It's my very own version of Oats and Spinach Soup, with a dash of cloves and a hint of garlic," says Vindhya.
Serves: 2
Ingredients
1 tbsp olive oil
A small bunch spinach, around 300 gm
2 tbsp white oats
2-3 pods garlic, finely chopped
2 green tomatoes, chopped
2 cloves
Salt to taste
A dash of pepper powder
A squeeze of lime juice
3-4 kali mirch or black pepper, crushed or pepper powder for serving
3 cups of water

Ice cubes and water to cool the cooked spinach
Method
Wash the spinach thoroughly, drain the water and set aside.
Bring a large pot of water to boil. Once the water boils, turn off the heat.
Add the spinach into the boiled water.
Make sure the leaves and the stem are submerged in the water. Cover the pot. Let it sit for a minute or two.
Meanwhile, fill another large bowl with water and plenty of ice cubes.
Drain the spinach and quickly transfer it to the bowl of cold water to stop the cooking.
In a heavy-bottomed saucepan, warm the olive oil on medium to low heat.
Add the cloves, garlic, and stir.
Once the garlic turns golden brown, add the oats, tomatoes and saute for 2 to 3 minutes.
Add the blanched spinach and toss.
Add the 3 cups of water, salt, pepper and bring the soup to boil.
Turn off heat and let it cool.
Once cool, transfer the contents to a blender and blend to a smooth paste.
If you don't achieve a thin enough, soup-like consistency, add more water.
Serve chilled or at room temperature. Before serving, sprinkle freshly crushed pepper or pepper powder, and a squeeze of lime.
---
Spinach Barley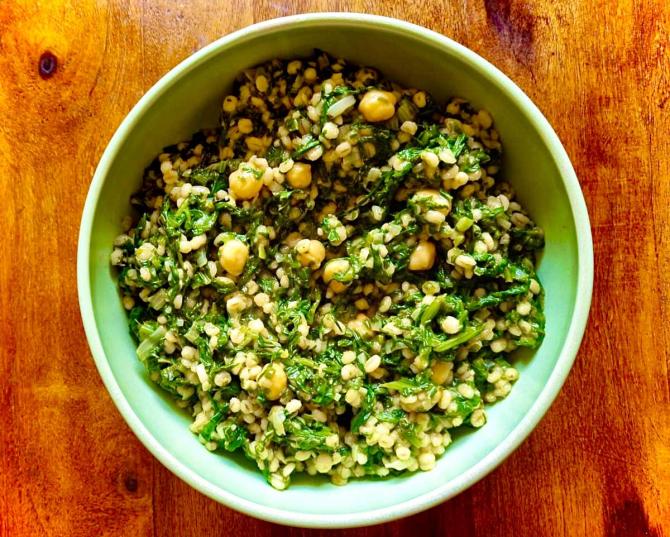 According to Vindhya, barley is apparently the complete summer cereal, is inherently cooling, anti-inflammatory and a wonderful detoxifier for the liver.
Serves: 3
Ingredients
1 cup pearl barley, cooked (please check the note below on how to cook barley)
1 bunch spinach, around 500 gm, chopped
2 tbsp extra virgin olive oil
½ cup boiled kabuli channa or chickpeas
1 medium onion, chopped
2 pods garlic, crushed
2 chillies, finely chopped
Salt to taste
A dash of pepper powder
1 tbsp oil
A squeeze of lime
Method
Heat the oil in a heavy-bottomed saucepan or pot.
Add the garlic, onion and chillies. Saute.
Once the onion has softened, add the spinach and toss and cook till it looks wilted.
Add the chickpeas, barley and give it a good mix.
Add salt, pepper.
Turn off heat.
Serve warm with a squeeze of lime.
NOTE: To cook barley, warm ½ cup barley with 1½ cups water in a saucepan.
Add a pinch of salt and bring to boil over medium heat.
Lower the heat to simmer and cook until barley is chewy (around 20-25 minutes).
Drain off any excess water.
---
Spinach Dip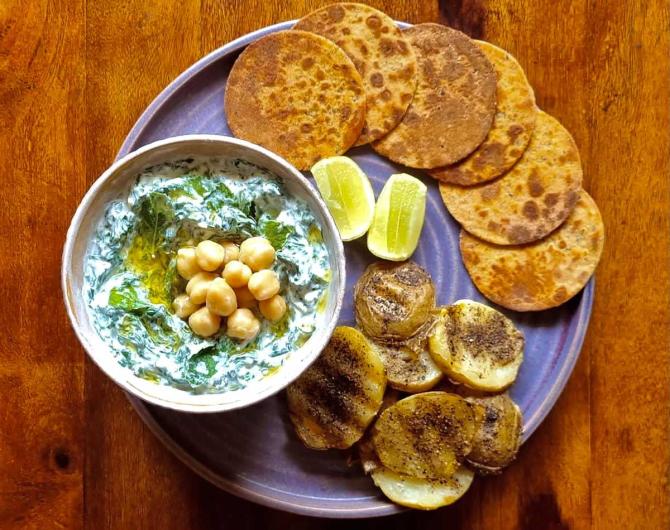 Serves: 2
Ingredients
2 cups hung curd
1 cup spinach, washed, blanched, drained, chopped fine
2 pods garlic, crushed
1 green chilly, chopped
3 tbsp grated cheese, optional
1 tbsp extra virgin olive oil
½ cup boiled kabuli channa or chickpeas
Salt to taste
Method
In a large bowl, mix the hung curd, spinach, garlic, chilly, cheese (optional) and olive oil.
Add salt and mix. Top with chickpeas and refrigerate.
Serve chilled with khakra or grilled potatoes.
Vindhya Karwa posts vegan and vegetarian recipes under the Instagram handle @vinsplate.