Kokum Aloo or Tangy Potato by Nadiya Sargurohcan be munched with your evening tea.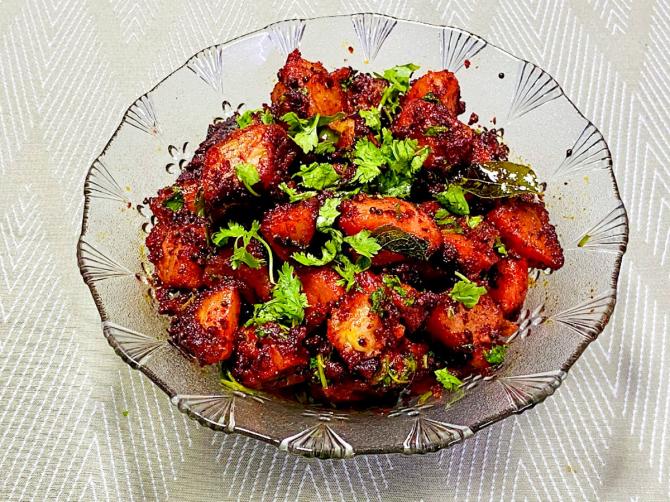 Kokum Aloo or Tangy Potato
Serves: 3
Ingredients
4 to 5 medium-sized potatoes, peeled, diced into cubes
10 to 15 fresh curry patta or curry leaves
1 tbsp rai or mustard seeds
1 tbsp thick kokum paste (kokum is a sour fruit belonging to the mangosteen family, best known by its Indian name)
1 tbsp red chilly powder or as per taste
1½ tbsp of any sweet tamarind and jaggery chutney
2-3 green chillies, finely diced or as per taste
A handful of fresh dhania or coriander or cilantro leaves, finely chopped
Oil for frying
Salt as per taste
Water as required
Method
Heat sufficient oil in a heavy-bottomed, deep pot or kadhai or wok over medium heat.
Fry the potatoes until golden brown and crisp.
Drain the potatoes on a plate lined with tissue or a paper towel.
In another pan, heat a small quantity of oil (a drizzle) for the seasoning over medium heat.
Add the curry leaves and the mustard seeds.
Allow the mustard seeds to pop and then add the kokum paste with a little bit of water.
Mix till the kokum paste is well combined with the water.
Add the red chilly powder and the fried potatoes.
Mix until the potato is well coated with the kokum paste.
Add salt and cook for another 3 to 5 minutes.
Add the green chillies, tamarind and jaggery chutney and give it a good stir.
Cool for 3 to 5 minutes and garnish with freshly chopped coriander. Serve with rice or roti as part of a meal or simply have as a snack.
Nadiya Sarguroh lives in Mumbai and publishes the food blog HautePot.