Start your day on a fantastic note with these crispy corn fritters.
Served with a dip of your choice, this recipe, by Nadiya Sarguroh, is wonderful to have as breakfast in bed too!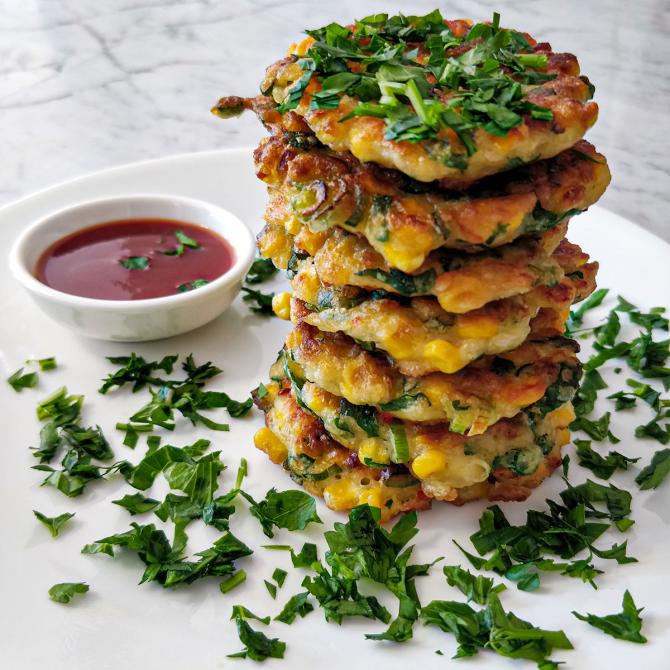 Corn and Halloumi Fritters
Serves: 4
Ingredients
1 cup self-raising flour, sifted (flour with the right percentage of baking powder added to it, easily available in grocery stores)
2 eggs, lightly beaten
½ cup chilled soda water
100 gm halloumi or haloumi, coarsely grated or mashed (an expensive but very tasty Mediterranean cheese, that's difficult to substitute, available only in some gourmet grocery stores. Paneer-like in consistency it's a pungent, unripened cheese made from goat and sheep's milk)
3 stalks spring onions, thinly sliced + extra to serve
¼ cup fresh parsley leaves, chopped
2 cups sweet corn kernels
Oil for frying
Salt as per taste (halloumi is a salty cheese so be careful)
A handful of green dhania or coriander leaves or cilantro for the garnish, chopped
Method
In a large bowl, mix the flour, eggs and soda water.
Whisk till it's a smooth mixture.
Let it rest for 10 minutes and then fold in the halloumi, spring onions, parsley and corn kernels.
Heat the oil in a large pan over medium heat.
Once the oil is hot, pour around 4 tbsp or one ladle of the mixture into the pan.
Fry the fritter in the oil for 4 minutes or until golden brown.
Flip it over and and fry for another 4 minutes.
Make fritters with the remaining batter and add more oil in the pan, if needed.
Garnish with spring onions and chopped coriander.
Serve hot with ketchup or any dip of your choice.
Nadiya Sarguroh lives in Mumbai and publishes the food blog HautePot.
Note: If you can't find halloumi, do try mixing the more easily available Greek feta cheese (also salty) with paneer, in equal amounts.
If the fritters are not hanging together while frying add a little more flour.