Paani puri fans, here's a fun recipe by Nutritionist Avantii Deshpaande and Chef Japvir Singh Vohra.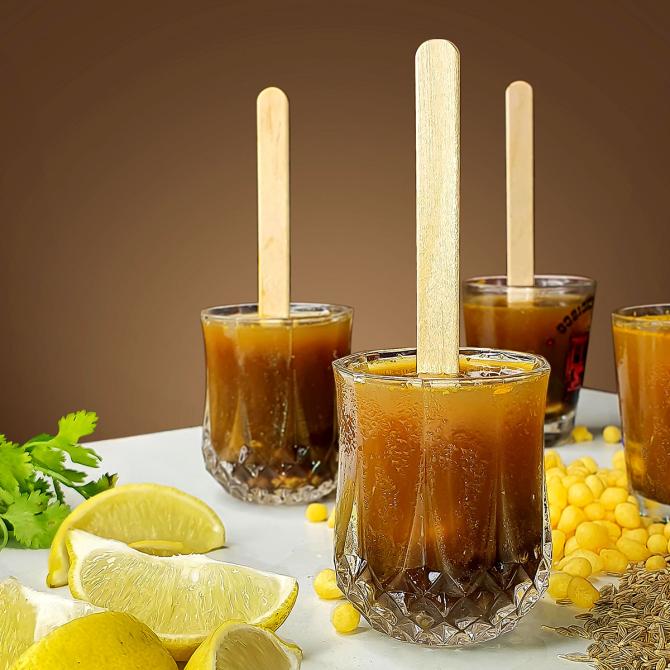 Chatpata Lolly
Serves: 12
Ingredients:
For the khatta paani:
½ cup mint leaves
½ cup coriander leaves
2-3 green chilies
½ inch ginger
1 medium size lemon juice
1 tsp chaat masala
¼ tsp black salt
Salt to taste
4 cups water
For the meethi chutney
½ cup jaggery, chopped into small pieces
½ cup dates, deseeded
¼ cup tamarind
½ tsp red chilli powder
½ tsp roasted cumin powder
1 tsp coriander powder
3 cups hot water
Salt to taste
Method
For the meethi chutney
Boil tamarind, jaggery, dates, roasted cumin powder, coriander powder, red chilli powder and salt together to form a thick slurry. Once it cools, strain it.
In a kulfi maker, pour the meethi chutney till half full. Don't forget to place a wooden lolli-stick inside the mould. Let it set in the deep freezer.
For the khatta paani
Grind mint, coriander, ginger, green chilli, salt and chaat masala in a dry mixer. Add water to form a paste. Strain the mixture and add water to dilute it.
Pour this into the frozen lollies and let it set in the deep freezer overnight. Serve chilled.
---
Would you like to share an interesting recipe or cooking video?
Please do send your recipe/video to us at getahead@rediff.co.in (Subject: My Recipe) along with your name, location and, of course, the recipe.