Simple, hearty and delicious Chicken Cutlets to satiate your monsoon cravings.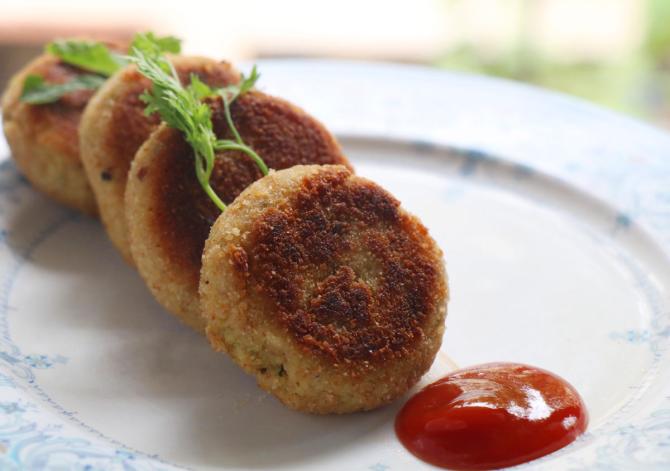 The monsoon calls for some mouth-watering Indian-style Chicken Cutlets, which are simple to prepare and a perfect accompaniment to a coffee break.
If the chicken is marinated in advance, this recipe by Sunita Harisinghani can be prepared under 30 minutes.
Best enjoyed on a cloudy, rainy day, with a hot beverage, you can serve these cutlets with ketchup or mint chutney.
Video production: Hitesh Harisinghani/Rediff.com
Chicken Cutlets
Servings: 15-20 pieces
Ingredients
500 gm boneless chicken, cut into small pieces
3-4 medium-sized potatoes, boiled and mashed
1 onion, finely chopped
½ tsp haldi or turmeric powder
½ tsp red chilly powder
1 tsp lemon juice
½ tsp garam masala
5 -6 pods of garlic
½ inch ginger
4-5 green chillies, chopped
2 tsp chopped green dhania or coriander or cilantro
1 tsp chopped mint leaves
2 eggs
100 gm bread crumbs
Oil for frying
Salt as per taste
Ketchup or green chuntey for serving
Method
In a bowl combine the chicken with the turmeric, salt, red chilly powder and lemon juice.
Keep aside for 30 minutes.
Transfer the chicken into a mixer-grinder and blend until it is fully shredded.
Using a blender, make a paste of the ginger, garlic and green chillies.
In a heavy-bottomed kadhai or frying pan, heat 2 tsp oil.
Add the chopped onion and saute for 2 minutes.
Add the paste of ginger, garlic and green chillies.
Add the garam masala and mix well.
Add the chicken and saute it for 5 mins.
Add the coriander and mint leaves.
Take off heat and allow the mixture to cool down.
Add the mashed potatoes to the mixture and mix well.
Divide the mixture into medium-sized balls and roll it into cutlets.
Keep aside.
In a bowl whisk the eggs and add a pinch of salt to it.
Spread the bread crumbs on a flat plate.
Heat sufficient oil in a heavy-bottomed kadhai or frying pan over medium heat.
If you want to use less oil, you can shallow fry the cutlets.
Dip the cutlets into the egg mixture and then roll them in the bread crumbs.
Fry the cutlets, three or four at a time, till golden.
Remember to flip them so that all sides are fried evenly.
Once done, drain each cutlet onto a plate lined with tissue or paper towel.
Serve hot with ketchup or green chutney.