Rediff reader Sheetal Alva shows us how to make Lord Ganesha's favourite sweet -- modak.
Scroll down to watch the video. You can share your recipes too!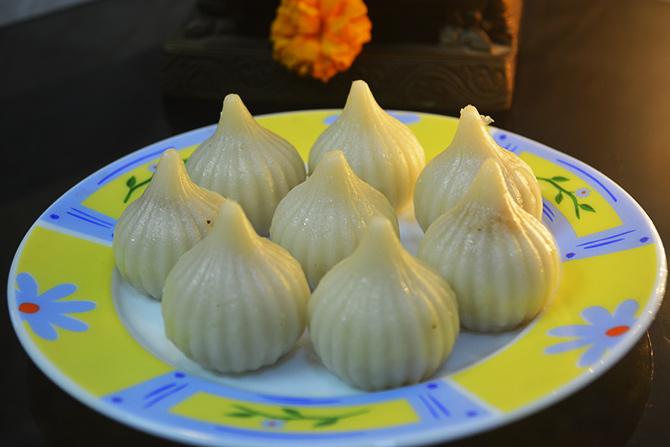 Makes: 12 to 13 modaks
Ingredients
For the mould
100 gm rice flour
2 tsp oil or ghee
¼ tsp salt
2 cups water
For the stuffing
100 gm grated coconut
50 gm jaggery
2 tsp oil or ghee
½ tsp cardamom powder
1 tsp poppy seeds (khus khus)
Method
For the mould
Heat 2 cups of water in a kadhai and bring it to boil.
Add ¼ tsp of salt and 1 tsp of ghee. Stir to mix well.
Slowly add rice flour to the water.
Turn off the flame and transfer the dough mix to a plate.
Allow the mixture cool.
Knead the dough till it's soft.
Apply some ghee on your palm while kneading so that the dough doesn't stick.
Knead it while is warm.
For the stuffing

Heat a kadhai on low flame.
Add 1 tsp ghee, grated coconut and jaggery. Mix well.
Add cardamom and poppy seeds. Stir well till mixture turns brown.
Transfer it to a vessel.
Making the modak
Grease the mould with some oil/ghee.
Take a small ball of the dough and press it in the mould.
Close the mould and press along the edges slowly to make a pit.
Put the stuffing in the pit and close the base with some dough.
Open the mould to remove the modak and place it on the plate.
Repeat with the rest of the dough.
To steam the modak, boil some water in a steamer.
Grease the steam plate with some oil and place the modaks one by one.
Steam cook on low to medium flame for 15 minutes.
Turn off the flame and let the modaks cool down.
Tip: Do not over heat jaggery. Keep it light brown.
Do not over steam the modaks; else they will become hard.
Watch the video below to see how you can make steamed modaks at home.
Video: Ashish Narsale/Rediff.com
---
Dear readers, you can send us your favourite recipes too.
Write in to us at getahead@rediff.co.in (subject: Ganesha Recipe) with your NAME, HOMETOWN and any interesting details about the origin of the recipe, along with a photograph of the recipe if possible.
We'll publish the best ones right here on Rediff.com.