If preparations to welcome Lord Ganesh have begun at your home in full swing, it's time to start thinking of the mithai you plan to serve your guests.
Modaks are an all-time favourite, but how about a tasty halwa made with almonds and mava?
Chef Sohail Karimi's Badam Halwa, which is a modern update on the classic sweet, is served with custard for an extra touch of goodness.
The Mumbai-raised chef has spent quite a few years at hotels in different parts of the Middle East. He says his grandmother has inspired his culinary technique.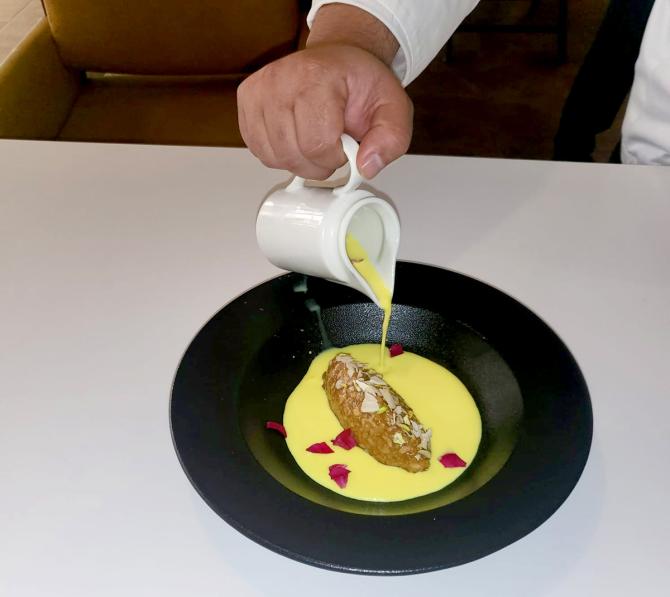 Badam Halwa With Custard
Serves: 4
Ingredients
1 cup almonds, blanched and pureed (please see the note below)
1 cup full-fat milk
200 gm khoya or mava or milk solids
½ cup sugar
¾ cup ghee + 2-3 tbsp extra
¼ tsp green elaichi or cardamon powder
10-12 kesar or saffron strands
Few rose petals, to garnish
2-3 tbsp pistachio slivers, to garnish
10 almonds, slivered, to garnish
2 cups custard, for serving (please see the note below)
Method
Heat the ¾ cup ghee in a thick-bottomed kadhai or saucepan over low heat.
Once the ghee melts, add the blanched and pureed almonds.
Add the khoya.
Add the full-fat milk.
Keep stirring until all the milk is absorbed into the almond-khoya mixture and it begins to turn golden brown.
The mixture will start to leave the sides of the pan.
Add the sugar and mix.
Add the green cardamom powder and the kesar strands.
Mix again.
As the sugar starts to melt, the halwa will become a little runny.
Add a few tbsp more of ghee and continue to stir until the mixture begins to thicken again.
Take off heat.
While serving, shape each portion of the halwa like a quenelle or a long egg-like shape (please see the pic above) and place in a small dessert bowls.
Pour the custard over it.
Garnish with the almond and the pista slivers, and rose petals and serve warm.
Chef Sohail's Note: For blanching the almonds, soak them in a bowl with 1 cup of boiling water. Soak the almonds for 10-15 minutes.
Drain and peel the almonds. The skin will come off easily. Blend the almonds in a blender without any water till a coarse paste.
To make the custard, follow Bethica Das' Custard recipe.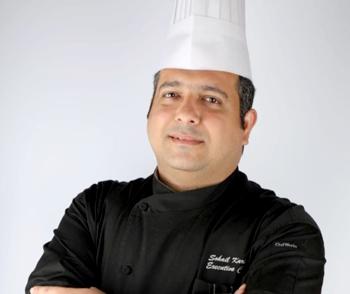 Chef Sohail Karimi is the executive chef at the Radisson Blu Resort and Convention Centre, Karjat.