We asked you, dear readers to share tips, suggestions and stories of how you are preventing coronavirus.
Rediff reader Ashok Gupta, 60 from Prayagraj, Uttar Pradesh shares his advice: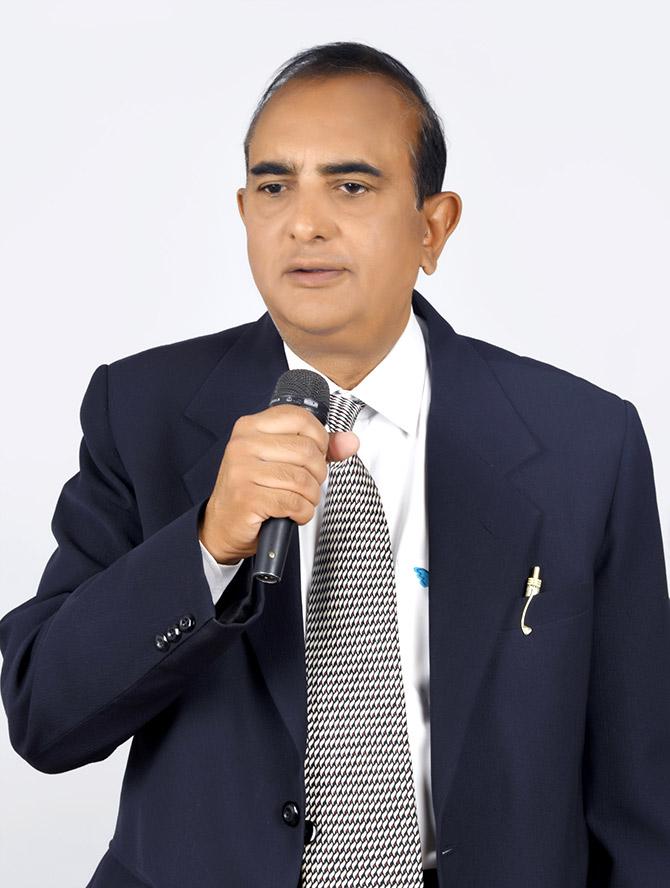 I am an author, NLP (natural language processing) and speed-reading trainer and speaker.
In this lockdown, most of us are surrounded by financial crises and problems like depression, stress, hopelessness, helplessness, feeling of insecurity.
We need to deal the present undesired situation proactively, strongly and wisely to prevent ourselves from facing serious or non-serious psychological health issues.
Studies have shown that when an individual proactively cope with the stress, and is in a state where he feel in charge of his life and feel competent to make choices about his future, his T cell activity is enhanced (reference: Goodkin, 1992).

The present condition confirms that anything can happen to anyone any time.
But it is also true that we can modify ourselves and our responses in such a way that whatever happens to us any time, we face that confidently and turn the tide in our favour - an unconditional trait of extraordinary and effective people.

Modern studies proves the state of mind has direct neurological and hormonal correlation with immune system and it changes chemical levels in the bloodstream and impact health on the molecular level. Researches by Futterman (1994) others shows experimentally induced negative mood inhibit the body's lymphocyte production.

If in prevalence, the disastrous thought, pressure and strain and negative emotion boosts up cortisone, adrenaline, noradrenalin and other hormones to an unhealthy level to turn into endogenous toxic biochemical, these become 'disease-producing drugs'.
The antibodies lymphocytes, helpers NK cells and immunoglobulin deplete to weaken self-protective mechanism. This will make us more susceptible to viral infections and alter less serious malfunctions into chronic and incurable diseases.

It has been observed that persons with positive mental state, hope and expectancy suffer less from infectious problems and ailments.
Positron Emission Tomography (PET) experiments reveal the positive mindset generates healing biochemicals like prolactin to empower immune system and to work as 'wellness messenger molecules' forcing white blood corpuscles, T cells, Thymosin–alpha-1 and other unknown related mechanism elevate.

You may have noticed how some of us continue to remain positive even in grave circumstances. They achieve and receive more than those who remain in negative state, also in positive circumstances.

The process of giving positive meaning to negative experience is called 'reframing'.
Successful and happy people posses habit of reframing every undesired happening into positive. For instance, we can reframe 'loss in the share market' as a learning to be more cautious in our future investments.

If we try to see the silver lining underneath every dark clouds, we would see that certainly. This way, we can utilise adverse situations in our favour.
My advice is simple: Let us use this lockdown period to better our lives, improve ourselves, erect a strong indomitable identity, learn new skills, make game plan for new venture, project and business, analyse past to not make previous mistakes again in future, search for better job, or anything for which we have no time before.

Having alternate source of income puts us in a better position. Most government pensioners and servants have rented out their properties to receive a fixed income while they are working.
Remain concentrated on good things, positive thinking and abundance. Focus what you have, rather what you don't have. You will feel good, lively and exuberant.
Whatever you focus, that expands. So if you focus on health, wealth, happiness, you will attract these in plenty under law of attraction.
Also, this is the best time to restructure and reconsider your future.
You have enough time to evolve the purpose of your living.
Apply this occasion to make your future attractive. This exercise would take about 30 to 45 minutes a day, but is going to be a one of the most productive, important and life changing moments in your life.
Close eyes and explore your desires, your health, monetary, professional, career and self-healing goals, your mission, your purpose.
Decide your goals in every forthcoming age up to the old age. Plan your responsibilities and fix up a retirement time.
For example, if you want to be a CEO at 40, visualise yourself sitting in your grand office with your name plate on door.

Picture yourself having a 'healthy, confident personality' (even if you are sick and ailing). Such personality strengthens immune system and its killer cells to prevent contagious diseases, even by the strongest virus.
Remember, human minds are great and powerful; the virus, not so much, in comparison.
Let's together create a healthy environment for our minds and bodies to grow and prosper positively.
---
Dear readers, how are you dealing with the lockdown and keeping the virus away?
Share your smart tips, ideas and suggestions with us and we will publish the best ones.
You can also get your children to share a drawing describing the current situation in the country or how to keep coronavirus away.
Write in to us at getahead@rediff.co.in (Subject: Keeping COVID-19 Away) along with your NAME, AGE and LOCATION.
Don't forget to share your photograph. We'll publish the best responses right here on Rediff.com.