We asked you, dear readers to share tips, suggestions and stories of how you are preventing coronavirus.
Bengaluru based Dinesh Malhotra, 54, an ex-Army officer who is working as a human resource professional in a construction firm shares some survival tips.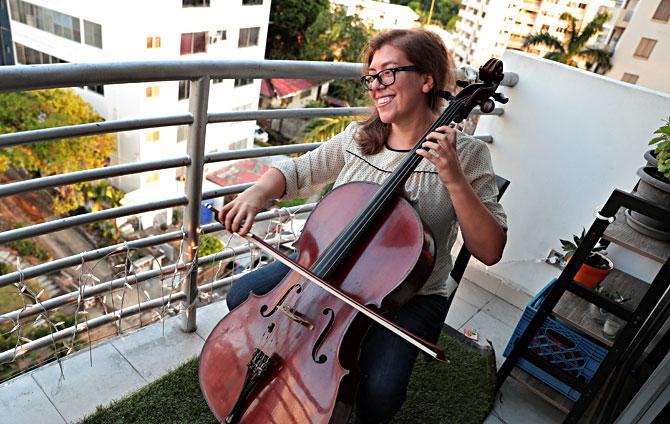 Being an Infantryman, we get attuned to staying away from our families for prolonged periods.
We are never sure of the next relief/leave while we are posted in absolutely remote locales faced with varied terrain and geographical constraints, sometimes in unchartered territories, too.
The hostilities faced range from inclement weather, limited food supplies and stocks (sometimes air-maintained), low intensity conflict scenario with invisible enemy, limited number of resources to counter the above-named adversities and people to interact.
It especially gets lonely for the officer, who as a leader has to both marshal his troops by keeping them motivated and manage meagre resources astutely in the face of enemy.
We learn to hone our faculties to maintain a strong presence of mind and keep ourselves engaged effectively while living under extenuating times.
As a retired soldier, this lockdown has but given me a moment to relive the months of isolation that I spent in fauj albeit sans hosts of amenities that are at our disposal today e.g. Internet -- we didn't even have access to a phone then and letters arrived after probably a month either way!
Today we have TV, books both physical and online and above all, sharing the enclosed confines of your home with the people you love most -- family.
So, what is the damned hullaballoo about this period of bliss!
Let us in fact take out a moment to count our blessings for the roof on the head, food on the table, money in the bank (Government hasn't stopped any salaries) and good health.
After all there are millions who are leading a depraved existence devoid of the very basics.
Just button up and pull up our socks to quickly adjust to these unprecedented times on hand:
1. Start living and enjoying every moment
Take each day as a relaxed Test match day and try breaking it down from session to session and further down to an hour.
Most of us ignore the basics of setting our beds after a night's sleep and that is a good exercise to begin the day to be honest.
Enjoy this moment followed with ablutions, exercise, house-hold chores (dusting, cleaning, mopping etc.) and preparation of meals.
Sit down to plan out the days meals with family members and take real interest in all household activities which atypically have gotten reduced to being gender-specific in present day India.
Try giving your wife a break in cooking and believe you me, there is nothing more gratifying than to be applauded/clapped for a half burnt out parantha or under-cooked vegetable by your family!
2. Invest in relationships
Sadly, we all take most of the relationships for granted.
Try to just sit around reflecting back on life with your partner, recounting the good/bad times spent and the journey traversed thus far over a cup of coffee or tea.
Reach out to your son/daughter and engage them to understand what is their perspective of life in case they are in their teens or else play with the younger lot.
This paid holiday within the sanctity of our homes (blessed are those who have a home in the first place) is a universal pause that has been God's orchestral to slow down the frenetic pace of so called modernisation that has not only polluted the environment but also created distances among us.
Hence, EAT, PRAY AND LOVE!
3. Reach out to the under privileged and acknowledge those who are helping us
We can all help in our own little ways. The other day we received our gas cylinder and I had to collect it from my society gate.
It was time to salute the agency boys who had come to deliver.
I guess the most effected are the daily wage workers, homeless and the stray animals who have built their lives around us.
There are so many of them who are engaged in essential services that has kept our country ticking: doctors, nurses, hospital staff, police, airlines staff engaged in evacuation, essential services -- people from gas agencies to grocery stores, pharmacies etc.
The list of these guys who are rendering yeoman effort in wake of this pandemic is but endless; time to doff our hats to them and keep them motivated!
4. Enjoy the pause and solitude
Time to connect within and perhaps try out hitherto unknown talents.
Again, dabbling in lame duck effort of putting pen to pad; perhaps it clicks.
After a long time, I saw James Stewarts, Vertigo and The Man who knew too much (Kay Sera- Sera by Doris Day) on You Tube and marvelled at Alfred Hitchcock's film making technique.
I watched Kagaz Key Phool by Guru Dutt; this film was way ahead of its times and rings a distinct bell now. Maybe in 60's we didn't have time to reflect on failures or nuanced existence, thereof. A sad miss indeed!
I just want to end by reiterating oft quoted Army Slogan: Tough times don't last, tough people do.
So, guys, 'mushkil waqt toh banda sakht is my parting adage. Hold on tight and stick around!
*Image used for representational purposes only.
---
How are you dealing with the lockdown and keeping the virus away?
Share your smart tips, ideas and suggestions with us and we will publish the best ones.
You can also get your children to share a drawing describing the current situation in the country or how to keep coronavirus away.
Write in to us at getahead@rediff.co.in (Subject: Keeping COVID-19 Away) along with your NAME, AGE and LOCATION.
Don't forget to share your photograph. We'll publish the best responses right here on Rediff.com.