We asked you, dear readers to share tips, suggestions and stories of how you are preventing coronavirus.
Preetha Chaudhury, 58 from Mulund, Mumbai tells us how she, along with the help and support of her housing society is taking extra care to make the lockdown effective.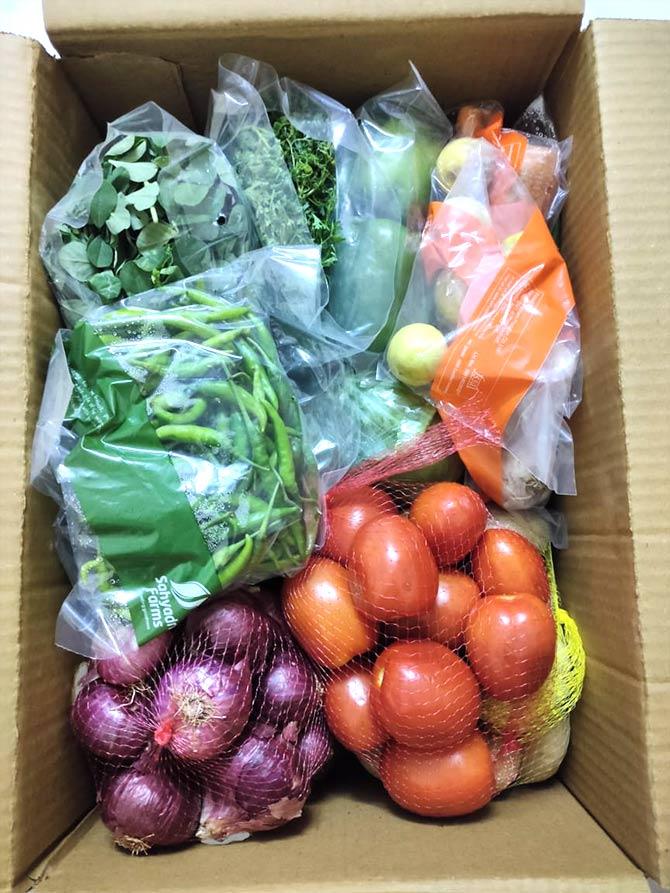 Preetha says:
Housing societies in Mulund are voluntarily following these rules:
1. Collective buying of fruits and vegetables directly from farms in Nasik in individual pre-decided sets which contain half a kg of 4 vegetables including carrots, cucumber, 1 leafy vegetable, 2 kg each of onions/ potatoes and 1 kg of tomatoes, besides garlic, coriander and green chillies.
They are nicely packed and delivered fresh in cardboard cartons -- 1 set per carton costs Rs 500.
The watchman carries an empty bag collecting the amount from each flat. The cash is dropped into the bag.
The veggies are delivered at the (housing) society gate, from where residents pick them up, maintaining social distance. Same with fruits.
2. Groceries are also ordered collectively.
3. No outsider is allowed beyond the gate -- no maids, newspaper, milkman, driver or relatives/ friends.
Terraces are locked. Only individuals in the compound sometimes take a walk around the building.
If a group of more than 5 people are seen on any terrace or compound, not maintaining social distancing, immediately a video with location is sent to the police which immediately sends a stern message to the society's WhatsApp group. Residents are mostly staying at home.
4. Parking of vehicles near vegetable vendors, medicine and grocery stores are not allowed. Social distancing is the norm here as well.
5. In our society WhatsApp group, members post a list of interesting films, dramas, songs, books, poems to watch/read during the lockdown. Links of English and Marathi e-newspapers are also posted here.
6. Our building was sanitised at our request. Besides, individual flat owners are disinfecting their homes and staircases. Vegetables and groceries are disinfected before being stored away. Some of us are making disinfectants, sanitisers, hand wash liquid and masks at home after watching videos on YouTube.
It is interesting to note how some of us are using this opportunity to update skills, take up courses on the Internet, create blogs, research, try out different recipes. People are reading too.
Family bondings over cards, scrabble, chess, board games, carrom, movies, cartoons and TV serials like Ramayan have increased. Some are playing chants of Gayatri mantra etc.
Many are working from home. Some are planning their finances, just in case there are job losses or pay cuts.
Pensioners are re-working theirs in view of lower interest rates on deposits. Some are preparing a list of assets and liabilities and a draft will.
---
How are you dealing with the lockdown and keeping the virus away?
Share your smart tips, ideas and suggestions with us and we will publish the best ones.
You can also get your children to share a drawing describing the current situation in the country or how to keep coronavirus away.
Write in to us at getahead@rediff.co.in (Subject: Keeping COVID-19 Away) along with your NAME, AGE and LOCATION.
Don't forget to share your photograph. We'll publish the best responses right here on Rediff.com.