Nadiya Sarguroh's recipe for chicken cutlets requires simple ingredients easily available in any kitchen. The warm, buttery melted cheese in these fried delights makes them taste ooh-lal-la!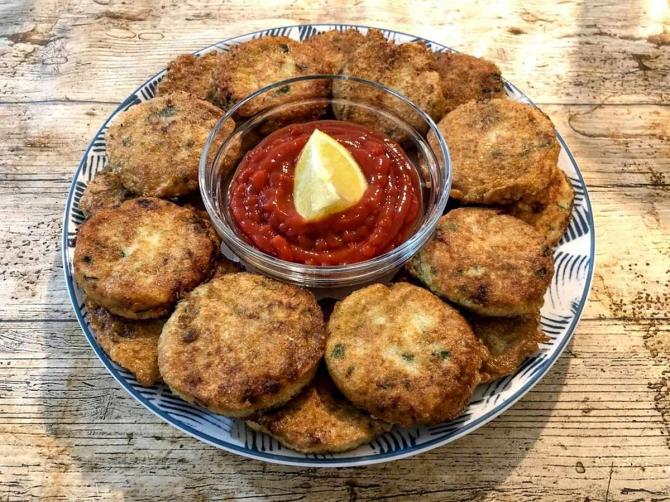 Cheesy Chicken Cutlet
Servings: 10-15
Ingredients
250 gm chicken, preferably with bones
250 gm potatoes
1 tbsp ginger-garlic paste
100 gm cheddar or mozzarella cheese, grated
½ cup chopped green dhania or coriander or cilantro leaves
2 green chillies, finely chopped
1 cup bread crumbs
2 eggs, beaten
Oil for deep frying
Salt to taste
¼ tsp + ¼ tsp pepper
1 cup water
Mint chutney or ketchup for serving
Slice of lemon for serving
Method
Pressure cook the chicken (on the bone), the potatoes (keep the skin on), ginger-garlic paste, 1 green chilly, ¼ tsp pepper and salt with the water on high heat for 2 whistles.
Lower the heat. Let the chicken cook for 10 more minutes.
Take off heat and wait for the pressure to release.
Peel and mash the potatoes.
Shred the chicken.
In a large bowl, combine the chicken and potatoes.
Add the coriander leaves, the second green chilly, along with ¼ tsp pepper.
Add the grated cheese and hand knead well.
Divide the mixture into small balls and flatten in your palms into small discs.
Dip the cutlets in the beaten eggs and then roll in the bread crumbs.
Heat the oil in a heavy-bottomed frying pan or small kadhai over medium heat.
Once the oil is hot, add the cutlets one by one, and deep fry till golden brown.
Flip and let the other side fry as well.
Drain and transfer to a plate lined with tissue or a paper towel.
Serve with mint chutney and/or ketchup and a slice of lemon.
Nadiya Sarguroh lives in Mumbai and publishes the food blog HautePot.