Say good bye to sheer khurma and phirni. It's time to try a new dessert this Ramzan.
Chef Kaleem Qurashi from ITC's Fortune Resort Heevan, Srinagar shares his special recipe for Kimami Sewaiyan.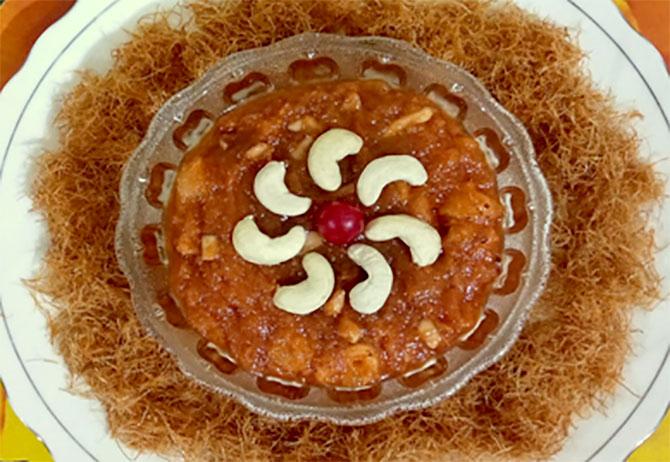 Ingredients:
1 cup fine vermicelli (Benarasi)
1 cup khoya
1 cup sugar
1 cup milk
1½ cup water
Ghee as needed
1 tsp cardamom powder
1 cup lotus seeds, chopped

¼

cup almond, slivered (keep some separate for garnishing)
1 tbsp whole cashews, slivered (keep some separate for garnishing)
1 tbsp raisins, (keep some separate for garnishing)
2 tbsp dry coconut
Method:
Heat a pan on slow flame and roast dry the vermicelli till it turns dark brown. Keep it aside. Avoid over-roasting it.
In the same pan, heat ghee and fry the lotus seeds till it gets crunchy. It will take 5 to 6 minutes if kept on low-medium heat.
After 5 to 6 minutes, add dry fruits and saute it for about 2 minutes. Add coconut. As it roasts quickly, be very careful. Fry all together and keep aside.
In a deep pan, add sugar, khoya, milk, water and mix it well. Put it on the flame and keep stirring till the first boil. Reduce the flame and wait for the sugar syrup to thicken.
Add ½ cup water or milk to mixture and give another boil.
Add the mixutre of roasted vermicelli, dry fruits, lotus seeds and the coconut mixture and cook on a slow flame for about 4-5 minutes.
Sprinkle green cardamom powder and mix well. Cover the lid and leave for 10 minutes. Switch off the heat, give it a mix and garnish with almonds, cashews and raisins.