Check out these middle eastern recipes curated by chefs from Dubai.
The festival of Ramzan is about fasting and feasting.
Versatile and delectable, these recipes can be used for pot lucks, get-togethers and are sure to keep everyone's taste buds happy.
After all, a family that eats together stays together!
Here are the recipes:
Chicken with olives and lemon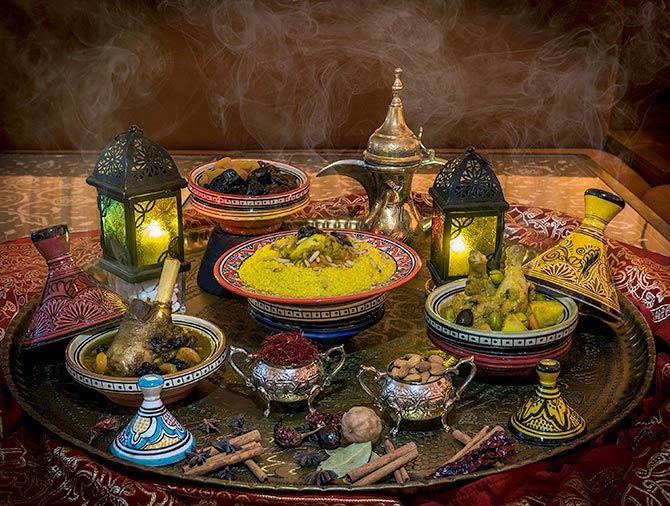 Recipe by Chef Khaled Abu, speciality sous chef, Ewaan Restaurant, Dubai
Serves 2
Ingredients
450 gm boneless, skinless chicken breasts
1 large onion, finely chopped
3 small red potatoes, peeled and diced
30 gm tomatoes, diced
4 large garlic cloves, minced
1-2 cups fat free chicken broth
1 cup green olives, pitted
3 tbsp capers, rinsed
1/4 cup fresh parsley, finely chopped
1 tsp turmeric
1 tsp cumin
1 tsp paprika
½ tsp nutmeg
½ tsp cinnamon
Juice from 1 lemon, fresh squeezed
Zest from ½ lemon
Salt and pepper to taste
Method
Spray a large pot or Dutch oven with non-fat cooking spray and set over medium high heat.
Cut chicken into bite size pieces, and heat them until brown in a pot.
Remove chicken after all pieces are browned on each side.
Add in garlic and onion and sauté, stirring constantly, until tender for about 5 minutes.
Return chicken to pan, and sprinkle with cumin, paprika, turmeric, salt, pepper, cinnamon and nutmeg.
Add in potatoes, tomatoes, and 1-2 cups of broth (use enough broth to cover all the chicken and potatoes).
Cover and simmer over low heat, stirring occasionally, until chicken is tender and cooked through (about 25 to 30 minutes).
Add in lemon juice, lemon zest, capers olives and parsley and heat through.
Add salt and pepper to taste, if desired.
Serve immediately.
---
Chicken Kabssa
Recipe by Chef Alie El Bourji, Atlantis, The Palm, Dubai
Serves 8
Ingredients
2 kg whole chicken
7 gm cardamom green
20 gm salt
10 gm white pepper
1 gm saffron
5 gm black pepper
5 gm cumin
3 gm nutmeg
2 gm cloves
2 gm whole black pepper
5 gm coriander powder
150 gm onion
75 gm tomato paste
300 gm fresh tomato
250 gm capsicum
600 gm basmati rice
150 ml vegetable oil
5 gm dried lime
25 gm pine nuts
25 gm almond
1 gm bay leaves
2 sticks cinnamon
Method
Chop onion finely, tomatoes and capsicum into wedges. Chop coriander.
Heat oil in a casserole. Saute onion, capsicum with cinnamon sticks, bay leaves, whole cardamom, cloves and whole black pepper.
Add chicken and cook for 5 minutes
Add tomatoes, all the spices, salt and pepper. Cook for a couple of minutes.
Add water, bring to a boil, then reduce heat and cover for 20 minutes.
Add rice to the pot and mix well.
Re-cover and simmer for 30 to 40 minutes. Add raisins in the last 10 minutes or when rice is tender.
Place rice in a large serving dish, topped with chicken and garnish with almond and pine nuts.
---
Um Ali Ice Cream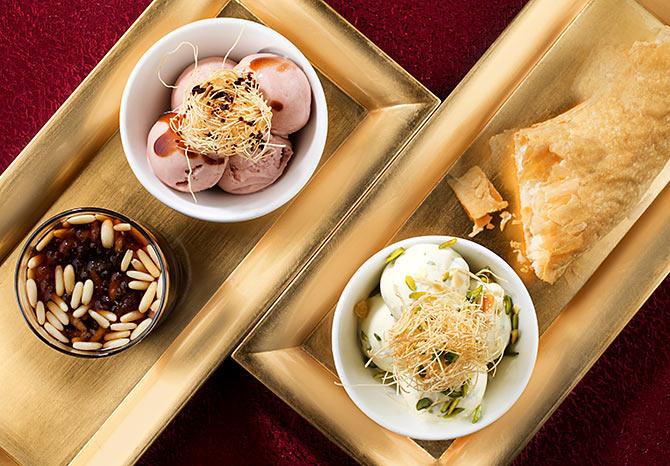 Recipe by Alie El Bourji, at Asateer, Atlantis, The Palm
Ingredients
1100 ml fresh milk
300 ml fresh cream
80 gm milk powder
250 gm dextrose
100 gm granulated sugar
12 gm stabilizer
50 gm trimoline
250 gm assorted baklawa
50 gm pistachio
50 gm raisin chopped
25 ml rose water
Method
Blend milk, cream, milk powder and dextrose until smooth.
Put into a pan and bring to 40C.
Whisk in sugar and stabiliser.
Bring up to 85C, then take off the heat and cool as quickly as you can.
Refrigerate for 6 to 12 hours.
Put into an ice cream machine.
Add very finally chopped baklava, raisin, pistachio, and fold into ice cream mix by spatula, and put in a container.
Store in the freezer.
---