BJP leader Kailash Vijayvargiya recently stated that labourers carrying out construction work at his house were likely to be Bangladeshis because they had 'strange' eating habits and were consuming only 'poha'.
While he has received flak for his comments, the well-known breakfast snack is surely having its moment on social media.
And as #Poha trends on Twitter, we bring you some popular recipes made with flattened rice from different states across India.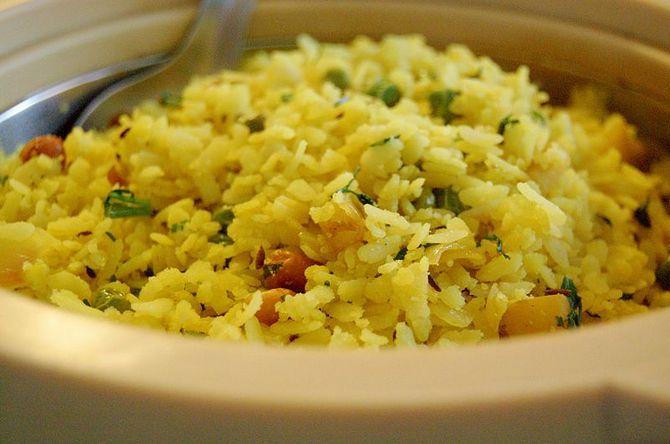 Aloo Pohe Vade (Recipe by Vishaka Rautela)
Ingredients:
1 cup jada poha (thick flattened rice)
2 big boiled potatoes
2 minced green chillies
Chopped coriander
½ tsp haldi
½ tsp red chilli powder
Salt
½ or 1 lime juice
Method:
Soak poha for 5 minutes in water. Strain and drain well for 30 minutes. If you are using patla (thin) poha, then soak for lesser time.
Mix and mash all ingredients together. Make small balls and put one drop of oil in the appam pan.
Cover and cook for 5 minutes, then turn over.
When it's nearly cooked, leave the lid open and let it cook until golden brown.
---
Aval Upma from Tamil Nadu
Ingredients:
1 tbsp oil
1 tsp white whole urad dal
2 tsp rai (mustard seeds)
½ tsp hing
2 green chillies, chopped
1 onion, chopped
10 curry patta leaves
1 tsp grated ginger
2 cups poha
½ tsp haldi (turmeric)
10 tsp peanuts, roasted
Salt
Slices of lemon
2 tbsp green coriander, chopped
Grated coconut, optional
Method:
Dampen the poha by running water over it in a channi (colander).
Heat the oil.
Add urad dal first. When it starts changing colour, add rai and hing. Let it pop.
Add curry leaves, haldi, onion, green chillies. Fry for about five minutes. Then add the ginger and the poha.
Mix well.
When the poha heats up, turn the flame off.
Serve garnished with dhania, peanuts and coconut, with lemon wedges on the side.
---
Dadpe Poha from Maharashtra (Recipe by Kamal Gokhale)
Ingredients:
1 cup patla poha
1 big onion, finely chopped with salt mixed in it
2 tsp milk cream (optional)
2 tsp ground nuts (optional)
½ tsp red chilli powder
¼ cup freshly grated coconut
2 tsp freshly cut coriander leaves
2 tsp squeezed lemon juice or tamarind water
For tempering:
½ cup oil
1 tsp mustard seeds
4-5 green chillies, chopped
½ tsp asafoetida
5-6 curry Leaves
Method:
In hot oil, temper all the ingredients as mentioned above and pour the hot tempering into the poha.
Add the chopped (salt sprinkled) onions, grated coconut, groundnuts, milk cream, red chilli powder, coriander leaves and squeeze half a lemon in it.
One can also use tamarind instead of the lemon.
Put this mixture in a vessel, close the lid and keep some weight on top of it.
Leave it for about 30-60 minutes till all the flavours are well absorbed, just like how we do in the dum style of cooking except that, here, it is not kept on the gas. This also makes the poha soft.
---
Bajil, a Mangalorean version (Recipe by Celine D'Souza)
Ingredients:
1 cup patla poha
½ cup jaggery
½ cup fresh coconut
1 finely chopped onion (optional)
¼ cup fresh coconut water (optional)
½ tsp cardamom (elaichi) powder
¼ tsp salt
Method:
Mash the jaggery and fresh coconut till the mixture becomes liquid like.
Add poha and mix it in this mixture thoroughly.
Add the chopped onion, cardamom powder and salt as per taste.
Sprinkle fresh coconut water to make the mixture soft.
One can replace jaggery with sugar and add green chillies to give it a hot and sweet taste. However, do not add green chillies if you are adding jaggery.
Do you have a favourite poha recipe?
It could be the traditional version or it could be innovative.
Share your recipes with us, dear readers, and we'll publish the best ones right here.
Mail it to getahead@rediff.co.in (subject: Poha recipes) along with your NAME, AGE and the place where you LIVE. Don't forget to share a pic of the recipe as well.