Food blogger Vidya Subramanian tells us how to cook up an easy snack at home.
You can share your favourite recipes too!
Here's the recipe for Soya Poha Cutlets: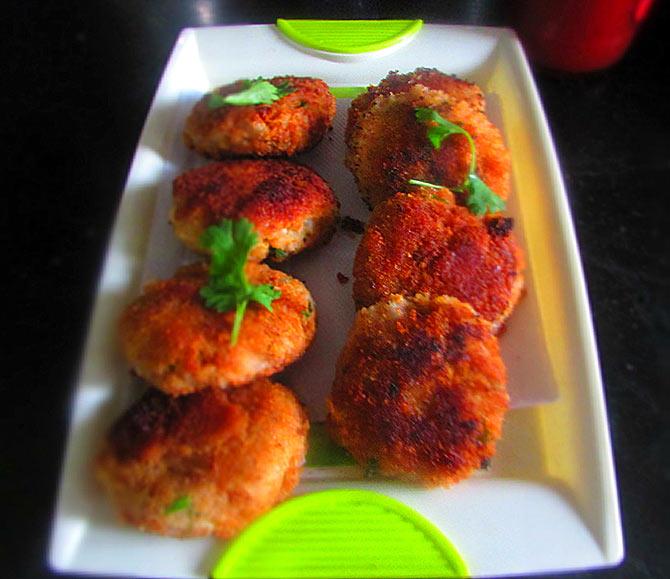 Preparation time : 20 minutes
Cooking time : 10 minutes
Serves: Two
Ingredients
1/2 cup poha
1 cup soya chunks or granules
1 chopped onion
1 small carrot grated
1/2 tsp ginger garlic paste
1/2 tsp chaat masala
1/2 tsp garam masala
A pinch of chilli powder or as required
1/2 cup coriander and mint leaves finely chopped
Salt as required
2 tbsp corn flour
1/2 cup bread crumbs
Oil for shallow frying
Method
Soak poha in water for a few minutes. Squeeze and remove water. Add to a mixing bowl.
Add soya chunks or granules to hot water till it is soft. If you're using soya granules, squeeze out the water, wash with cool water and squeeze again and add to the bowl.
If you're using soya chunks wash with cool water, squeeze out the water completely and give a small pulse in the blender. It should be very coarse and not a paste hence squeeze out the water completely before using the blender. Add this to the bowl .
Add all the other ingredients listed above with 2 tsp bread crumbs and mix well with your fingers. They should all bind together. If you find it difficult to bind, add one small mashed potato.
Flatten out as patties and refrigerate for half an hour. This makes the patties firm.
Make a thick paste using corn flour and water.
Dip the patties in the corn batter and coat well with bread crumbs.
Press well and again dip in the batter and coat with bread crumbs. This double coating is to get a really crispy layer.
Deep or shallow fry the patties in oil and serve hot with tomato ketchup or mint chutney.
ALSO SEE
Want to share your favourite recipe? Simply e-mail your recipes to getahead@rediff.co.in (subject line: My Fav Recipe) with your name, hometown and any interesting details about the origin of the recipe, along with a photograph of the recipe, if possible. We'll publish the best preparations right here on Rediff.com and India Abroad.
Loved this recipe? Click here for more interesting recipes and food features!