Executive Chef Dinesh Mhatre of Hilton Mumbai International Airport shares three signature Maharashtrian recipes.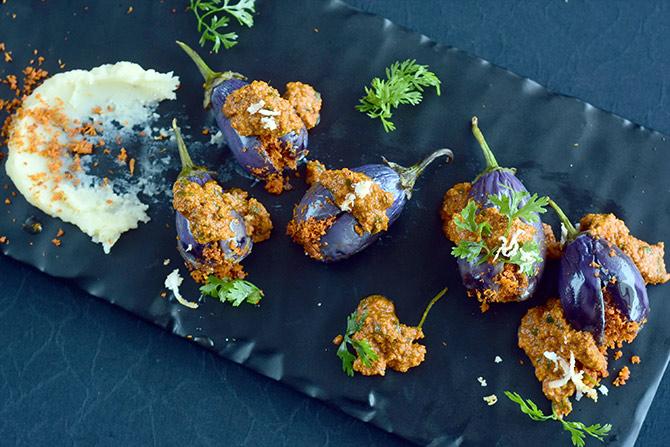 Bharli Vangi
Ingredients:
100 gm small brinjal
80 gm coconut, grated
50 gm peanut, crushed
20 gm jaggery
10 gm chilly, chopped
10 gm ginger, chopped
10 gm coriander, chopped
30 gm onion, chopped
15 gm ginger and garlic paste
10 gm coriander powder
10 gm cumin powder
10 gm turmeric powder
10 gm chilli powder
15 gm garam masala powder
5 gm curry leaf
Method:
For the brinjal stuffing:
Slit the brinjal into four parts. Take grated coconut, crushed peanut, jaggery, chilly, ginger, coriander and salt. Mix it and stuff it in the brinjal. Roast it in an oven.
For the gravy:
Make a coconut paste. In a pan, pour oil and add curry leaves and chopped onion. Saute for a while, add ginger garlic paste. Add all the masala powder (coriander, cumin, turmeric, chilli and garam masala) and cook nicely.
Add coconut paste and cook further. Finally you can add the brinjal in the gravy. Check seasoning before serving.
---
Murg Poha Biryani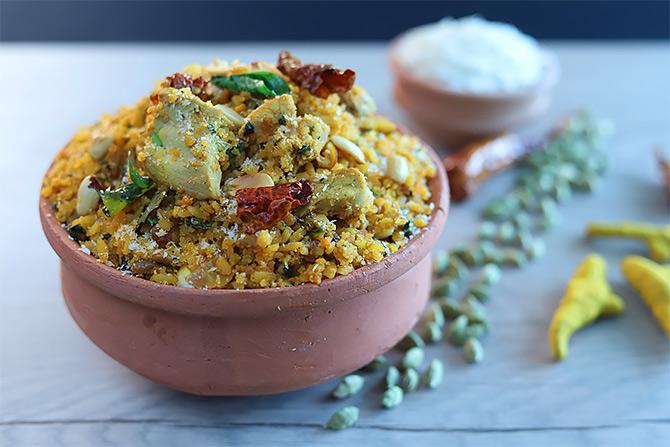 Ingredients:
500 gm chicken
250 gm poha
80 gm ghee
30 gm whole garam masala
100 gm onion, sliced
60 gm ginger-garlic paste
50 gm green chilli, slit
100 ml chicken stock
200 gm potato, sliced thick
Salt to taste
Method:
Marinate the chicken with ginger-garlic paste, salt and garam masala.
Place the chicken on tandoor skewers along with the sliced potato and cook on medium heat.
Take a heavy bottom pan, put ghee, add whole spices, slit green chilies and sliced onion. Saute the onion nicely, then add medium cooked chicken.
Pour in the chicken stock. Cook it and then add dry sautéed poha. Cover the pan with a silver foil and keep it for 10 minutes for the dum. Serve hot.
---
Peas Modak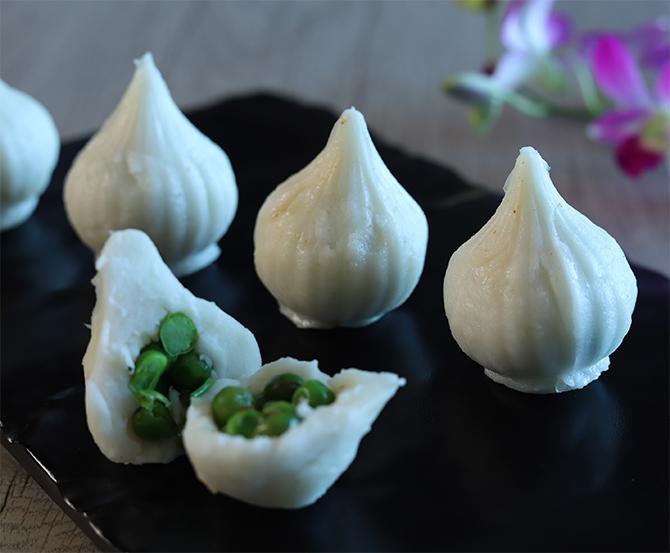 Ingredients:
For the stuffing:
200 gm fresh green peas
80 gm onion, finely chopped
5 gm hing powder
10 gm cumin seeds
10 gm green chilli, chopped
10 gm ginger, chopped
20 gm oil
80 gm fresh coconut
For the modak dough:
1 cup water
¼ tsp salt
½ tsp ghee
1 cup fine Basmati rice flour
For the stuffing:
Take oil in a pan, add cumin seed, chilli and onion. Sauté till it turns golden. Add hing powder and mashed green peas. Sauté nicely. Finish with fresh grated coconut.
For the modak:
In another kadhai, boil 1 cup water, ¼ tsp salt and ½ tsp ghee. Turn off the flame and add 1 cup fine Basmati rice flour. Mix the flour well with water. Do not worry if the dough is dry. Cover and allow to rest for 3-5 minutes.
Transfer the rice flour mixture into a large mixing bowl. When the flour is still hot, knead with your hand. Sprinkle water if required to form a smooth and soft dough. Pinch a small lemon-sized ball and flatten it. With the help of both thumbs, start pressing the edges and create a dent in the centre. Slowly press from edges till it forms a cup. Start creating pleats with your index finger and thumb. Now scoop a tbsp of prepared peas stuffing. Get the pleats together to form a bundle. Close the top by pinching and making it pointed.
Place the modak in a steamer leaving gaps in between. Cover and steam the modak for 20 minutes or till the shiny texture appears on them. Modaks are ready to be served.