Maharaj Ganga Singh gives you two perfect excuses to make your tea-time extra special.
Garnished with fresh coriander leaves and dunked in whipped chilled curd, his recipe for the deep-fried Dahi Vada won't let you miss Mumbai street food.
Use leftover chapatis to make Paneer Cheese Lifafa and treat your family to a yummy snack that goes well with chai.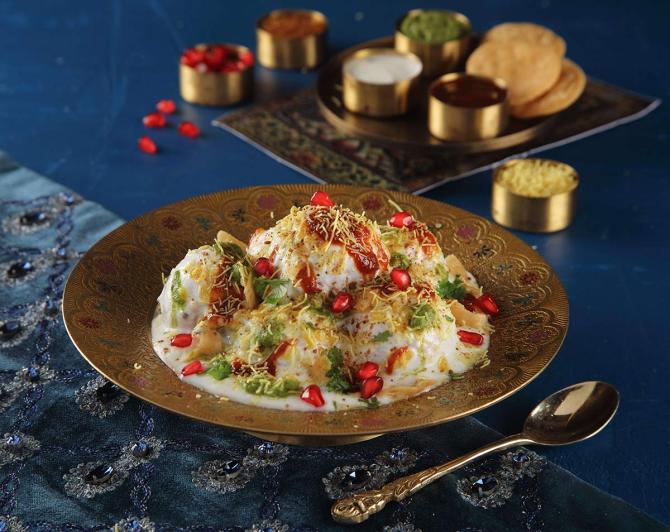 Dahi Vada
Serves: 3-4
Ingredients
1 cup white urad dal or split black gram without the skin
1 cup green mung dal or green gram
1 cup chola or cholee dal or split cow peas or black eyed peas
½ tsp or more chopped green chilly
1 tsp or more ginger paste
1 tsp jeera or cumin seeds
Pinch of hing or asafoetida
Salt and black salt per taste
2½ cups curd or yoghurt, chilled
½ to 1 tsp chaat masala or as required
¼ to ½ tsp red chilly powder
1 tsp roasted jeera or cumin powder
Oil for deep frying
¼ cup anar dana or pomegranate pearls, to garnish
2 tbsp chopped green dhania or coriander or cilantro leaves, to garnish
Green chutney, to serve
Imli or tamarind chutney, to serve
Method
Wash, drain and soak the lentils in a bowl filled with water for at least 5-6 hours.
Drain off the excess water and grind the soaked lentils in a mixer.
Add some of water during the grinding to get a smooth, thick batter.
Pour the mixture into a bowl, add the chopped green chilly, salt, ginger paste, hing and cumin seeds.
Stir briskly for a couple for minutes to incorporate air so as to form a light and fluffy batter.
Heat the oil in a heavy-bottomed kadhai or pan for deep frying.
Once the oil is hot, using a spoon, pour in the batter to form small 1.5 inch roundels or discs (somewhat smaller than a medu vada).
Fry in batches of 2-3 and keep flipping the vadas so they fry evenly.
Drain onto a plate lined with tissue or a paper towel.
Repeat the process to finish the batter.
Allow the vadas to cool for 2-3 minutes.
Soak the vadas in bowl of chilled filtered water or mineral water for about 12-15 minutes.
Squeeze the excess water out of each vada and transfer onto a plate or bowl.
Whisk the chilled curd until smooth and pour generously over the vadas.
Top with the green chutney and tamarind chutney as per taste (please see the pic above).
Sprinkle a pinch of red chilly powder, roasted cumin powder, chaat masala and black salt as per taste.
Garnish with fresh pomegranate pearls and coriander leaves. Serve.
---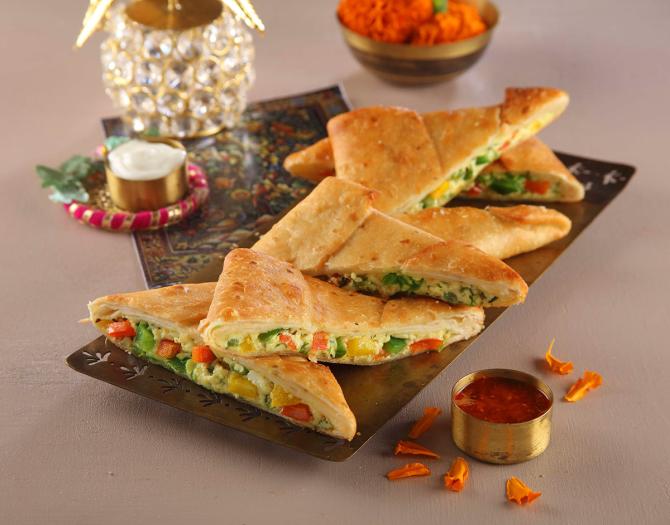 Paneer Cheese Lifafa
Servings: 1 portion
Ingredients
2 lifafa chapatis or thin, larger, soft rotis that can be folded into a pocket/envelope
50 gm paneer, grated
50 gm cheese, grated
10 gm green chilly, finely chopped
5 gm fresh green dhania or coriander or cilantro
20 gm onion, chopped fine
15 gm red and yellow bell peppers or capsicums, chopped
10 gm green bell pepper or capsicum, chopped
Salt to taste
2 gm dhania or coriander powder
1 tbsp maida or refined flour to make a slurry with a little water
Oil, for deep frying
Mayonnaise, for plating
Schezwan sauce, to serve
Method
Combine the paneer and cheese in a bowl.
Add the chopped green chillies, fresh coriander, onion, bell peppers, capsicum and mix well.
Add the coriander powder, salt for seasoning. Mix well.
Take a chapati and place stuffing mixture in the centre.
Fold the chapati to form an envelope or lifafa and seal the edges with a flour slurry of refined flour and water.
Heat oil in a heavy-bottomed kadhai and deep fry the stuffed chapatis till crisp on both sides.
Drain onto a plate lined with tissue or a paper towel. Cut into half and place on a serving plate.
Drizzle mayonnaise strings on it and serve with Schezwan sauce.
Ganga Singh is the chef at Rasotsav, a vegetarian restaurant serving Rajasthani and Gujarati food in Mumbai.